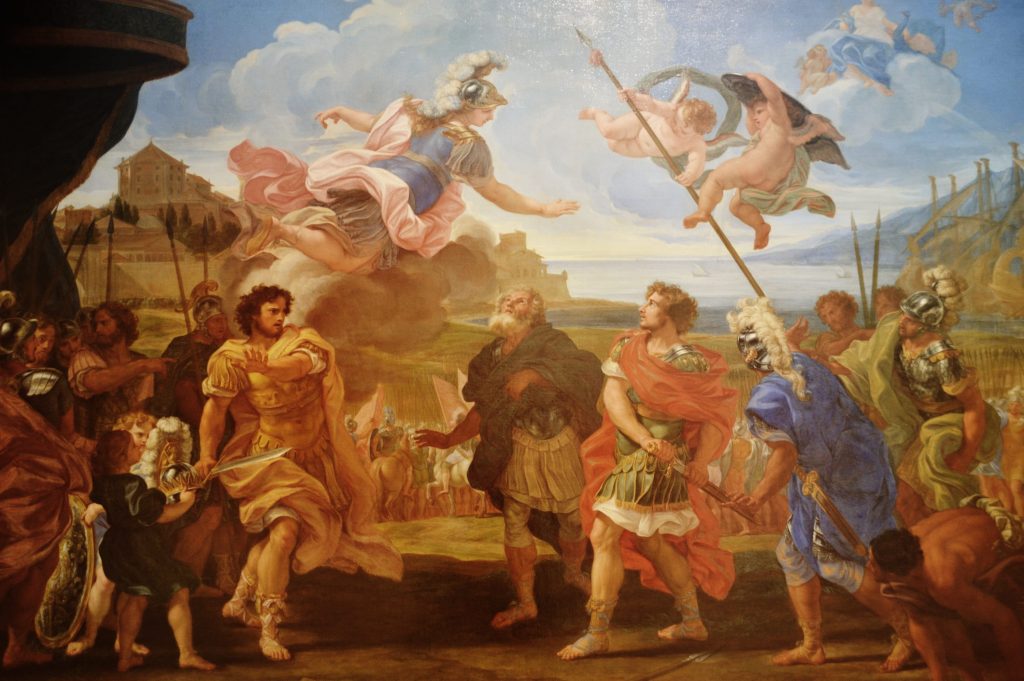 Aeschylus prompts us to consider other ways of seeing war—past and present
Early in Aeschylus' tragedy Agamemnon (458 BCE) a messenger arrives in Argos from Troy to let queen Clytemnestra know that her not-much-beloved husband, Agamemnon, has finally won the Trojan War and is on his way home. The messenger is a minor character, but what he has to say has timeless implications, including for how we reflect on the present war in Ukraine. His story as a veteran eager to use his experiences to challenge the war's official narrative reminds us that writing (and reading) military history can be an act of profound and subversive compassion. But compassion for whom? And how might we arrive at such compassion?
Instead of promptly delivering his message and leaving the stage, as a proper messenger ought, this messenger launches into a mournful description of the Trojan War from a common soldier's perspective. For ten long years he and other Greek soldiers who sailed to Troy with the much more famous big-name heroes lived in constant discomfort and distress—physical, emotional, spiritual. But, the soldier notes, "who, unless he is a god, is free from suffering all his days?" At least the evil is over now, he says, so we need not speak of it further.
The anonymous soldier may have felt that he was done talking about war, but sales of books on military history today show that this subject continues to be one of the most popular genres of historical writing for the general public. Publishing on the Civil War in particular has been so prolific that according to Civil War historian Brian Holden Reid, if one were to add up all books on the subject, we would find that one new book on the war has been published for each day since General Lee's surrender at Appomattox.
As Amazon's up-to-the-hour tracking shows, books on a wide range of military history topics just keep on selling. Both World Wars have received at least as much attention as the American Civil War. And ancient military history has its fans as well. In fact, Sun Tzu's Art of War is more popular with English-speaking audiences today than in Sun Tzu's own day in late 6th century BCE China. Both the paperback and audiobook versions of his military manual rank high on the Amazon best-seller list.
In other words, many members of the public today are not done talking, reading, and—of course—writing about wars, ancient or modern. And there is no shortage of excellent military historians either. Prominent military historians such as Mark Grimsley and Jeremy Black have provided useful insights about the popularity of the field and why they write military history. As a military historian of the Greco-Roman world, I count myself a humble part of this intellectual tribe. And yet I have some concerns about the nature of the field and the impressions it can inspire, especially among popular audiences.
The temptation to look for heroes in military history has come easily for audiences and historians since antiquity. Indeed, Aeschylus' nameless soldier stands as a foil to the dominant narrative of the Trojan War—the one presented in the Homeric epics. In the Iliad, heroes like Achilles, Diomedes, and Hector are decidedly superhuman in their feats of strength. Their duels with other heroes emphasize battlefield violence in graphic ways. Gouged eyes fly, limbs are slashed, and blood pours in rivers on the ground of Homeric battlefields. Not surprisingly, the Iliad was a martial inspiration text in ancient Sparta, and was a personal favorite of Alexander the Great, who traveled on campaign with a full set of scrolls of the epic.
But is this emphasis on battlefield violence the only way to approach military history? If our worldview does not define heroism as something that can only be won in war and, furthermore, only through the killing of other heroes, it is time to consider a different outlook. It is much easier for us to feel compassion for civilians, whom we rightly consider to be victims of war. There is a reason that Anne Frank's Diary of a Young Girl continues to be a best-seller. But reading and writing military history as an act of compassion is not a matter of reading different primary sources. In many cases, one could read the exact same narratives of military history with an eye towards compassion, rather than glorifying warfare and violence.
To return to the example of the Trojan War, Homer's Iliad inspires compassion towards the heroes, Greek and Trojan, and towards civilians, especially women, whose lives the war brutalizes. The epic opens with a touching scene of an aged priest demanding the return of his daughter, who had been captured during a war raid and had become a sex slave for Agamemnon, the commander-in-chief of the Greek army. And then there is Hector's highly emotional final parting from his wife, Andromache, in book 6 of the Iliad. As Homer's original audiences knew, Andromache foretells her fate correctly: Once her husband is killed and Troy falls, she will be enslaved and her infant son will be executed.
The epic heroes themselves, furthermore, are not immune to loss. Scenes of mourning and loss, whether Achilles mourning for Patroclus, or Priam mourning for Hector, were clearly designed to appeal to the audience's emotions. Death and destruction on all sides are the defining feature of war in the epic. The contrasting scenes of war and peace on the shield of Achilles, described in book 18 of the Iliad, show this well. In the city at peace, a marriage celebration is underway and a civil arbitration of a dispute is ongoing. In the city at war, however, despair rules over the looming destruction.
Reading and writing military history as an act of compassion involves first and foremost the recognition of war as an instrument of destruction—of lives, families, civilizations—rather than an instrument of creating the only type of lasting glory for heroes, past, present, and future. Such a compassionate approach towards military history also involves a lot more investment of the self—whether reader or writer—in the suffering of others, embracing the literal meaning of the term "compassion" as suffering together with the goal of understanding better.
A compassionate view of military history highlights such horrific stories from the present war in Ukraine as that of a refugee mother, who arrived in Hungary with four children, only one of them hers. The rest were orphans—a child of her sister who had disappeared, a child of murdered neighbors, and a child she didn't know, whom she encountered sitting on the street, next to the bodies of his murdered parents. And now, as Ukrainian journalist Anastasiia Lapatina posted on Twitter on April 4: "Ukrainian mothers are writing their family contacts on the bodies of their children in case they get killed and the child survives." How can we read such accounts, worthy of Homer's catalogs of military atrocities, and not weep?
It is much easier emotionally to think of war clinically, to analyze battles, campaigns, and the grand strategies of nations and empires without giving thought to the real people involved. To think of war as chess, to reduce it to a game, is intriguing. But such an implicit denial of real human suffering, both civilian and combatant, is intellectually and spiritually dishonest.
The people of the past, whether far removed or closer to us in time, deserve our compassion. Furthermore, what is subversive and striking about such compassion is that it has the ability to change us and our outlook on war and the heroes that war ostensibly creates. Aeschylus, a veteran of the Battle of Marathon (490 BCE), understood this possibility when he gave an unnamed soldier the right to criticize the greatest war in Greek imagination.
Nadya Williams is Professor of Ancient History at the University of West Georgia. She is a Contributing Editor for Current.