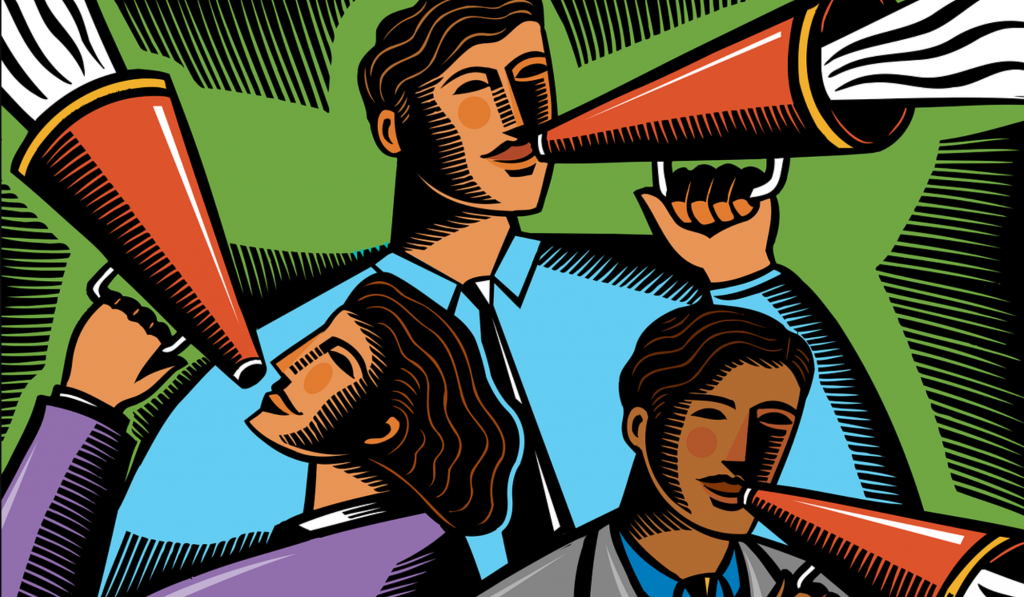 Successful free speech in college classrooms hangs on guidance about how to reason
Emma Camp's recent complaint in the New York Times that students at leading universities are now afraid to voice their opinions in class should be a wake-up call for college faculties. If students are afraid to express their true opinions, something is wrong. Yet according to Ms. Camp, a senior at the University of Virginia, college classes have become echo chambers in which students simply parrot the ideas they think their instructors will endorse and—what is worse—shame students who voice alternative opinions.
But the solution to the dilemma that Ms. Camp describes might sound counterintuitive. If students' speech feels stifled, the answer should be fewer limits on free speech, right? Yet this hasn't worked. What students really need is training in how to reason, communicate their own views in objective terms, and listen to other points of view. Free speech in the classroom can be a tool for discovering valuable insights—but only if both students and their instructors know what the rules of the game really are.
Students first need to know what the purpose of a particular classroom discussion is. Has the instructor convened the discussion to guide students to discover a particular truth? Or is the goal instead to help students understand their own views and the views of others? Both goals might be equally appropriate, but they cannot each be pursued simultaneously.
If the instructor's goal is to move students toward a particular position through discussion, the instructor will almost invariably provide subtle clues, whether consciously or unconsciously, that certain statements are moving the classroom discussion closer to this goal. The instructor's questions may appear to be neutral but they are actually Socratic: They are designed (like Socrates's questions) to lead the participants toward discovery of a particular truth. In those discussions, students should not expect the instructor to treat every answer as equally valid. There might be multiple reasons why President Harry Truman issued the Truman Doctrine, but the acceptable student answers to this question are finite; a student who says that Truman was afraid that if the United States didn't provide aid to Greece and Turkey it would be attacked by China would simply be incorrect. In such a discussion students are free to voice any opinion they like. But they are not free to assume that any conceivable answer will earn them plaudits from their instructor or their peers.
But Ms. Camp's complaints focus on another type of discussion: a discussion about values and opinions that is ostensibly designed to facilitate an open exchange of views without any expectation of arriving at particular answers. Yet in those discussions, Ms. Camp claims, students are not actually free to voice their true opinions, even though they initially might believe they are. Instead, they quickly discover there are unwritten rules governing such discussions that privilege certain responses over others. They might have thought they were signing up for a discussion in which no single answer would be considered correct but instead they find themselves in a conversation very much like the one about the reasons behind the Truman Doctrine, where both the instructor and other students clearly consider some answers better than others. Only this time the rules that govern those value judgments are not so clearly stated. What is going on?
Most of the discussions in this category center on moral values. Initially Ms. Camp assumed that any viewpoint expressed in those discussions would be acceptable, because moral questions are presumably subjective, with students free to take positions on either side of a question. But her class debates about morality quickly devolved into shaming sessions, because some students in the class felt strongly that her moral views were wrong yet lacked the skills to articulate their views through logical reasoning. Presumably they might have said they knew moral truths intuitively—which meant that if someone else (such as Ms. Camp) intuitively arrived at a contrary moral view, they had no idea how to bring their intuition into dialogue with a contrary intuition. They could not articulate the basis for their own intuitions, let alone those of another. As a result, they resorted to the only method they knew to oppose a moral wrong: shaming the person who voiced a wrong moral opinion.
There is a better way: An instructor can recognize that moral debates do not have to stay within the subjective realm of intuition but can instead take place within the objective realm of identifiable foundations and assumptions. When a class discussion moves into the realm of moral debate, an instructor who wants to avoid either a shouting match or an echo chamber can help students identify their own assumptions and the assumptions of those with whom they disagree.
Unfortunately, this did not happen for Ms. Camp. She said that she felt shamed in one classroom discussion when she expressed an objection to the Indian practice of suttee, only to be told by other students that if she is not an Indian woman she has no right to criticize the practices of another culture. In her telling of the story, the class instructor did nothing to defend her or help her process her opinions. But that need not have been the case.
A skilled instructor in this setting might have recognized that two different sets of moral assumptions were in conflict. On one side was Ms. Camp's belief that some moral standards are objective and transcendent and can therefore be applied to every culture. According to this view, burning people alive is objectively wrong, whether done in India or the United States. On the other side were Ms. Camp's classmates, who held a pluralistic understanding of morality. If taken to the extreme, this view says there is no objective morality; each culture creates its own ethics and rituals, and no one outside the culture has the right to critique them. After helping students recognize that they are dealing with competing ethical philosophies, a skilled instructor could then guide students through a conversation that explores the implications of each philosophy and helps students better articulate their views. Ms. Camp could walk away from the discussion not only feeling understood but also feeling that she gained a better understanding of her own views, as well as the views of her classmates. And her classmates could have come away with the same feeling.
But in order to engage in this sort of dialogue, students need guidance and frameworks. If they don't know what their moral assumptions are or how to defend them respectfully and rationally, they will feel uncomfortable every time they hear an idea that doesn't coincide with their own value judgment. Disagreement in these circumstances devolves into a mere power play, because without logical arguments or the ability to articulate their point of view in objective terms, shaming becomes the only tool students have to deal with dissent. That is a scary prospect for most students; they're afraid of being shamed by their peers as a minority of one.
It's also scary for democracy. Without the ability to defend our beliefs when disagreeing with others we will be tempted to coerce others to agree with us by punishing them if they don't comply.
It doesn't have to be this way. College classrooms can once again become training grounds for a democratic future by teaching students to defend and articulate their beliefs while respectfully dialoguing with those of different viewpoints. To do that effectively, we need to give students the tools to process their disagreements objectively and rationally. Instead of merely giving them "free speech" without guardrails, we need to train them in the rules and parameters of the game. If that happens, we'll have not only happier college students but also a more functional, bipartisan democracy.
Daniel K. Williams is a professor of history at the University of West Georgia and the author of several books on religion and American politics, including God's Own Party: The Making of the Christian Right and The Politics of the Cross: A Christian Alternative to Partisanship.