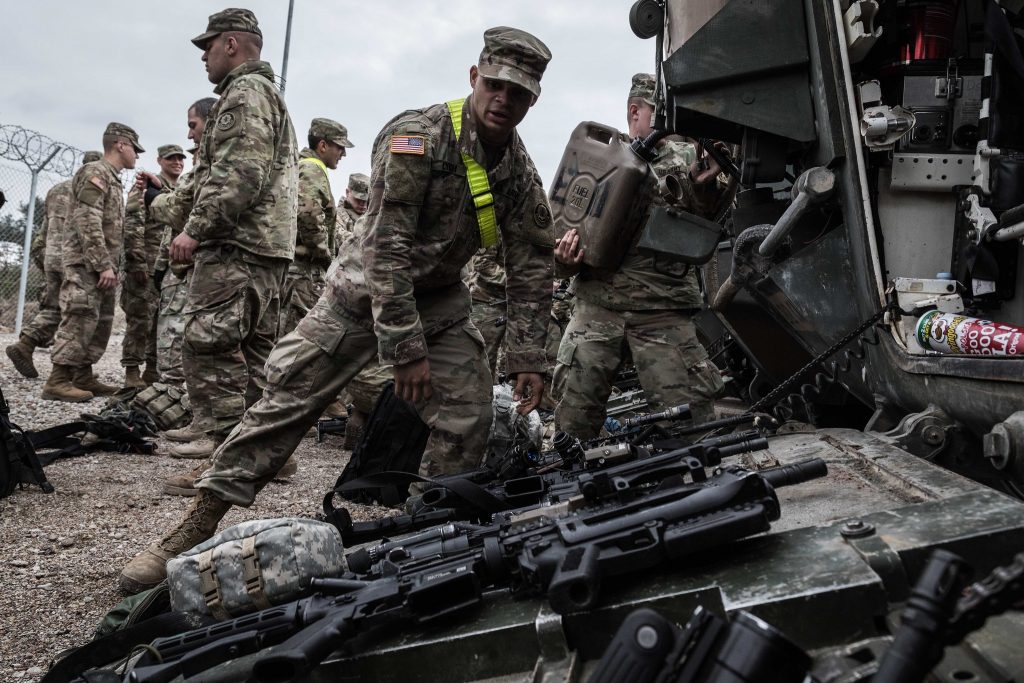 History—especially modern history—underscores the limits of force
In the 1980s BBC comedy series Yes, Prime Minister, an expert in foreign affairs tutors the new British PM, James Hacker. He asks Hacker under what conditions Britain would go to war against the USSR. "Well, if the Russians attacked us," Hacker answers. But they won't attack you, says the expert: They'll use "salami tactics": moving "slice by slice." What if an East German fire brigade enters West Berlin to help put out a fire? Of course not, says Hacker. If Soviet troops enter just to maintain order? No. If Soviet troops on maneuvers accidentally enter West Germany? No. If they take West Germany? At this Hacker admits he doesn't know where the red line should be.
The episode isn't entirely accurate; it ignores the collective security provision in NATO's Article 5, which removes any room for indecision if a member is attacked. Had Soviet tanks ever rolled into West Germany the response would have been automatic. But it does get the ambiguity inherent in the first (imagined) Soviet moves. In the Cold War, was West Berlin part of NATO's defensive perimeter? What about an "accidental" cross-border incursion? Are we prepared for "salami tactics"?
Looking at Vladimir Putin's actions with his neighbors reveals the episode to be nearly prophetic. His 2008 invasion of the sovereign nation of Georgia was careful to avoid triggering any treaty obligations on the part of the West, and the West wasn't eager to jump in. In 2014 he took the Crimean Peninsula, which was part of Ukraine. But no treaty obligations came into play, and the West shrugged. Harder to ignore was the appearance of armed "little green men" without insignia in eastern and southern Ukraine, but again there was no formal obligation. The "little green men"—Russian troops—stayed, and the world moved on.
But this past February, after weeks of Russian troop build-ups on the Ukrainian border, Putin suddenly invaded. The world scrambled to reckon with this new and disturbing development. If Putin thought the West would be apathetic towards this aggression, he miscalculated dearly. Ukraine, as it turns out, is very much Europe, and although not a NATO member, it is a realm of concern. Humanitarian and strategic interests came together, and the U.S. and Europe are determined to make Russia pay as high a cost as possible, short of a wider war, for this aggression.
Some argue we're already in a wider war. "The failure to defend Ukraine today is the failure of the Allies to defend Czechoslovakia in 1938," says Garry Kasparov. "This morning we wake up to a world order that has been shattered," wrote journalist Charlie Sykes on the day of the invasion. "Russia's invasion of Ukraine," says Fareed Zakaria, "marks the end of an age." Borrowing from JFK's inaugural address, he calls on the West to "do what it takes—bearing costs and risks—to ensure that Putin does not prevail." When President Biden promises "we will not fight a war against Russia in Ukraine" since "a direct confrontation between NATO and Russia is World War III," Aleksander Vindman warns him: "Mr President, you're inviting disaster & emboldening Putin." If our fear of a nuclear war paralyzes us now, asks Rep. Adam Kinzinger (R-IL), what will change when Putin moves on the Baltics, Poland, or the rest of Europe? Haven't we learned the lesson that appeasing dictators just whets their appetites?
As wrong as I believe these voices are, they have identified a real problem with our international order: Admitting that we can't do everything, that "making the world safe for democracy" is too heavy a lift, we inevitably leave millions of innocents at the mercy of the vicious. Ask the Uighers or the Rohingya, the demonstrators at Tiananmen Square or the family of Jamaal Khashoggi, what the West's commitment to human rights has done for them lately.
To an outrageous extent, the world remains a place where "the strong do what they will, the weak suffer what they must," as Greek historian Thucydides so memorably put it. This is a tragedy, and it presents us with a difficult dilemma: Which is the more dangerous temptation? Resigning ourselves to the brute fact of tragedy, or trying to eliminate it? 
We have examples of both in our own past. Eisenhower stood back as Soviet tanks rolled into Hungary in 1956, and 3000 Hungarians were killed. But he drew a line in Indochina, setting the stage for a decades-long war in Vietnam that killed 58,000 Americans and millions of Vietnamese. When the Soviets invaded Afghanistan in 1979, Carter and then Reagan refused to put troops on the ground. Hundreds of thousands of Afghan civilians perished. George H. W. Bush expelled Iraq from Kuwait in 1991; three decades of conflict followed.
George Kennan drew a lesson from the twentieth century: "Whenever you have a possibility of going in two ways, either for peace or for war, for peaceful methods or for military methods," avoid war. "War seldom ever leads to good results." Note Kennan's caveat, however: whenever you have a possibility of choosing. Sometimes there is no choice.
Which brings us back to NATO's Article 5. In the same message in which he pledged not to go to war in Ukraine, President Biden also said "We will defend every inch of NATO territory with the full might of a united and galvanized NATO." Biden wasn't making a decision. He was stating a fact. That's the nature of a collective security agreement: It's clear and it's binding. An attack on one is an attack on all. The consequences were already weighed when the pact was formed. Everything Putin has done over the past two decades—including his support for Donald Trump—shows he's acutely aware of NATO's power, its members' resolve, and the threat it poses to his ambitions.
If Putin was counting on Ukraine being as easy to take as Crimea, he has already failed. The prospects for the war's outcome are bleak, in fact. He has made himself and his nation a pariah in the world's eyes. That's cold comfort to the people of Ukraine now, of course.
What we are seeing today in Ukraine is NATO's other side: what it means not to belong. Security agreements, by their very nature, leave dozens of nations and hundreds of millions of people insecure. Those lives are every bit as fragile and worthwhile as the lives of those inside the pact. Yet they live in a zone of insecurity and danger if a superpower has its eyes on them. Right now, the people of Ukraine are most in need of a security guarantee such as NATO, which is perhaps why they haven't been included. The risk of a war over their nation is just too high.
The global order—such as it is—doesn't provide or even aspire to universal justice. The same system that came to Kuwait's aid when we elected to liberate them left Iraq with no means to stop us from invading ten years later. We waited on no one's permission. Great powers make their own rules.
Within limits, of course. History is a hard tutor for those unwilling to acknowledge that there are limits to what can be accomplished through will and force. Vladimir Putin is the latest in a long line of slow students.
John H. Haas teaches U.S. history at Bethel University in Indiana.