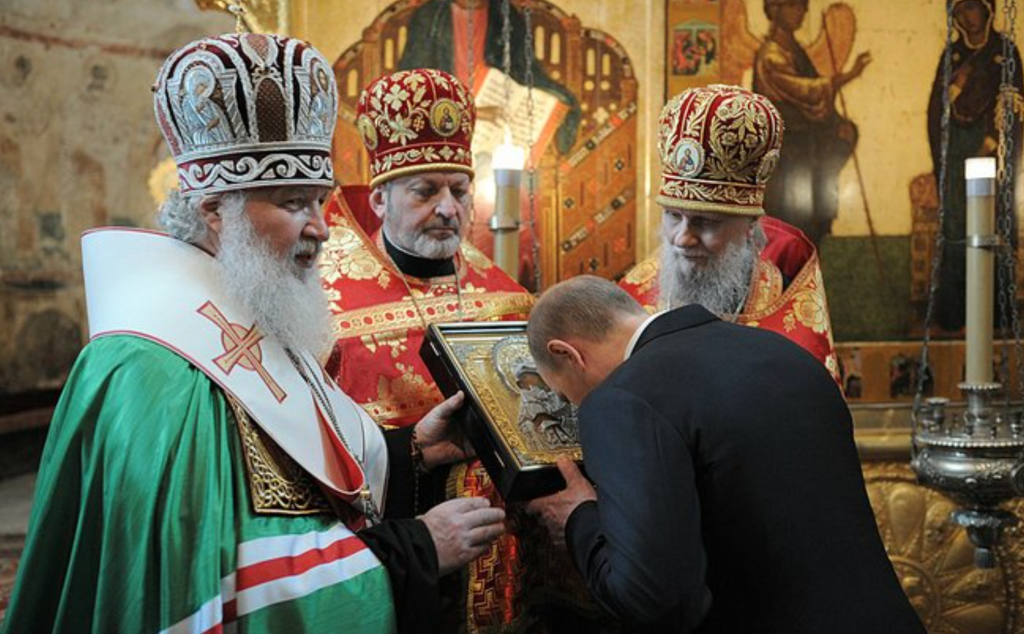 Innocent people are dead in Ukraine. Pro-lifers with platforms must oppose this invasion with every ounce of their being.
Tim Costello, a Baptist minister and the former CEO of World Vision Australia, recently described a meeting he had in 2013 with the president of Russia: "[Putin] said that he was insistent that young Russians start going back to church. He wore a cross around his neck. . . . He seemed fascinated that I was a reverend and questioned me about his faith." Costello also pointed to a 2013 Putin speech in which he lamented the decline of Christian values in the West: "We see many of the Euro-Atlantic countries are actually rejecting their roots, including the Christian values that constitute the basis of western civilisation. They are denying the moral principles and all traditional identities: national, cultural, religious and even sexual."
While many Russian Orthodox Church priests have condemned Putin's invasion of the Ukraine, the head of the church, Patriarch Kirill, a man who once called Putin "a miracle of God," is firmly in the Russian president's corner. Kirill is particularly concerned about gay pride parades in Ukraine's Donbas region. He claims that the war is "far more important than politics," adding that "if humanity accepts that sin is not a violation of God's law, if humanity accepts that sin is a variation of human behavior, then human civilization will end there." Writing at The Bulwark, Cato Institute fellow Cathy Young noted that the patriarch mentioned "the evil of gay parades" multiple times in last weekend's Forgiveness Sunday sermon but "did not say a word about fellow Christians under fire in Ukraine. . . ."
Christian nationalism is partly driving Putin's holy war in Ukraine, much like Christian nationalism is at the heart of the Christian Right's holy war in the United States. The only significant difference between these two religious wars is that one is a shooting war and one is not.
In opposition to the official atheism that defined the Soviet Union of his youth, Putin now believes that Russia is a historic Christian nation that is in danger of eroding into immorality and debauchery. He wants to prevent what he sees as the decadence of the West, a culture informed by autonomous individualism and sexual promiscuity, from influencing eastern Europe. In this sense, he is not unlike Hungarian Prime Minister Viktor Orbán, a nationalist who wants central and eastern European nations to unite in preservation of their Christian roots against the infiltration of same-sex families, immigrants, and atheists. (In a somewhat surprising move, the pro-Putin Orbán just broke with Russia and allowed NATO troops into Western Hungary.)
Some Christian conservatives, including Fox News host Tucker Carlson and blogger Rod Dreher, have embraced Orbán's vision for Hungary. It thus should not surprise us that Carlson has said positive things about Putin's invasion of Ukraine. Dreher, who is currently living in Budapest, has spent the last week both condemning Putin and giving oxygen to the LGBTQ holy war narrative.
One of Dreher's recent posts at The American Conservative illustrates the tightrope that conservative nationalists—many of them Christians—are walking right now. He believes Ukrainian president Volodymyr Zelensky is an "agent of propaganda aimed at manipulating the West into coming into the war on his side." When Dreher speaks of the West coming to the aid of Zelensky he not only means supporting Ukraine militarily but also culturally. The members of a so-called "U.S. ruling class" believe that "America is on the Right Side of History," the conservative pundit argues, and that such a historical narrative "includes redefining marriage and family to suit ruling-class sexual values." He adds: "Keep your eyes on Putin, and you will not be able to see how the US ruling class is destroying your children's moral sense, and concept of normality."
Dreher wants us to know that "two things can be true at the same time: Putin is a war criminal SOB for invading Ukraine, and the Western ruling class is going to use Putin's evil deed to further entrench itself and its values." Maybe Dreher is correct, but such a call for nuanced thinking is rich coming from a blogger who tends to see the world in black and white. Russia is now bombing children's hospitals but Dreher does not want Putin's war crimes to distract us from the larger culture war. This is like arguing in the midst of the 2020 Black Lives Matter protests that nineteenth-century slavery was a horrific practice that stripped the enslaved of their human dignity, and at the same time extolling the sense of place and rootedness the plantations offered white slaveholders. (Dreher, I might add, has written extensively on the moral virtues of "place.") After all, "two things can be true at the same time."
Innocent people are dead in Ukraine. Others are fleeing for their lives. Pro-lifers with platforms must oppose this invasion with every ounce of their being. Is it worth having a Christian nation in Ukraine if few people are alive and the rest live under a Russian Orthodox totalitarian who denies them basic freedoms? Hey, Ukraine may not be free, but at least the LGBTQ community is no longer around!
It seems Dreher and his ilk want something close to a twenty-first century Massachusetts Bay colony—a place where dissenters to the Puritan brand of Christian civilization were fined, punished, expelled and, in a few cases, hung by their necks in Boston Common. I have no doubt Putin has the capacity to deliver such a civilization to the people of Ukraine.
John Fea is Executive Editor of Current