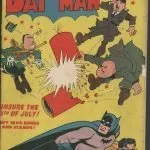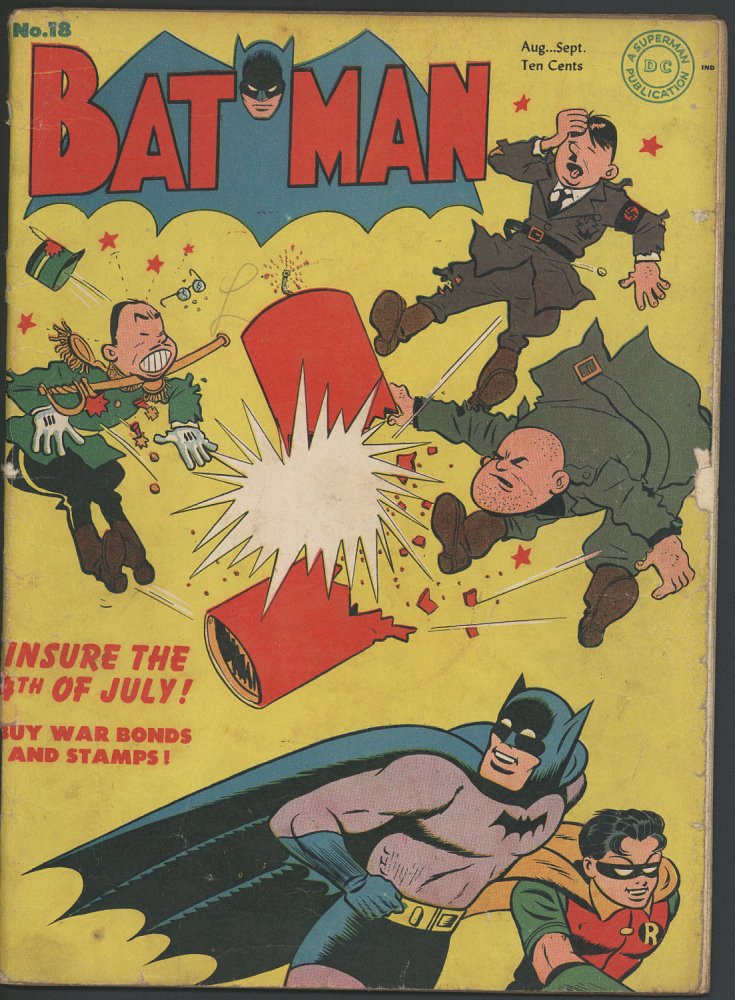 If my social media feeds are correct, a new Batman movie is out. But did you know that "before the Riddler, Batman's archenemy was Hitler?" Here is Samantha Baskind at Smithsonian Magazine:
With Covid restrictions subsiding, millions are certain to flock to theaters this weekend to enjoy the Caped Crusader's latest clash with the sinister puzzle master Riddler in director Matt Reeves' new release The Batman. The film—with the star of Twilight Robert Pattinson stepping into the title role—promises to expand Batman mythos with our high-society hero's dark brand of vigilantism in the ever-dangerous Gotham City.
Batman made his comic book debut more than eight decades ago in 1939. By the early 1940s, while Batman and his sidekick Robin crusaded against thievery and corruption, and thwarted fantastical crimes committed by the maniacal Joker and the umbrella-carrying Penguin—Riddler would not be introduced until 1948—they were not the Dynamic Duo's staunchest archenemies.
The covers of these World War II era comic books were not anything like the campy, upbeat Batman television series starring Adam West, which aired weekly on ABC from 1966 to 1968—same Bat-Time, same Bat-Channel. Nor were they anything like the sophisticated, moody depictions in recent Batman film adaptations.
Instead, Batman had a more crucial conflict at hand. Following Nazi Germany's invasion of Poland, Batman and Robin also waged fictional battles against the Axis Powers: Germany's Adolf Hitler, Italy's Benito Mussolini and Japan's Tojo Hideki.
Several classic DC comic books from this fraught period are held in the collections of the Smithsonian's National Museum of American History. Their vintage Golden Age covers tell a story of war propaganda, patriotism and domestic support of the war effort.
Read the rest here.