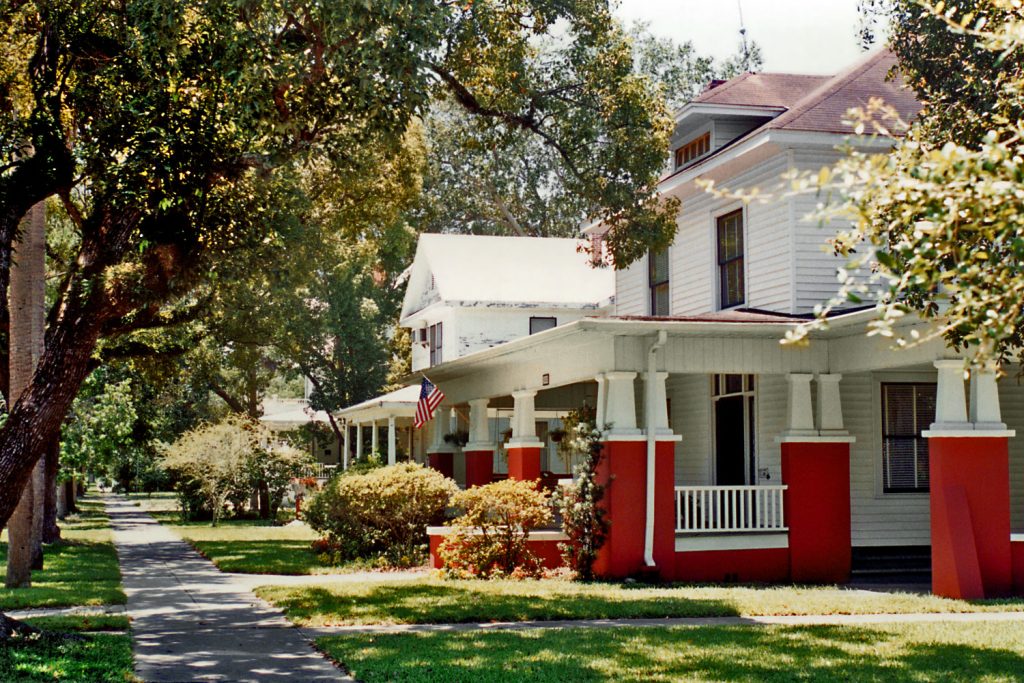 Does loving our neighbor require us to love our neighborhood as well?
"It's a beautiful day in the neighborhood."
Today we travel the sidewalks, my family and I, tethered by a stroller's pace as I push our youngest. Immediately we see the tail-less cat that lives down the street, sleek as a bullet and gunmetal gray with a predatory slink. He leaves headless mice at the edge of the pavement for us to admire.
Our neighborhood runs along the base of a mountain that casts a long shadow. Each year spring climbs the mountain, and fall runs down it. In winter the mountain gets snow when the valley doesn't, and it seems Alpine-like, even more vertiginous, looking down on the city. Sunset always comes early.
Walking north we pass the block where our neighbors' house burned. They moved away but the house remained, scoured by flame, the tree beside it blackened and half-withered, the front window stretched to a cavernous gape that revealed its embered insides. Last fall the house was bulldozed into a heap. Then it was covered with a pall of fallen leaves, bright yellow, as if commemorating all the life it once held.
The neighborhood is filled with churches, and our kids find their grounds exotic, veering from our walk to cross the cloistered paths, wheelchair ramps, and stone steps. We feel the thump thump from the Iglesia Evangelica services at the Baptist Church as we pass, and the stained glass from the Episcopal Church holds the evening light on our way home. Votives and colored ribbons clack and flutter in the trees behind the sanctuary, the remains of a New Year observance.
"Good fences make good neighbors."
Two heads, styrofoam and topped with neon wigs. That's what my neighbor left at the end of our driveway one Halloween night during waves of trick-or-treaters.
"Go after him," my wife said.
"Excuse me, sir. Did you happen to leave those heads at the end of our driveway?"
"Well, we didn't need them."
"Oh, ok," I said, as if that explained it.
Maybe everyone's neighborhood is like this?
At home the angle of our yard invites archaeology: When it rains, water uncovers detritus from the people who lived here before us—strata of buttons, broken bottles, cutlery, and colored glass my children collect. Sometimes creditors show up wearing cheap suits and driving rusted sedans, looking for a previous tenant.
"No, she doesn't live here. No, I don't know her."
Unsure if they believe my answer, I lock the door and watch them watch our house and then drive away.
Recently I noticed that someone is taking bricks from our flower beds—full of weeds, unkempt zinnias, and pink roses. It's as if some patient big bad wolf is dismantling our home one brick at a time, when we're not looking.
"There's someone in our van," my wife said one night, well after midnight. "And he's howling." Standing at the kitchen window in the dark we watched our van sway and shudder in the driveway, hearing an intermittent howl, like some horror movie transformation. When the cops showed up and handcuffed the man, he shouted toward our house that he was sorry. I felt guilty for leaving our van unlocked. Afterwards, I gathered his cigarettes, lighter, and backpack beside our son's umbrella and daughter's pink tennis shoes.
From the same kitchen window I saw some neighbors chase a woman who was stealing things from people's homes. It was hard not to pity the thief.
"Won't you be my neighbor?"
Across the street is an artist who makes wooden sculptures—a giant pencil, for instance—and leaves them out for anyone who wants them. In the spring he plants tulips at random across his yard. Just down the street lives a man who travels for work but always returns to his massive garden, carved out of clay and mountain rock. We watch him throw curtains of water and rainbows over carefully tended flowers and thick grass. Sometimes we get mail intended for another neighbor, a florist who leaves bouquets in exchange for packages, the result of kindness and two transposed numbers.
I grew up hundreds of miles from here in a town about the size of this neighborhood. Mr. Ree, a World War II tank commander in Patton's army who fought in the Battle of the Bulge, lived on our street. He would say in passing, "Anything can happen these days," as if in eight decades he had not seen it all.
One time I answered the door, and Mr. Ree motioned for me to follow him. We walked across the yard wordlessly, past a canopy of oak trees. He stopped and pointed to the sky. Just above the treetops a hot-air balloon drifted by. When I saw it and smiled, he laughed.
This is one of my strongest neighborly memories, one that sometimes rises unbidden when I hear a knock at the door: Mr. Ree, happy to share a bit of wonder. I think too of that balloon floating above the bounded spaces that barely contain all the degradation and hope and love and despair and struggle—and ultimately, the mystery of other people's lives.
Robert Erle Barham is Associate Professor of English at Covenant College in Lookout Mountain, GA. He is also Associate Editor for Current.