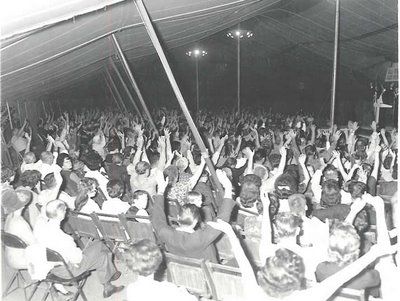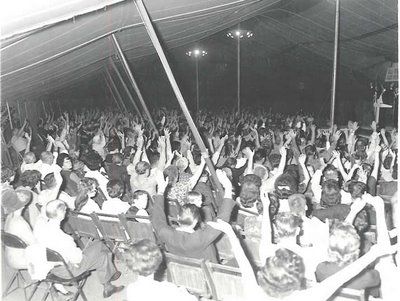 What is happening in Evangelical land?
A conservative website claims that the federal government used Ed Stetzer, Russell Moore, Tim Keller, Rick Warren, Relevant, and the Gospel Coalition to spread "Covid propaganda" to churches. (Just to be clear, to this website "Covid propaganda" is the stuff coming from the Center for Disease Control, the National Institute of Health, Francis Collins, and Anthony Fauci.)
This is revealing and, sadly, true:
Evangelical pastors are joining the Great Resignation. After what they have been through the past five years I am not surprised.
A Southern Baptist preacher seems to prefer the old name:
The Museum of the Bible and Tyndale Publishers strike a publishing deal.
John MacArthur's college and seminary withdraw from the Evangelical Council for Financial Accountability.
I think it's going to take me a while to figure this one out:
How some evangelicals are addressing "evangelical deconstruction." I narcissistically looked for a copy of Believe Me on Shenvi's shelf but didn't see it. Whew! 🙂 I think he makes a few decent points. Most of the people he discusses here, for good or for bad, move beyond history and sociology into activism or theology. I don't think any of them would deny this.
The future is Pentecostal. It is the "fastest growing religious movement on earth."
Former Trump lawyer and evangelical Christian Jenna Ellis could be in big trouble for her work in helping Trump try to steal the 2020 election. Her and other Republicans are using the resignation of CNN president Jeff Zucker to change the subject:
The National Association of Evangelicals signs-on to a statement opposing the Department of Health and Human Services' proposal mandating insurance companies pay for gender transition procedures.
Franklin Graham is still promoting the Canadian Freedom Convoy:
If there is an evangelical athlete out there somewhere, Franklin Graham will find her/him:
Jack Hibbs gets on Facebook to announce that a California bill proposing a single-payer health care system failed. He calls it victory for "righteousness" over "socialism." Does anyone else find it odd that a Christian pastor sees the failure of a health care bill as a righteous victory? By the way, Hibbs also tells everyone to vote for "pro-life" candidates in November. Watch:
There was a bomb threat Monday at evangelical Judson University in Elgin, IL.
Blast from the past:
An "Appeal to Heaven" flag is flying at the Arizona House of Representatives. This revolutionary-era flag is now a symbol of Christian nationalism.
"This Little Light of Mine":
The Liberty University Standing for Freedom Center is taking shots at the New York City District Attorney and "left-wing crime policy." Culture warriors will exploit anything to "own" their political opponents. What kind of Christian college does this? Moreover, any Liberty University comment about law and order must be understood in light of the multiple sexual assaults that have taken place on Liberty's campus. The women who were raped and assaulted at Liberty over the years have called out what might be described as Liberty's "right-wing, patriarchal crime policy." (Mt. 7:1-5):
Evangelicals and fake news in Brazil.
Surprise! The Faith & Freedom Coalition supports Joe Rogan 🙂 :
Another "surprise": The Faith and Family Coalition does not believe that the Constitution should evolve with the times:
Gary Bauer also backs Rogan and uses him to take a shot at Biden:
The Oklahoma legislature is considering a bill that would allow parents to sue public school educators who teach anything "in opposition to closely held religious beliefs of students." The members of the Oklahoma legislature do not understand the nature of education. This might also backfire if a Muslim or atheist student shows up in their classroom.
Court evangelical publicist Johnnie Moore and Mike Pence are promoting a book on Christian Zionism:
According to Eric Metaxas, the United States invented liberty. This is American exceptionalism at its worst. As my students know, the eighteenth-century British empire celebrated liberty. The colonies were part of the empire. Metaxas also completely misunderstands the 18th-century idea of virtue. Virtue was a political idea. A virtuous person sacrificed his or her own interests for the greater good of the republic. The founders believed that people of faith could be virtuous, but one did not have to be a person of faith to exercise virtue. So forgive me if I find it a bit ironic that Metaxas, who believes that the rights of American are threatened when the government asks them to take a vaccine or wear a mask, is extolling the idea of revolutionary virtue. It might be a good idea if Metaxas starts getting his eighteenth-century history from American historians instead of Os Guinness. Watch:
A teacher at Evangelical Christian School in Memphis is this week's "Tennessee Lottery Educator of the Week." (Yes, you read that correctly).
"It doesn't look like Jesus, or sound like Jesus":
Evangelicals are divided over Tish Harrison Warren's op-ed arguing that churches should stop livestreaming services.
Beth Moore keeps delivering truth:
The Coalition for Christian Colleges and Universities is partnering with Wheaton College to promote evangelism.
Evangelical demographics:
The leader of the Australian megachurch Hillsong is stepping down.
Russell Moore got COVID:
At Southern Baptist Theological Seminary in Louisville women learn to preach to other women in their own special course.
During the Second Great Awakening evangelicals broke wind:
More on how the Southern Baptist Convention handled sexual abuse.