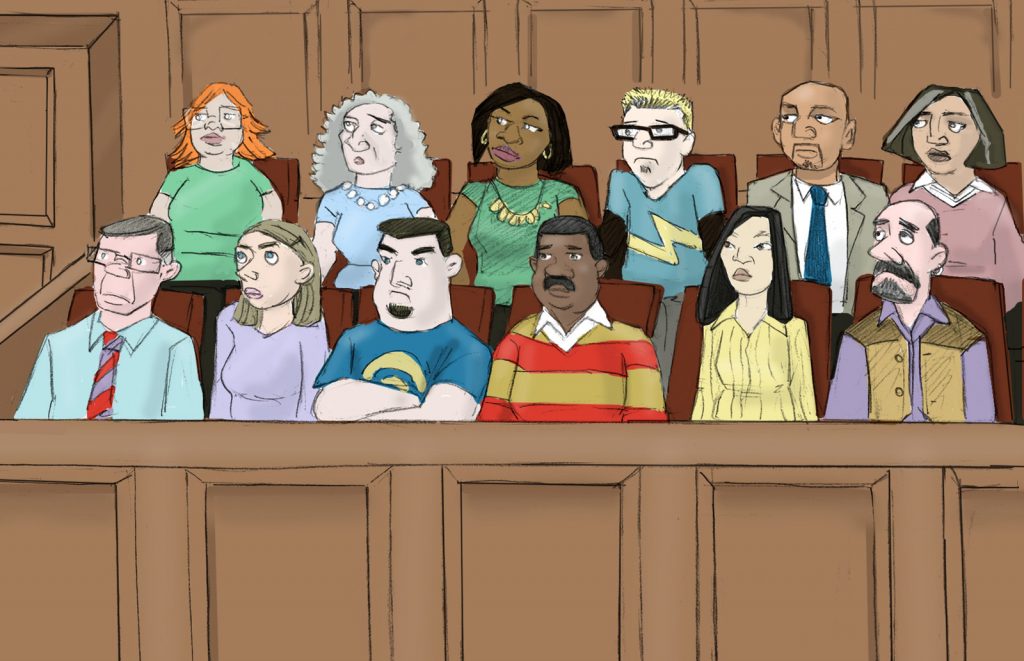 Are you looking for a badge of honor? This one gleams brighter than we know.
If there's one thing most Americans love to esteem, it is our history of democracy. It is also a legacy we seem constantly anxious about losing. Our love of liberty and democracy is so central to our political culture that we use it to justify positions and actions anywhere on the political spectrum. But while we continue to obsess over the Founding Fathers and foundational documents, we have neglected a cornerstone of our democratic experiment: jury duty.
How do we talk about jury duty? For the most part, we complain. No one wants to be called, no one wants to serve. Everyone seems skeptical about the quality of fellow jurors. If you tell your friends that you have jury duty, they usually suggest getting out of it or they bemoan your sad fate. At best, someone will remind you that it is your "civic duty."
Jury duty is not only a "civic duty." It is a privilege. The right to trial by jury was central to the slow march of liberty in Western history, which is why it appeared in documents like the Magna Carta, all the way back in 1215, and in our own Bill of Rights. And if we value the right to trial by jury, we should equally value the right to serve on a jury. As legatees of trial by jury, we show that we are not subject to arbitrary "justice." By being jurors, we show that we are not "subjects" at all but citizens and participants in our society, even arbiters of justice. Our status as citizens is shown in our service as jurors.
There are endless observations and op-eds about the Supreme Court in our culture today. Perhaps one reason it is easy to focus on the Supreme Court is that it emphasizes not only what we think the laws should be but also what we think others should be doing. In contrast, jury duty is our responsibility. And it is one we shirk. But how many of the prominent court cases in the news in the past two years were jury cases? Quite a few. Serving on a jury is an incredibly significant way to be an active participant in our democracy.
It would be hard to find a person on Facebook who does not believe they can offer useful suggestions to our justice system. But it is even harder to find one who is excited to play their role in that system as juror. Anyone worried about whether or not the "tree of liberty" is being watered, or concerned because "democracy dies in darkness," but who schemes to skip jury duty can find evidence for their true concerns in their own actions. Rather than embrace our role as jurors, as active participants in our justice system, we are abdicating the rights and responsibilities of citizenship.
In the famous World War I poem "In Flanders Fields," John McCrae wrote: "To you from failing hands we throw / The torch; be yours to hold it high. / If ye break faith with us who die / We shall not sleep, though poppies grow / In Flanders fields." He was writing on behalf of the war dead, but the sentiment could apply to many who handed torches to the future. How are we holding the torch of liberty? Almost every week someone on social media is arguing about what the Founding Fathers would think of our country today. It certainly seems possible that our neglect of jury duty would be considered by them to be a breach of faith. And one need have no special feeling for the Founders to see that there is a profound disconnect between desiring justice in our society and refusing to do jury duty.
How should we talk about jury duty? Not only as a responsibility but as a right. We should be proud to play a role in these significant decisions. We should celebrate each other for doing so. Serving on a jury is what being a citizen looks like. Far from being bad luck, jury duty is a badge of honor.
Elizabeth Stice is Associate Professor of History at Palm Beach Atlantic University. Her essays have appeared at Front Porch Republic, History News Network, and Mere Orthodoxy.