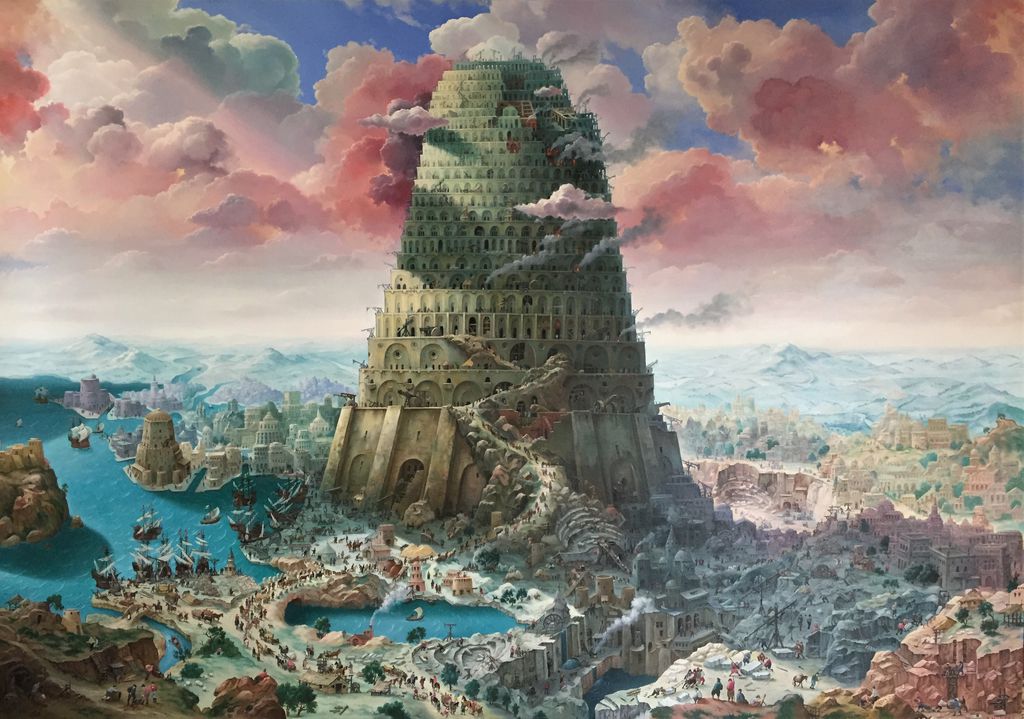 Reinhold Niebuhr invites us to recognize—and learn from—our own collapsing Towers of Babel
After some drinks at a conference in Davos, Switzerland in 1996, internet pioneer John Perry Barlow felt inspired. He typed out what we now know as The Declaration of the Independence of Cyberspace. "Governments of the Industrial World, you weary giants of flesh and steel," read the opening, "I come from Cyberspace." He continued:
Cyberspace consists of transactions, relationships, and thought itself, arrayed like a standing wave . . . Ours is a world that is both everywhere and nowhere. . . .
We are creating a world that all may enter without privilege or prejudice accorded by race, economic power, military force, or station of birth.
We are creating a world where anyone, anywhere may express his or her beliefs, no matter how singular, without fear of being coerced into silence or conformity.
Barlow's tone epitomized his times. The Cold War had ended, global trade was booming, and the internet heralded unprecedented freedom of communication. American power and Silicon Valley innovation appeared poised to usher in a new era of peace and prosperity.
Today Barlow's declaration and the post-Cold War dreams that fueled it seem painfully naïve. Tech giants abuse their power as readily as any government. The "weary giants of flesh and steel" have learned to coopt and control the internet. Social media has entrenched rather than erased divisions of class, race, and nation. And amid a global pandemic, cyberspace-fueled disinformation has divided America and undermined its global standing. Barlow envisioned his "civilization of the mind" as a utopia; time has shown it to be a modern-day Tower of Babel. Yet this realization ought to spur us not to dismiss his vision but to salvage it.
As the specter of world war loomed in the late 1930s, ethicist Reinhold Niebuhr published a collection of sermonic essays entitled Beyond Tragedy. In it, he elaborated an understanding of history capable of salvaging hope in the face of tragedy and thus navigating the seemingly insurmountable challenges of the era without succumbing to despair. To that end, he argued for viewing history through the lens of the Tower of Babel story in Genesis.
The Tower of Babel narrative depicts a time when all people shared a common language. They decided to build a "tower with its top in the heavens" to avoid being "scattered abroad upon the face of the whole earth." Upon inspecting the tower, God noted that if the project succeeded nothing that humans set their mind to would be impossible for them. So God confused the languages, which forced them to scatter across the globe.
This story helps account for the dazzling variety of languages and, by extension, cultures that exist. It also illustrates the limits of overweening human ambition, echoing the narrative of the Fall: God cast Adam and Eve out of the Garden of Eden for seeking godlike knowledge of good and evil. Similarly, by confusing the languages at Babel, God thwarted humans' attempt to do whatever they set their minds to. The lesson seems simple: When humans encroach on God's domain, God will remind humanity of its place. But this punishment was also an act of mercy. Scattering over the earth pushed people to cultivate far more diverse and resilient cultural expressions than a monolith could have supported. The unraveling of Babel's grandiose ambitions proved to be a blessing in disguise.
For Niebuhr, history riffs continually on this theme. Every civilization builds Towers of Babel: They imagine their signature contributions to be greater and more durable than they are. This inflated sense of greatness throws civilizations into crisis. Yet even as it exposes weakness, crisis also allows for a more sober and accurate assessment of a civilization's strengths and how to wield them in ways that transcend the moment. Although civilizations rise and fall, humans make progress in history precisely by recovering the best from these Towers of Babel. This leaves us with the difficult but important task of turning this motif on ourselves: What are the Towers of Babel of our own moment? And what latent potential might their collapse contain?
For insight, let us return to Barlow's declaration. Barlow wrote early in the cyberspace era, well before social media or the smartphone. From this vantage he saw an arresting vision of what cyberspace could be. He gushed about the world that would emerge: one free of prejudice and coercion and unhampered by age-old struggles of race, class, and nation. In this respect Barlow's vision was quintessentially American. It fit the ideals of American founders who sought to vouchsafe liberty and justice for all. It also presumed that cyberspace would inevitably translate these ideals into reality. It is worth considering what American Towers of Babel this presumption might reveal.
American ideals and know-how are worth celebrating. But we consistently presume that the latter will secure the former: If we pass the right legislation, build the right platform, and unleash innovation, we can solve any problem no matter how entrenched. This is our Tower of Babel: the belief that we can engineer our way to our ideals unconstrained by limitations of time, space, or resources.
Evidence to the contrary has always abounded. The colonists who sought to build a "city upon a hill" unleashed brutal tactics on Native peoples. The constitutional convention that proclaimed a "more perfect union" drafted the three-fifths compromise. The nation that helped defeat Nazism forced Japanese Americans into internment camps. As a world leader, America has deposed elected leaders, propped up dictators, and launched proxy wars in the name of freedom.
Despite the ways these actions contradict our ideals, many of us have been content to throw ourselves into the American experiment without questioning its presumptions. Deep down, perhaps we believed that America was uniquely equipped to transcend age-old human problems—we just needed to unleash American innovation. In the twenty-first century this attitude has prompted us to look to Silicon Valley to deliver on the promise of the internet age.
Recent events have forced us to reckon with the depth of our illusions. For all our medical knowledge, we could not prevent a global pandemic. For all our claims to fairness, the rich keep getting richer on the backs of the poor. For all our claims to racial progress, white supremacists march in our streets and officers kill Black people in cold blood. And for all the promises of cyberspace, social media disinformation has paralyzed our government and caused millions of citizens to lose their grip on reality. The very innovations that were supposed to propel American progress have left us in disarray.
Facing the collapse of these Towers of Babel can prompt a sense of despair. But we do well to appreciate the ingenuity that tempted us to erect them. Liberty and justice are worthy ideals, and American know-how has transformed modern life. We can celebrate these things while acknowledging that we cannot innovate our way out of every intractable dilemma. Unlike the actors in the biblical story, we don't have the option of scattering over the face of the earth. Instead, we must commit to forging a "more perfect union" without illusions about the slow, difficult work this project requires.
There are no shortcuts to liberty and justice for all. The way is hard and often frustrating. To walk it, we will need to own up to our past and acknowledge our limits. But learning our limits will help us use our strengths more wisely and effectively. Perhaps then we can transcend the seemingly insurmountable challenges of our moment.
Jeremy Sabella lectures at Dartmouth College and is the author of An American Conscience: The Reinhold Niebuhr Story.