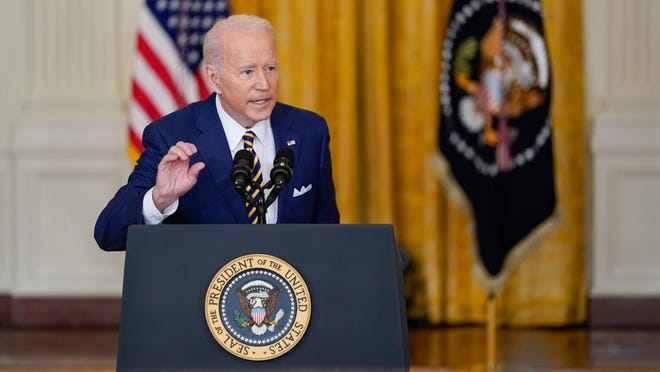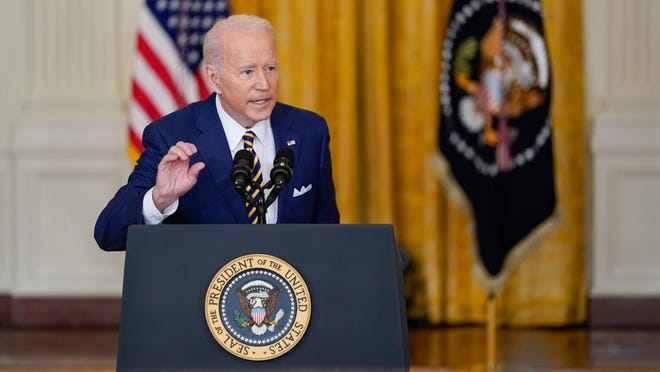 The reports on Joe Biden's press conference yesterday are pretty predictable. A Fox News headline called it a "total disaster." The New York Post called is an "utter disaster." The New York Times reported on the event with little overt commentary one way or the other. The Hill commented on how Biden's "loquaciousness" got him into trouble. Several outlets noted his botching questions on Ukraine. Kurt Bardella of The Los Angeles Times believes that Biden's accomplishments in the first year of his presidency "have been short-changed." The New Republic summarized the press conference well with a headline reading, "Biden Finally Lets Loose , in All His Messy Glory."
Over at The Washington Post, Jennifer Rubin called Biden a "glass half full" president. I think that's right. Frankly, I think he's done a pretty good job in his first year as president. Many Americans have benefited from his COVID-19 relief package. He did a good job on the vaccine rollout. It is not his fault that nearly 40% of Americans won't take it. Yes, there have been some bumps along the way on COVID-19, but let's also remember that Biden inherited a train-wreck from Trump on this front. I am excited about the roll out of the bipartisan infrastructure bill. It will improve the lives of millions and millions of Americans. I am also optimistic that some aspects of Build Better Back Better may still get passed as individual pieces of legislature. The economy is improving. We are not there yet, but unemployment rates are falling and there is hope things will get even better once we get COVID-19 under control. We are back in the Paris climate agreement.
Of course there have been some low points. The Afghanistan withdrawal did not go well. We are still dealing with inflation and supply chain issues. Many Americans are confused about how to respond to Omircon. Our immigration system is still a mess.
But in the end, it was a decent first year. I'll take Biden's first year as president in a heartbeat over Trump's first year. Why? Because…
There were no discussions of inaugural day crowd sizes.
There were no travel bans directed specifically at Muslims
There is no Steve Bannon hanging around the White House
There is no "executive time"
There are no National Security Advisors lying to the Vice President.
There are no attempts to shut down FBI investigations related to said National Security Advisor
There are no accusations of former presidents wire-tapping phones
There are no court evangelicals
There are no attempts to repeal the Affordable Care Act
There are no meetings with Russian foreign ministers in which the president calls the FBI director a "real nut job."
There are no firings of FBI directors over "this Russia thing"
There are no incidents of the president pushing world leaders out of the way in order to get a photo-op
There has been no "Covfefe"
There are no early morning tweets about television news hosts "bleeding badly from a face lift"
There is no Jared or Ivanka in the White House
There are no speeches to the Boy Scouts in which the president brags about his election victory
There is no Anthony Scaramucci
There are no claims that white supremacists marching on a college town are "very fine people"
There has been no staring at the sun during a solar eclipse
There have been no pardons of nativist Arizona sheriffs
There are no visits to natural disaster sites in which the president tells everyone to "have a good time"
There are no attempts to end DACA and deport the Dreamers
There is no obsession with Kim Jong Un, North Korean's "Rocket Man"
There are no attacks on NFL players
There are no suggestions that Puerto Rican victims of a hurricane "want everything done for them"
The Secretary of State is not calling the president a "moron"
There are no attempts to say that Putin "absolutely did not meddle in our election"
There are no endorsements of Alabama politician Roy Moore.
And that was only Trump's first year in office. His two biggest achievements were a $1.5 trillion dollar tax cut and the appointment of Neil Gorsuch to the Supreme Court.
We sometimes forget in our age of grade inflation that a "B" means "good."