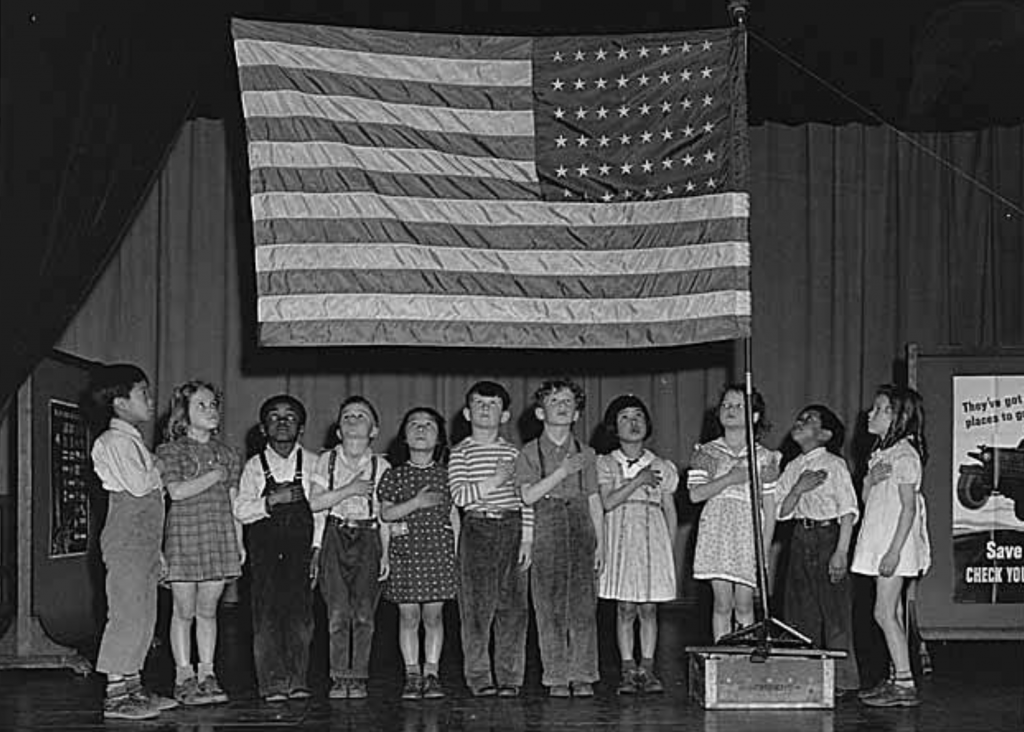 When it comes to contemporary political debate, Augustine helps us see the primacy of desire over data
Civic education is in vogue. Commentators across the political spectrum seem to sense the ripeness of the moment. The American History and Civics Initiative was recently established to introduce K-12 teachers (and their students) to key primary sources in the American political tradition. The 1619 Project gives readers an account of American history that centers Black subjugation and white supremacy as defining facts of our national experience. The 1776 Project aims to counterbalance the 1619 Project by centering instead the ideals of the Declaration of Independence and the American Founding as constitutive of our common life. 
In a recent podcast episode of Advisory Opinions with David French and Sarah Isgur, the two Harvard-trained lawyers lamented the legal reasoning of John Eastman's attempt to justify an Electoral College count that would guarantee the victory for Donald Trump. French argued that Americans would know it's just a little bit wonky for the Vice President to have so much power in deciding presidential elections if only they had some decent civic education. Isgur contended that civic education was not the problem, but that if it is, what people really need to know is the basic American principle of "rule of law."
What seems to be lurking beneath this conversation (and, really, all of the efforts mentioned above) is the notion that if only Americans were better informed, if only Americans had more understanding of the facts, and if only Americans took an American Government course where they learned about "separation of powers" and "rule of law," we would have better citizens and a healthier republic. If we had all these things, America could be saved from its real problem: intellectual ignorance.
While I applaud all attempts to better inform American citizens about the American system of government, the legacy of slavery and white supremacy in our national life, and the meaning of the "American idea" as found in the Declaration of Independence and the Constitution, we need to think more deeply about how people come to know anything. In short, we need to remember what Augustine taught us long ago: that love and desire are fundamental in the human experience.
Philosophers have been sounding this note since antiquity, that the problem of human knowledge and human society is not first a problem of ratiocination or apprehension of the facts. Rather, it is first a problem of love, desire, and interest.
In Book 8 of Plato's Republic, Socrates argues that the best regime will degenerate into tyranny. However, this demise does not happen because people don't understand how a regime is put together. No, it declines because the loves of the rulers decline. Lovers of the good become lovers of honor. Lovers of honor become lovers of money. Lovers of money become lovers of liberty. And finally, lovers of liberty become lovers of slavery (and of themselves).
Likewise, eighteenth-century political philosopher Jean-Jacques Rousseau knew that the hearts of the citizens must be bound together in order for the social contract to have efficacy. Those hearts needed to be "instructed" in such a way that they come to "love [their country] with that exquisite feeling that no isolated person has save for himself."
Finally, in the twentieth century, Jürgen Habermas—who of all twentieth-century Continental philosophers is probably the most friendly to the ideals of the European Enlightenment—addresses this idea clearly. In his book Knowledge and Human Interests, he argues that we know something not in a neutral manner but because we have certain "human interests" that drive us in a particular direction. We don't know something; we want to know that something. We have an interest, a love, and a desire that drives us to know.
What does this mean on the ground, in real experience? Let's take a recent example: the first impeachment trial of Donald Trump. After the House impeached the President, the Senate tried him for abuse of power and obstruction of Congress. The conviction fell short, with 52-48 and 53-47 votes in favor of acquittal, respectively. The votes were almost party line, with Mitt Romney voting for conviction on the charge of abuse of power.
But is there a "Republican" theory of impeachment and a "Democratic" theory of impeachment such that the votes would fall in this way? Of course not. Instead, we have two parties who have different interests, loves, and desires that drive them to "know" different legal theories of impeachment. Maybe one party loves the truth; maybe the other loves power. I'm not here to adjudicate that dispute. What I do know is that both parties were motivated by a love for something that set the table for their legal arguments regarding impeachment.
It's also my experience as a professor of politics that while I am able to inform 18-22-year-old students about politics and government, I have little effect on their basic orientation toward the world and politics. That may be a function of my teaching. But it may also be that 18-22-year-olds are already so formed in their loves and views that a college professor can't have much effect. Whatever the reason, I'm convinced that changing someone's politics requires a changing of the heart more than a changing of the mind.
So when we think about civic education and the rival versions on offer today, we need to understand that it's not enough to teach people "separation of powers" and the importance of freedom as seen in the Bill of Rights. No, people first need to love freedom and hate tyranny. It's not enough to teach people the history of slavery and its influence on our republic. No, people need to hate enslavement and love human equality. It's not enough to teach people the importance of justice in the making of law. No, they need to learn how to love justice and hate injustice.
John Eastman is a graduate of Chicago Law School and has a Ph.D. in Government from Claremont Graduate School. He has plenty of civic "education." When it comes to contemporary political debate, stressing incomplete knowledge obscures the role of love and desire. We can say "rule of law" all day long. We can shout about "freedom" and "equality" until we're blue in the face. We can teach about the legacy of slavery until the cows come home. But if we don't love the law, if we don't desire freedom, and if we don't have an interest in equality, no amount of civic education that reduces the project to facts and reasons will make much difference.
Andrew Kaufmann is an Affiliated Fellow with the Center for Faith and Flourishing at John Brown University. He lives in Seattle with his wife and three children