What is happening in Evangelical land?
In case you missed it, we covered Charlie Kirk's Christian nationalist celebration "America Fest."
Will someone please introduce this fellow of the Liberty University Standing for Freedom Center to Selma, Birmingham, Montgomery, Emmett Til, the fate of the freedom riders, and the rest of the civil rights movement:
In 2021 the evangelical world lost Melvin Banks, Carman, Ralph Carmichael, David Yonggi Cho, Bill Glass, Marcus Lamb, Marilyn Laszlo, Labib Madanat, Evelyn Mangham, Thomas McKenzie, Rene Padilla, and Luis Palau.
Tish Harrison Warren on how Christmas changed everything.
John Wayne was an actor. David French actually served in the military: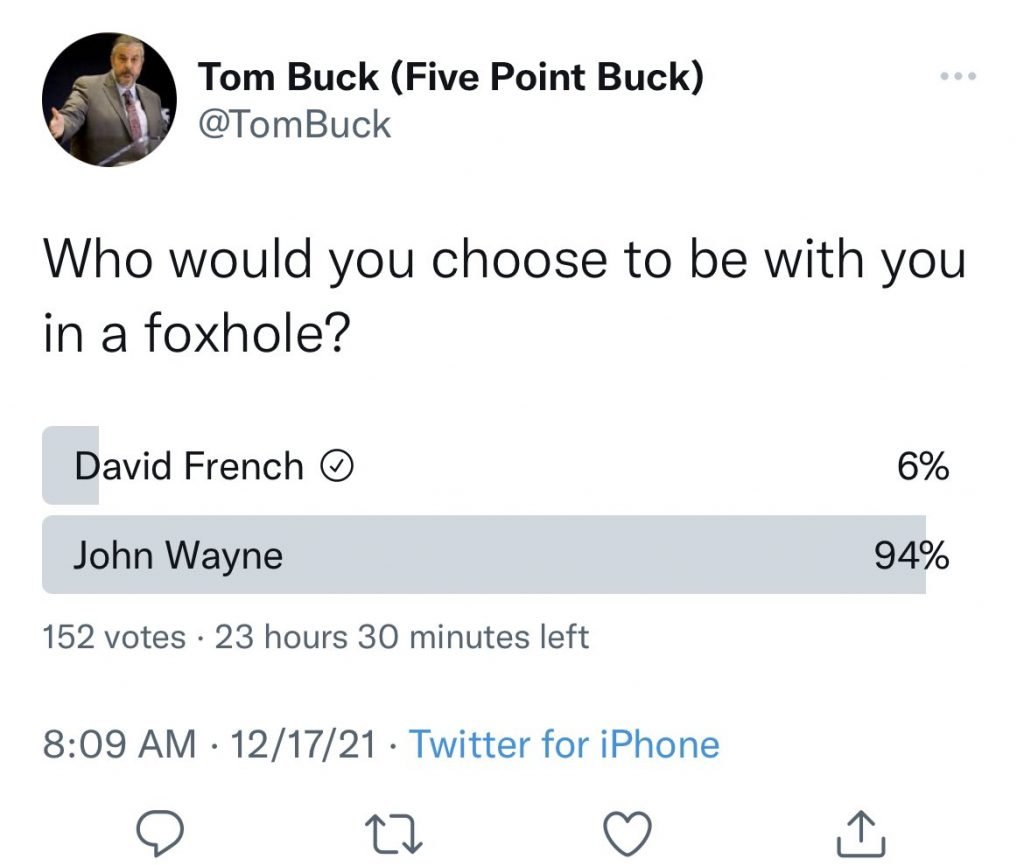 Randall Balmer and Charles Strozier on the "baseless" claims of evangelical anti-vaxxers.
Jamie on evangelicals craving fame:
Evangelicals are more likely to attend church these days.
Those in attendance at Kirk's America Fest make up a small portion of evangelicalism's future. I have yet to encounter one of my evangelical students at Messiah University who would embrace the ideas promoted at this conference:
The Duggars and the evangelical culture they promote.
Beth Moore is attending an Anglican Church and Ed Stetzer is there to help:
Beth does have a few detractors out there:
As is often the case, Skye gets it right:
24 inmates get a bachelor's degree in pastoral ministry from a Southern Baptist seminary.
Jim Wallis on Desmond Tutu:
Shane on Tutu:
There are now more nones than evangelicals in America.
Jeffress invites Trump to his church to speak and then goes on Fox News and talks about "coming together." You can't make this stuff up:
Trump Jr. says "turning the other cheek" has "got us nothing while we've ceded ground in every major institution in our country." Yes, it's all about power. Peter Wehner responds.
David Brody wonders who will be in heaven, but he knows that he will be there asking about donuts:
And this is par for the course from Brody:
Philip Yancey on deconstruction.
Is Ted Cruz running for president in 2024?
The staff of a Chattanooga megachurch quits after the pastor kissed a woman who is not his wife in this video.
Blast from the past:
I was on vacation when Trump came to First Baptist-Dallas last week. Get up to speed here. Even the most conservative Southern Baptists did not like Trump's appearance at Robert Jeffress's church:
Ed Stetzer's take on the Trump visit to First Baptist-Dallas.
Franklin Graham seemed glad Trump was there:
Franklin Graham also retweeted this Todd Starnes tweet:
A right-wing Southern Baptist website attacks Russell Moore and Southern Baptist Theological Seminary dean Matt Hall:
Evangelicals love technology.
A member of Barack Obama's faith-based initiatives team:
What do evangelicals think about Netanyahu?
Praying for Biden is like praying for Hitler:
Christianity Today's top ten news stories of 2021.
Facebook says no to Owen:
Omicron, Covid, God, and the Constitution all in one tweet:
Ed Stetzer defends the Salvation Army.
Does it matter if it's privately funded?:
Franklin on Manchin:
National Association of Evangelicals president Walter Kim speaks to the graduates of Beeson Divinity School.
Do only "Evangelical Protestants" have a "personal relationship with Jesus Christ?":
Are evangelicals "evolving" on LGBTQ issues?
The "Magna Carta" of happiness:
Hagee and Nikki Haley have grown tight over the years:
On the influence of African Pentecostalism.
The scandal of the evangelical mind (at least in terms of Kirk, Cawthorn, Lindell, and Boebert)?:
More on the scandal at Kanakuk Kamp.
Christianity is true because of American freedom:
The Evangelical Environmental Network writes to Joe Manchin.
Samaritan's Purse is on the ground in Mayfield, Kentucky.
Russell Moore on Festivus
Tim Keller on Christmas