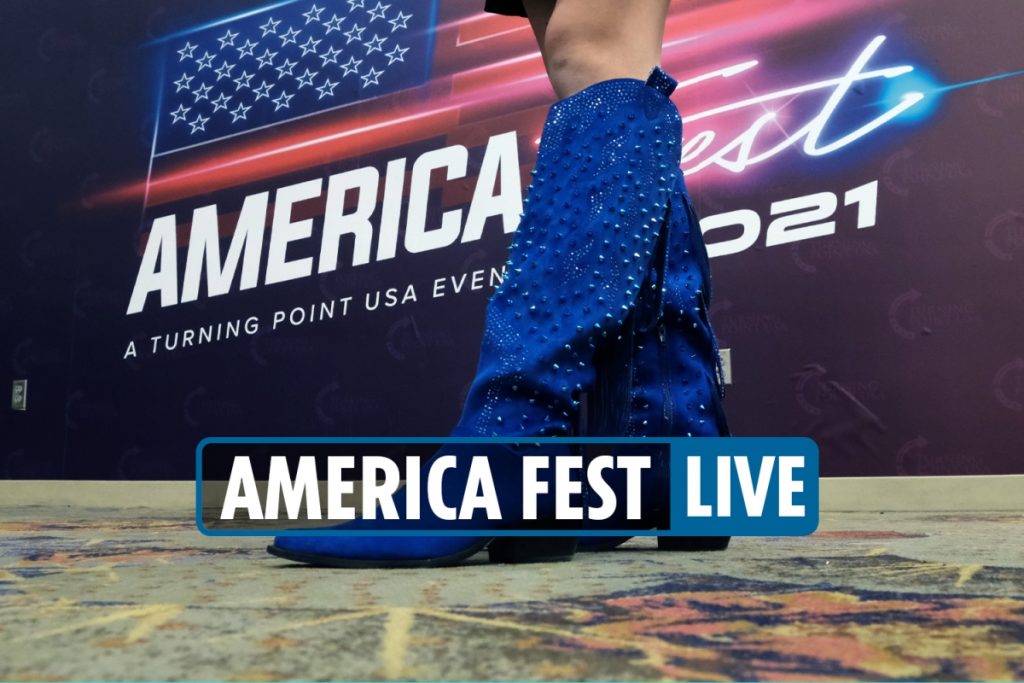 Charlie Kirk's pro-Trump, God and country organization Turning Point USA recently hosted a conference called "America Fest." Thousands of college students, fresh off of final exams, showed-up in Phoenix to attend the event.
Let's see how things went:
Colorado congresswoman Lauren Boebert was there. Notice how she talks about the way God has positioned conservative Christians to take back the country. She weaponizes the Christian belief in vocation and misuses the doctrine of God's grace to serve her political ends. As I listen to her, I am reminded of 1 Corinthians 13:1: "If I speak in the tongues of men or of angels, but do not have love, I am only a resounding gong or clanging symbol." Notice her reference to "spheres of influence." About twenty years ago I associated this phrase with a certain form of Dutch Calvinism. Today I hear the phrase used regularly by the advocates of Christian dominionism.
Charlie Kirk, the founder of Turning Point USA, talks about cell phones and social media. The most ironic thing about this clip is that future historians will see Kirk and his movement as the direct outgrowth of this new technology. Read Kirk's twitter feed and tell me if I am wrong. Where would Turning Point USA be today without his 1.7 million Twitter followers? In other words, Kirk is partly responsible for everything he is ranting about here. Watch:
Christian comedian Jon Crist, who harassed and exploited young women, is back. I don't seem to remember Crist hanging with the pro-Trump crowd before his scandal.
Sorry Lauren, but I don't think anyone in Congress believes that "government is God":
Lauren was also praying over people:
Here's Kirk affirming his complementarian credentials. "Women want to be led by strong men":
Ohio congressman Jim Jordan will not meet with the January 6, 2021 House Select Committee, but he will talk with the folks at America Fest. His complete lack of knowledge about science is on display here. No medical or scientific professional would give an exact date as to when the country should lift COVID-19 restrictions. Science is constantly changing and we are always in the process of learning more about these variants. Watch:
Let's Go Brandon (F—Joe Biden) is chanted at this conference of God-loving patriots:
What is a pro-Trump rally without Lee Greenwood?
Apparently someone named "MAGA Hulk" was there:
This guy was there too:
Apparently the "Biblical response" to Colin Kaepernick is John 10:10. Also, Kaepernick has no purpose in life:
Kirk says "if it feels good in the moment, it is probably not good for you." But isn't the entire Turning Point USA movement about getting people to "feel good" in the moment? Isn't it a massive pro-Trump "dopamine kick?" Without the politics of outrage, emotion, victimhood, and grievance Kirk would be just another college dropout. Watch:
Kayleigh McEnany listened to a Joyce Meyer sermon on "faith over fear" before she started her first day as White House Press Secretary. We also learn that Sarah Sanders, her predecessor in the position, read Jesus Calling everyday before facing the press. These people believe that by lying for Trump they were doing the will of God.
Watch:
Does Kayleigh McEnany believe that the U.S. Capitol is one of our "nation's greatest symbols?":
In the South, Rush and Southern Baptists go together like Moon Pies and RC Cola:
If you listen to this guy, racism doesn't exist:
Tucker Carlson, the pro-Trump FOX News host, says that "you can't have wise leadership from people with unbalanced lives." Yeah Tucker–that last guy in office was a real fount of balance and wisdom! Carlson adds: "it is completely unacceptable" to "destroy the next generation of Americans because you're afraid. I think it's cowardly. I think it's disgusting. I think it's one of the great crimes ever committed." There is a lot of truth in what Carlson is saying here. I hope the Christian Right takes his words to heart and stops engaging in the politics of fear. It is precisely the politics of fear that led them into Donald Trump's bed. But Tucker does not stop there: "If you're in charge of the country you need to think of the country first. It's not about you. You narcissistic creep." When Tucker delivers this line you can almost cut the irony with a butter knife. Finally, at the end of the clip below, he actually sounds like he believes in something akin to science. If Tucker believes that a person can die from wearing shorts in a snowstorm perhaps there is hope that one day he might come to the belief that COVID-19 is deadly and the "wise" decision is to get vaccinated.
Watch:
At God and country events like this the attendees worship America and Jesus:
This is the kind of anti-intellectualism, binary thinking, and fundamentalism that characterizes so much of our politics these days. Gorka says there is "no truth" in anything said by the Left:
Kyle Rittenhouse was there:
Kyle was a hero at this event. The celebration of Rittenhouse at this conference reminds that Christian nationalism is not Christianity. Turning Point USA and its God and country supporters seem to care about preserving a culture defined by Christian values. Fair enough. But let's remember that Rittenhouse was a 17-year-old kid with access to a semi-automatic assault weapon who drove to Kenosha on the night of August 25, 2000. I don't care whether he acted in self-defense or not. It seems like the jury got the decision right based on Wisconsin law. But those who care about the moral fabric of the United States should be concerned about why he was there in the first place. If Turning Point USA cares so much about Christian America, why isn't it asking hard questions about gun culture and the way it is promoted in homes and in the media? Why doesn't Turning Point USA have a speaker address how someone like Rittenhouse gets caught-up in this culture of vigilante justice?
Perhaps someone can explain this to me:
Here is Donald Trump Jr.'s entrance:
Madison Cawthorn speaks on what should happen when Republicans "get into power" and "take command." He wants puppies saved, Biden impeached, and Fauci fired.
In this clip, the North Carolina congressman calls vaccination a "forced medical operation" and tells people to exercise civil disobedience. Of course he was opposed to such "civil disobedience" when it was Black Lives Matter doing the protesting.
Here Cawthorn calls college a "scam" and encourages thousands of university students to drop-out unless they want to be a doctor or lawyer. Think about this. We now live in an era in which a congressman can say he is proud to be a college drop-out. There was a time when most Americans might have felt a small degree of shame for admitting this. Change over time indeed! So much for the founders' belief in an educated citizenry. (Perhaps the real story here is what Cawthorn did when he WAS enrolled in college). Watch:
Dennis Prager tries to do American history. (See my comments following the video):
Prager says that we should "judge people in their time." Two quick thoughts about this. First, there were many people who lived at the same time of the founding fathers who also condemned slavery. They were also part of those "times." Second, from a moral perspective, Prager is saying that there are no moral beliefs that are always true, no matter the era. Does he really believe this? Does the Turning Point USA crowd really believe this?
Morally, there is a sense in which we are indeed "greater" today than Washington, Jefferson, or Shakespeare. We allow women the right to vote. We allow nonland-holders to vote. We allow people of color to vote. We ended slavery. Etc. All these changes over time have advanced morality in this country, making us morally superior to our ancestors on many matters. Americans should embrace the fact we have tried to apply our values to fix the ethical lapses of previous generations. In this sense, progress is a good thing and Make America Great AGAIN is a bad thing.
Prager says that the question of "who had slaves" is irrelevant. Really? I thought this was a history lesson. First, I think the fact that the founders owned slaves is absolutely relevant if you want to understand how many of them were able to accumulate wealth, send their kids to prestigious schools to learn about Enlightenment values such as liberty, and see themselves as a superior race. Second, all of the things I just mentioned are worth noting not only for obtaining an accurate view of what happened in the past, but because we are still reckoning with all these things in the present. Prager would prefer that there be no continuity between the past and present. For him the American founding is frozen in the eighteenth-century. I imagine he reads the Constitution this way too.
Matt Gaetz says that the Left is "hunting" conservatives "in the flesh." Funny. One might say the opposite about January 6, 2021:
Matt Gaetz wants to dish out pain to the Left:
OK. That's all for now. I think you get the point.