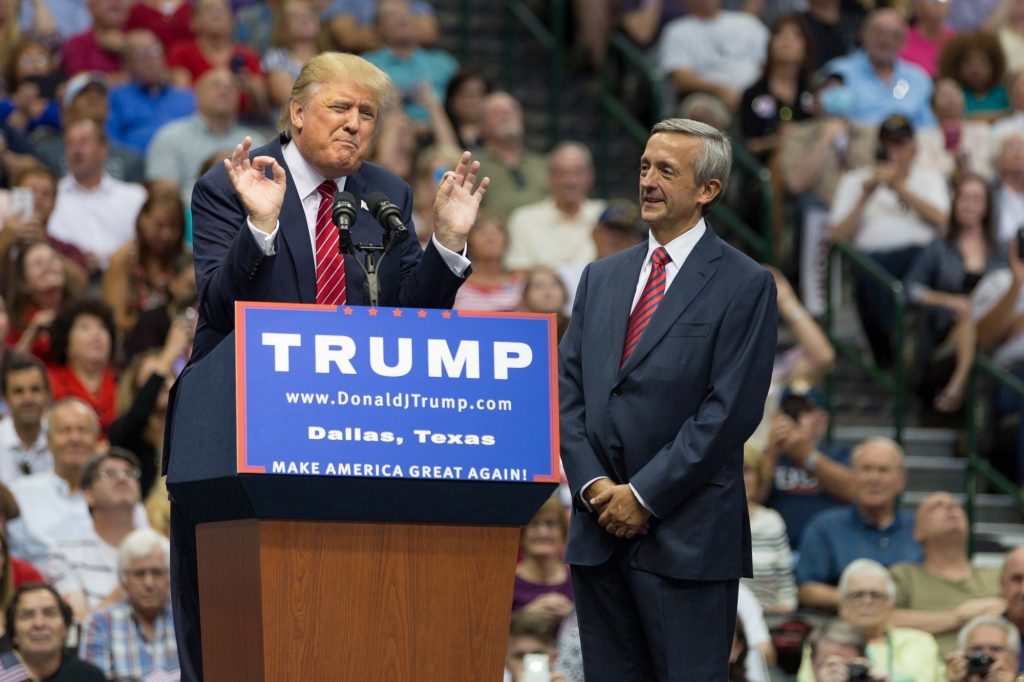 And I am sure he will get a warm welcome from court evangelical Robert Jeffress. Here is the Dallas Morning News:
Former President Donald Trump returns to friendly Texas turf Sunday in Dallas at the American Airlines Center to talk about his political history and will also celebrate the Christmas season by attending worship services at First Baptist Church.
The holiday trip combines several of Trump's favorite things — arena appearances in cities where he remains popular with conservatives, hobnobbing with First Baptist Dallas senior pastor Robert Jeffress, and Christmas, which he considered under attack by political correctness and famously vowed to restore to its proper reverence.
Trump began his tour with stops in Sunrise and Orlando, Florida, where thousands attended but media reports said there were many empty seats available. He takes "The History Tour" with journalist and historian Bill O'Reilly to Houston next for a Saturday appearance at the Toyota Center. Then it's on to Dallas, where the event with Trump and O'Reilly is set for 3 p.m. at the American Airlines Center.
"These will be wonderful but hard-hitting sessions where we'll talk about the real problems happening in the U.S.," Trump said in a statement promoting the tour.
He promised provocative talk, saying, "I will be focusing on greatness for our Country, something seldom discussed in political dialogue. If we don't make our Country great again, we will soon no longer have a Country!"
Besides the political talk, he said the event "will be fun, fun, fun."
Jeffress, who has a long history with Trump, said in a statement that "we are blessed to have my friend and our 45th President to worship with us this Sunday morning at First Baptist Dallas. America has never had a more pro-life and pro-religious liberty president than Donald J. Trump."
Added Jeffress: "The focus of the music and message this Sunday will be on the most important event in human history — the birth of Jesus Christ. President Trump is known for his love for Christmas and what it represents."
Read the rest here.