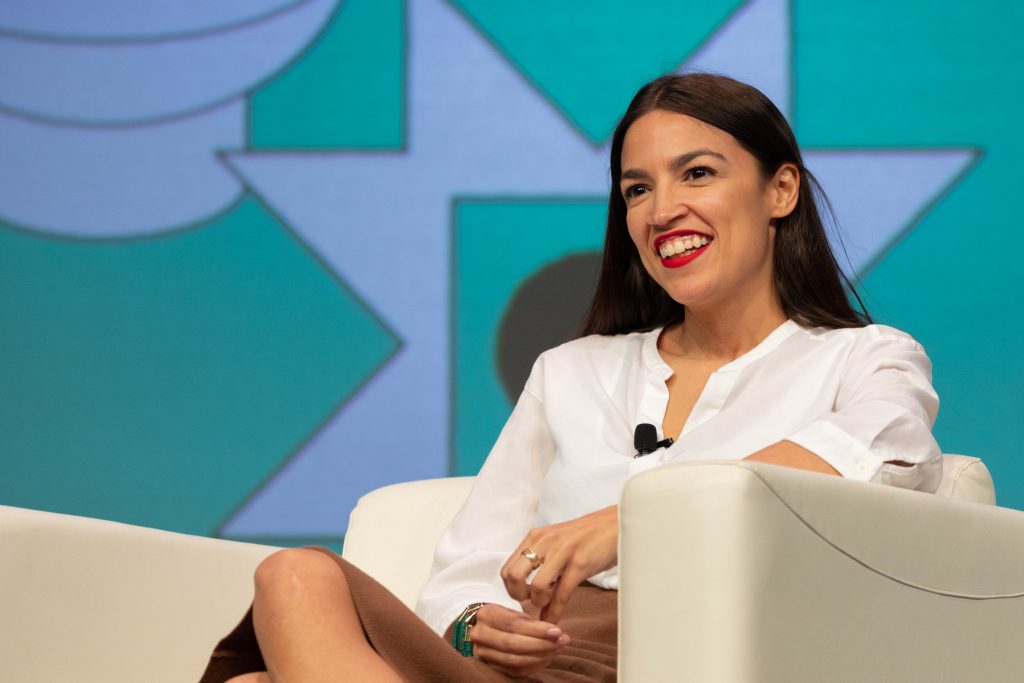 The progressive pro-life voices of the early 1970s echo in surprising ways
When the U.S. House of Representatives censured Representative Paul Gosar for releasing an anime video that depicted the killing of fellow House member Alexandria Ocasio-Cortez, Ocasio-Cortez heralded the vote as a stand against violence and in favor of human life. "It is about a core recognition of human dignity and value and worth," she declared.
Ocasio-Cortez's statement could have been lifted directly from the pro-life literature of the early 1970s, when phrases such as "human dignity" and "value" were ubiquitous in defenses of the "right to life." Many pro-lifers of the early 1970s saw their campaign against abortion as a campaign against violence. Thus, when liberal Republican Senator Mark Hatfield introduced one of the earliest antiabortion constitutional amendment proposals on the Senate floor in 1973, he used several of the phrases that Ocasio-Cortez would employ nearly half a century later and applied them equally to the war in Vietnam, capital punishment, and abortion. He believed that each of these was a "form of violence" that should be opposed.
But here is the odd thing: Gosar is a pro-life congressman with a 100 percent approval rating from the National Right to Life Committee. Most of those who voted against censuring him were also pro-life. Ocasio-Cortez is an advocate of abortion rights, as are a majority of those who voted to censure Gosar for his video depicting the killing of a public official.
How did pro-life politicians who represent a movement that once condemned violence come to believe that humorous depictions of violence against a female congressional representative are okay? How did we reach a point where defenses of "human dignity and value" and condemnations of violence are more likely to come from pro-choice politicians than from those who call themselves pro-life?
The answer is that the pro-life movement's argument against violence has long been forgotten in the midst of its championing of Christian nationalism. In the early 1970s, the pro-life movement included a large number of liberal Catholics and Protestants who opposed the Vietnam War, advocated for civil rights, and wanted to fight poverty with social programs. Hatfield was one of those people, as were Jesse Jackson, Senator Ted Kennedy, and a host of lesser-known figures, including many left-leaning college students. For them, abortion was only one example of a much larger societal acceptance of violence, and they viewed the pro-life campaign as part of a larger project of defending human dignity at every stage of human existence.
Yet there was another group of pro-lifers who were not troubled by violence in general but only by violence against "innocent" human life. Many of those pro-lifers had no objection to the Vietnam War (which they saw as a worthy fight against Communism) or capital punishment (which they thought was necessary to protect innocent people against crime). They therefore connected their opposition to abortion not to a larger campaign against violence and violations of human dignity but to a battle against the sexual revolution and the secularization of American society. Killing innocent babies, they thought, was what happened when people abandoned God's law in public life. Their fight against abortion therefore focused mainly on changing the law and defending conservative Christian values in national life—not in fighting against a culture of violence.
There are still some pro-life activists (such as Fordham University theology professor Charles Camosy, for instance) who are motivated primarily by a deep antipathy to violence and who therefore try to connect the pro-life campaign to a larger effort to defend human dignity and human life at every level. But the majority of the pro-life movement has not seen any contradiction between the pro-life cause and gun rights (which nearly all of the pro-life members of Congress support) or military buildup and intervention in foreign wars, because their fight against abortion is no longer a campaign against violence in general. Making a sharp distinction between "innocent" human life and other human life, most of the pro-life members of Congress today (and many pro-life activists) are strong advocates of the right to self-defense. In the early 1970s, many of the most prominent liberal antiabortion politicians were also opponents of the death penalty. Today, every state that has recently passed restrictions on abortion is a state that uses capital punishment; the only states that have abandoned the death penalty are pro-choice states.
This presents a difficult political dilemma for the minority of pro-life activists who want to maintain the movement's earlier focus on human dignity and opposition to a culture of violence. Because the pro-life cause today is closely allied with the Christian Right and the Republican Party, those who care about defending human dignity and opposing violence in the way that many activists of the early 1970s wanted will probably find more support for their cause among pro-choice Democrats—except when it comes to abortion, of course. When it comes to the dignity, value, and personhood of the unborn, modern progressives such as Ocasio-Cortez would part company with the progressive pro-life advocates of the early 1970s. But on nearly all other matters of human dignity, they would probably find common ground. That's especially true when it comes to condemnations of a humorous depiction of political assassination.
I don't know for sure how a pro-life senator of the early 1970s such as Mark Hatfield would have voted on Gosar's censure if he were alive today. But it's hard for me to imagine how a pro-life politician who spoke out so forcefully against a culture of violence that eroded Americans' "sensitivity to the sanctity of human life" could have ignored the violence and dehumanization in Gosar's video. The pro-life politicians who excused Gosar's actions seem to have forgotten an important principle of the early pro-life movement—which is why it was left this month to a pro-choice politician to remind them of the values on which their cause was once based.
Daniel K. Williams is a professor of history at the University of West Georgia and the author of several books on religion and American politics, including God's Own Party: The Making of the Christian Right and The Politics of the Cross: A Christian Alternative to Partisanship.