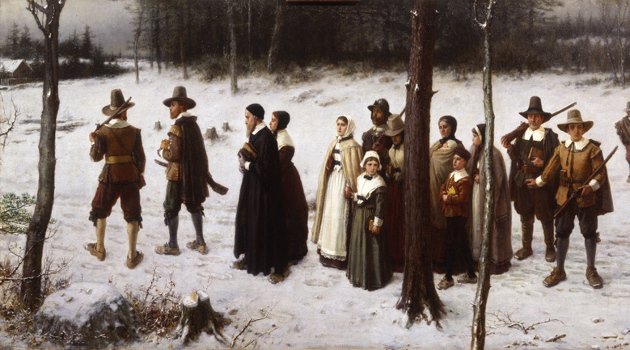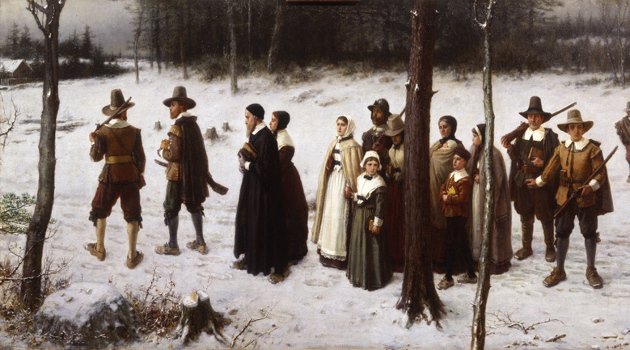 In Monday's Evangelical Roundup (available twice a week to Current patrons at the Surface level), I included a piece by Wallbuilders president Tim Barton in which he claims that the seventeenth-century Pilgrims defeated socialism.
Here is Barton:
We often think that the battle against Socialism is a new fight sprouting out of the writings of Karl Marx which are so blindly and foolishly followed today by those deceived by leftist irrationality. However, America's fight against the evil of socialism goes back even to our very founding during the colonial period. Thankfully, our forefathers decided to reject the tenants of socialism and instead build their new colony upon the ideology of freedom, liberty, hard work, and individual responsibility. 
Over at Slate, Cornell University history Lawrence Glickman explains how and when Thanksgiving became a capitalist holiday. Here is a taste:
Google "Thanksgiving" and "free enterprise" and you will find links to articles on conservative and libertarian think tank websites with titles like "How Communism Almost Ruined the First Thanksgiving," "Thanksgiving is a Celebration of Free Enterprise," and "Thanksgiving, Socialism, and Free Enterprise." These pieces, remarkable in their ideological consistency, are the product of decades of mythmaking, begun before the internet was a glint in Al Gore's eye.
Making use of excerpts from Plymouth Colony Gov. William Bradford's journals, all of these pieces tell roughly the same story about "the real meaning of Thanksgiving": the Pilgrims went to Plymouth in 1620 with a utopian vision of holding property in common, but after being mugged by the reality of two years of poor harvests and starvation, they abandoned collectivism for capitalist individualism. These articles conclude in roughly the same way: The lesson of the first Thanksgiving was that "socialism does not work; the one and only source of abundance is free markets." What's more, many of the pieces claim, this true history has been suppressed, "deleted from the official story," "no longer told in the textbooks because it is thoroughly unPC."
To understand how Thanksgiving became a conservative touchstone, we need to turn to history—but to the history of opposition to New Deal liberalism, rather than the history of the Pilgrims of 17th-century New England. As Joshua Keating showed in Slate in 2014, the "free enterprise Thanksgiving" arguments misconstrue the history of the Plymouth settlement. For one thing, the Pilgrims celebrated the first Thanksgiving not in 1623, when they supposedly threw off the shackles of socialism, but in 1621, when they were still supposedly suffering under it. While the Pilgrims complained a lot in the early years, they did so more as unhappy shareholders of a corporation, then as victims of communism. The accuracy of these histories of the first Thanksgiving matters. So, too, does how and why this reading of the Pilgrims as repentant socialists and die-hard free enterprisers—as Whittaker Chambers–like converts from communism—emerged.
The narrative of free enterprise Thanksgiving was a proxy skirmish in the battle between conservatives and New Deal liberalism and its emerging welfare state, which many critics on the right conflated with socialism and even communism. In claiming Thanksgiving, a holiday associated with family, abundance, and Americanism, these critics sought the legitimation of history for their view that security underwritten by the state was not only un-American, but the path to authoritarian socialism—a charge that took on particular force during the Cold War, when this narrative of "free enterprise Thanksgiving" was born.
Read the rest here.
Let me also encourage you to listen to our interview with Glickman in Episode 55 of The Way of Improvement Leads Home Podcast.