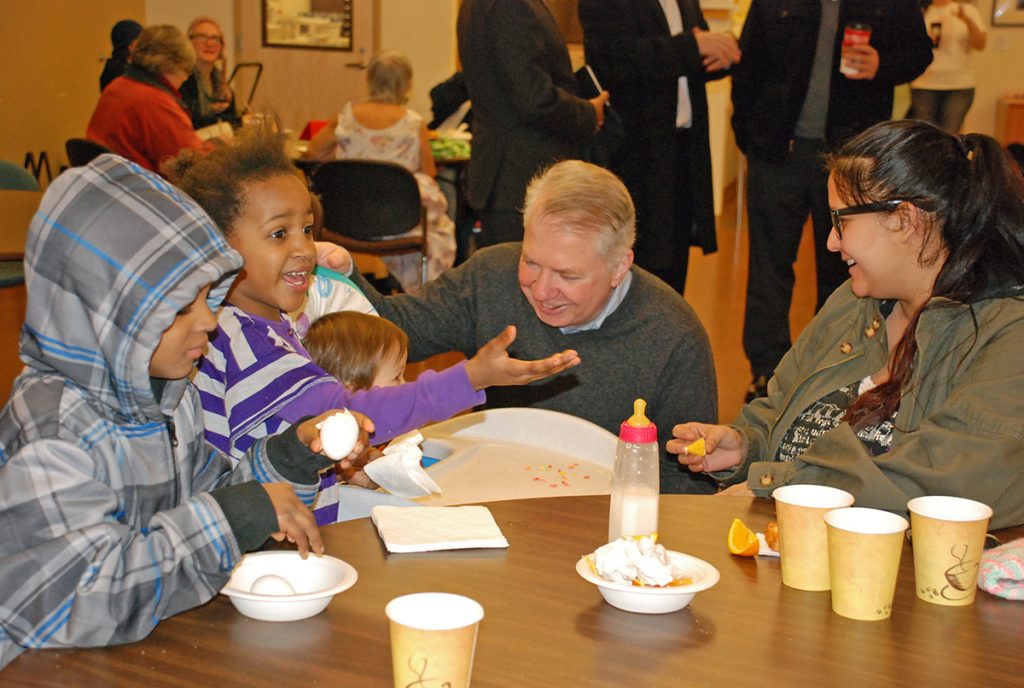 An approach that seems like common sense runs foul of both scripture and history
Should churches' poverty relief efforts focus more on getting people out of poverty or on ensuring that the poor are treated with dignity?
The approach we choose has political implications. If our focus is exclusively on helping people escape poverty, we will likely see long-term aid to the poor as harmful, since it removes incentives for people to improve their own economic condition. After all, if individuals can overcome poverty with the right program or the right amount of effort (or the right amount of faith, in the view of many believers in the prosperity gospel), it doesn't seem wise to invest much effort in advocating for legal or social changes in the way the poor are treated.
On the other hand, if many people who may be poor through no fault of their own cannot easily escape poverty, investing in measures that honor their humanity and improve their lives makes more sense.
Although many American mainline Protestant and Black Protestant churches—along with the global Catholic Church—have lobbied for humane treatment of the poor, conservative white evangelical churches have charted a different course. Their anti-poverty efforts have focused almost entirely on helping poor people learn the behaviors necessary to get out of poverty, while saying nothing about the shorter life spans, inadequate healthcare, abusive work conditions, and sublevel wages that plague the lives of the poor and rob them of dignity.
Some of the most vocal conservative evangelical opponents of government programs to aid the poor have also been the most dedicated to helping people get out of poverty through individual effort. The late twentieth-century Religious Right leader and Baptist pastor Jerry Falwell Sr., for instance, was a strong advocate of conservative Republican efforts to cut welfare programs while also pioneering self-help antipoverty programs in his own church in Lynchburg, Virginia. In 1959, when Falwell's church was only three years old, it built a recovery house for men who were addicted to alcohol. In 1965, Falwell launched a prison and rehabilitation ministry, and shortly after that brought drug addiction experts into his Sunday school program to help teens in the region who were struggling with narcotics.
Yet Falwell took a very dim view of federal welfare programs, which he said sent checks to "bums" who "wouldn't work in a pie shop eating the holes of out of donuts." The solution to poverty, he believed, lay not with the government but with churches. "Let us train pastors to meet the needs of the segments in the same way the government is attempting to do it," he said. "I think we're better equipped to do it than they."
The same thing happened on a larger scale in the late twentieth and early-twenty-first centuries, when numerous evangelical churches launched ministries to help individuals transcend poverty through personal financial management programs and self-discipline. Many also participated in adoption programs, foster care ministries, drug addiction recovery efforts, and Habitat for Humanity building projects. The majority of these white evangelicals were just as skeptical of government social programs as Falwell was. The premise behind President George W. Bush's faith-based initiatives program was that churches and private charities could do a better job than the government in helping the poor escape poverty. In making this claim, Bush echoed the ideas of one of his evangelical advisors: Marvin Olasky, whose book The Tragedy of American Compassion argued that federal antipoverty programs from President Lyndon Johnson's Great Society kept poor people in poverty and were thus detrimental to their long-term best interest.
Evangelical churches' assistance to individuals in escaping poverty undoubtedly works in many cases. But it doesn't address the social and legal discrimination those who are left in poverty continue to experience. It doesn't address the fact that those who remain in poverty have shorter life spans than the wealthy, much higher risks of heart disease and other ailments, and a vastly greater likelihood of landing in (and staying in) prison or on death row. Individual improvement efforts will not provide health insurance for the poor or higher wages for single mothers who struggle to earn enough to purchase food for their children while also paying the rent. It will not help the working poor who are being priced out of their neighborhoods because of rising housing costs. And it will not produce legal work permits for undocumented immigrants, some of whom were brought into the country as children and need to find a way to provide for themselves and their families.
But if conservative white American evangelicals have ignored these structural needs because of their exclusive focus on getting the poor out of poverty, the Christian church historically has not had this blind spot. Indeed, getting people out of poverty has not been the church's primary concern when caring for the poor. Perhaps it has been an American Protestant concern—indeed perhaps almost an obsession in a country in which white Protestants have generally seen poverty as an embarrassing aberration that challenges their belief in the country as a land of opportunity where anyone can succeed. But for centuries, the global Catholic Church has focused much more strongly on providing compassionate care for the poor, not creating self-improvement plans to get people out of poverty.
This emphasis on concern for the human dignity of the poor dates back to early church practices and medieval notions of social obligations, but it has carried forward to the present through papal encyclicals on social ethics and the pronouncements of Vatican II on the role of the church in the world. It also largely reflects the emphasis of biblical teaching as well. The Bible, which was written in an ancient world that lacked the modern American view of easy social advancement across class lines through individual initiative, contains only a few verses that might suggest ways to get people out of poverty. But it includes hundreds of passages on the human dignity of the poor, God's concern for their wellbeing, and the responsibility of those who are wealthier to care for those who are impoverished—as well as the responsibility of rulers to be especially concerned with the rights of those who are economically marginalized.
Evangelicals' emphasis on getting people out of poverty through individual effort is thus less aligned with the Bible or the historic Christian tradition than the Catholic Church's approach is. Although millions of people have been helped through these efforts, millions of others have been left behind by the failure of the conservative white evangelical tradition to take seriously the possibility that individual initiative will never be sufficient to overcome poverty—and that regardless of whether it is, the failure to treat the lives of the poor with the same respect that others in society receive has always been considered a grave sin, both in the Christian tradition and in the Bible.
Evangelicals have done wonderful work in helping individuals get out of poverty. But to fully carry out the biblical mission they profess, they need to find more ways to show compassion and respect for those whose poverty results from structures too powerful for church programs to address.
Daniel K. Williams is a professor of history at the University of West Georgia and the author of several books on religion and American politics, including God's Own Party: The Making of the Christian Right and The Politics of the Cross: A Christian Alternative to Partisanship.