Nature knows the secret of rejuvenation. Can we learn it, too?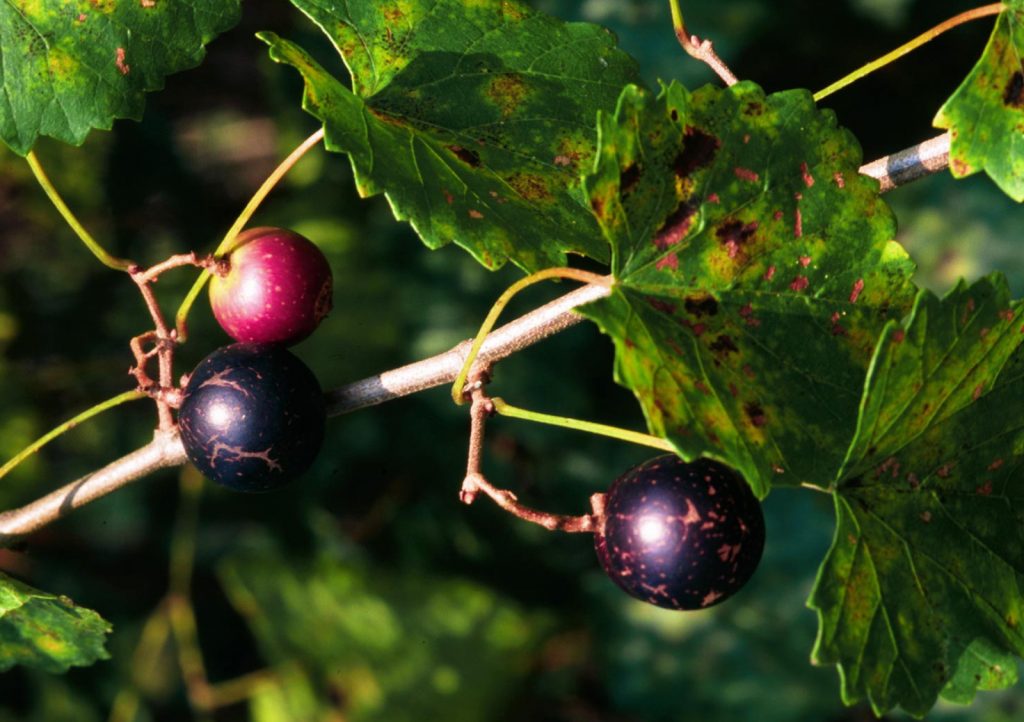 It's September in Atlanta: time for football, spiking COVID numbers, and—wild muscadines (Vitis rotundifolia).
You'll probably see them first on the ground. The grapes ripen and drop unevenly for a month or more, littering paths and verges and forest floors with marble-sized garnet fruits that turn brown as they ferment and desiccate. Crushing one—almost unavoidable if you're biking or jogging through muscadine country—is like something out of an alien movie, ruptured leathery skin extruding fluorescent green flesh.
Some of the tastiest muscadines are down in the leaves and grass. The flavor—sweetly piquant pulp, slightly sour skin, and tannic aftertaste—calls to mind a rich, bitter cocktail. Sugary like a grape, but darker and more complex. They are intensely aromatic; you might smell them before you see them. Ripening muscadines send the dark wine scent through the air in waves. They have, like Henry David Thoreau's wild apples, a kind of "'bow-arrow tang,'" an ability to "pierce and sting and permeate us with their spirit."
Little wonder that European explorers were so thrilled to find them. Wild grapes were a sign that North America had potential. On a mission for Sir Walter Raleigh and his investors, Philip Amadas and Arthur Barlowe sailed two ships down the Virginia coast in 1584 and landed at what became known as Roanoke Island. There they encountered what were likely muscadine vines:
wee viewed the lande about us, being whereas we first landed, very sandie, and lowe towards the waters side, but so full of grapes, as the very beating, and surge of the Sea overflowed them, of which we founde such plentie, as well there, as in all places else, both on the sande and on the greene soile on the hils, as in the plaines, as well on every little shrubbe, as also climing towardes the toppes of high Cedars, that I thinke that in all the world the like aboundance is not to be founde.
This account of vines draping over everything that stood up from the landscape, of grapes pouring out into the sea, was intentionally seductive—Come on over, settlers—because for many Europeans the wine grape, or Vitis vinifera, was Western civilization incarnate. A native wine grape promised future glories.
But as the wine historian Thomas Pinney pointed out in the 1980s—in all italics, no less—"No such grape is native to North America." That's right: The superabundant Vitis that in 1584 seemed to offer such promise were "tough, wild, grapes, usually small and sour . . . sometimes full of strange flavors," yielding wine that was "thin, unstable, sharp, and unpleasing—if drinkable at all." Muscadines did not hybridize readily with Europe's wine grapes, or any of the native grapes, either; indeed, some classify it as a separate genus. But it intrigued viticulturists nevertheless. The scuppernong, a bronze variety discovered in North Carolina in the early 1800s, earned a reputation for producing surprisingly good wine; Thomas Jefferson ordered several casks in the 1820s. By the 1860s, the grape had its own monograph, Jarvis Van Buren's The Scuppernong Grape, Its History and Mode of Cultivation: With a Short Treatise on the Manufacture of Wine from It.
There was another wave of interest in the early twentieth century in muscadines as a commercial product. "There are at least 250,000,000 acres of land," two USDA horticulturists proclaimed in 1916, "which are well adapted to the culture of these grapes, a large percentage of it being at present untilled." State, federal, and private breeding programs introduced a bevy of more productive varieties that yielded larger fruits with more tender skin and sweeter flesh. But they still came in loose clusters of three or four grapes, unlike the great masses of table grapes from Chile and California. The muscadines tended to split at the stem, rendering them too perishable for long transit. So V. rotundifolia remained confined to "specialty trade" and home production. Many, many rural and suburban lots throughout the Southeast have at least the remnants of an old muscadine arbor.
Ours does. We inherited a scuppernong, a real "tangle of vine," wrapped several times around itself and clambering from a too-small trellis onto and over the top of a struggling dogwood. The scuppernongs it bore were delicious—bronze and sweet and tender-skinned, the bitter tannins that distinguish wild muscadine somewhat subdued. But they were hard to find in the dense foliage, and not so numerous as they could have been if the plant were properly pruned and trained. Or so I had read. "I really should prune that muscadine," I thought every summer. But the vine's tangled appearance was pretty much as it had been when I moved in.
Until a couple of winters ago. Fed up with half-measures, I took a pruning saw to the three-inch trunk of the vine and cut it down to a stump. Sap gushed out of the open wound. You will think that is hyperbole. My children put a bowl at the base of the stump to catch the overflowing lifeblood of the vine. As the winter turned to spring and the trunk bloomed with a slimy cream-colored fungus, I resigned myself to the fact that I had murdered the thing. I avoided the place. I couldn't look at it without pangs of loss and whispered recriminations. Months went by.
And then, to my great surprise, it sent up one, two, three little shoots. Now, a couple years later, it clambers over the trellis, a thick tangle again. We harvested scuppernongs this week from the vine my children still identify as "the one that Papa killed."
There's a parable here, a tiny recapitulation of the human history of Vitis rotundifolia for the last five hundred years. Act One: The wild vigor, the seemingly irrepressible desire of muscadine plants to go up, to climb high into the trees and fruit where no human can reach it. Act Two: the pruning diagram, the human vision of an ordered vineyard. Act Three: the gushing stump, a product of the vine's vigor, the dream of mastery, and my own ignorant impatience.
But the final act, at least for now, is resilience: the ability of a plant like muscadine to suffer violence and disaster and rejuvenate, sometimes stronger than before. Which, when you think about it, is what the plant kingdom has been doing since the start: buffering shocks and willful ignorance and greed; healing us of the wounds and diseases we have inflicted upon ourselves; absorbing the carbon; cooling the atmosphere; checking soil erosion; providing for us the very air we breathe.
And, sometimes in late summer, a plant will condescend for a moment to my clumsy, unperceptive level, offering a sweet wild grape, offering unmerited favor. I'm learning to take and eat and give thanks.
William Thomas Okie is the author of The Georgia Peach: Culture, Agriculture, and Environment in the American South and "Amber Waves of Broomsedge." He teaches history at Kennesaw State University in Georgia.