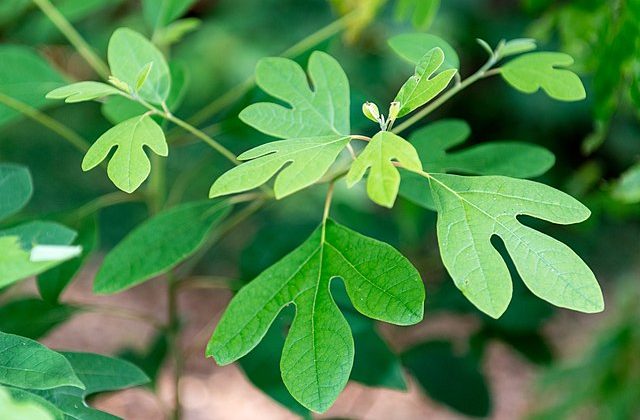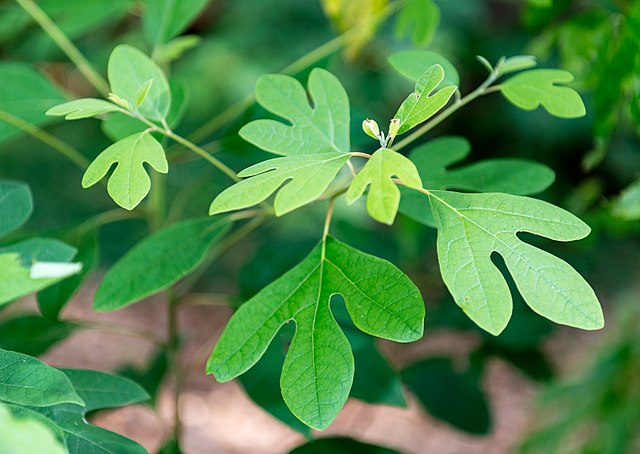 What is the focus of your current book project? What are the big questions that you are investigating and the main stories that you hope to tell in this book?
The book project is called Wayside: The Hidden Histories of Ordinary Plants, and it is a group biography of four plants that frequently grow in spaces I categorize loosely as waysides: powerline rights-of-way, verges, drainage easements, fencelines, and so on. The four plants are sassafras (Sassafras albidum), eastern redcedar (Juniperus virginiana), broomsedge (Andropogon virginicus), and poke (Phytolacca americana).
In addition to being widespread and readily identified in wayside landscapes across eastern North America, each has had an interesting and well-documented historical career. Sassafras was a major pharmaceutical, especially in the sixteenth and seventeenth centuries when it was on par with tobacco, for a time. Broomsedge became a rhetorical marker for agricultural decline, fertility loss, and topsoil erosion in the nineteenth century. Redcedar was the original pencil tree, until supplies ran out in the early twentieth century. And poke has been an important source of early spring nutrients for rural foragers and a potential source of antiviral proteins for HIV treatment.
I think we have paid too little attention to ordinary plants like these and the unremarkable spaces where they grow. And I think we tend to be stranded in the present and need what Alan Jacobs calls "temporal bandwidth." This book project is in some ways just a call for redirecting attention. "Hey! Look up!" And that call is directed first at myself. I'm much too caught up in my own world and need reminding that it's much bigger than my own concerns, historically, spatially, and biologically.
Can you give us a taste of something surprising that you have found in your work on this project so far?
There is a surprising amount of sassafras poetry. One of the most famous is a ditty reprinted widely in turn-of-the century newspapers:
In the spring of the year when the blood is too thick
There is nothing so rare as a sassafras stick
It cleans up the liver and regulates the heart
And to the whole system new life doth impart
Sassafras oh sassafras
Thou art the stuff for me
And in the spring I love to sing
Sweet sassafras of thee.
The song is usually attributed to James Buchanan Elmore, the self-proclaimed "Bard of Alamo" (Alamo, Indiana, that is), and a "wonderfully awful" poet honored in the twentieth century at Wabash College with "Elmore Day." Charles Dana, the witty editor of the New York Sun dubbed Elmore the "Sassafras Singer," and sarcastically called him "the most original and unhackneyed" of American poets. "We defy anybody to read the last four lines without remembering them forever," Dana wrote. "They have the true haunting, magical melody."
But Elmore did not write the poem, or so he said. "I would say it is no child of mine," Elmore wrote in 1908. "It is an illegitimate offcast, or else its father would have owned it." In its place, he offered one called "Dudes and Sassafras" which was every bit the equal of "In the spring of the year."
They are dudes from in the city,
With a pole and line for bass,
As they stroll by sparkling brooklets
Hunting roots of sassafras.
Elmore goes on, a bit darkly:
When their blood is dark and ruddy,
And their skin is a mottled mass,
They take a small decoction
From the roots of sassafras.
Some mistake the characteristics
of this tree with boughs like tinted grass,
And have used the nauseous elder,
Which removed their brains in mass.
I'm not sure if Elmore was thinking of Charles Dana's brains here or not, but in any case the absurdity of the whole affair tickles me. There's also a kind of analogy here for the way I think of the book. Just as the bad poetry enlivened my historical research with some laugh-out-loud moments, plants like sassafras can also intrude on our hurried twenty-first-century lives in ways that are decentering and life-giving. "This was the whole world down here and I walked past it every day sure that I knew what the world was," Paul Kingsnorth's narrator observes in Beast. "We blunder about with our heads in the clouds with our hearts in outer space and here is life going on amongst the woven grasses and it doesn't care about us and it will be going on long after we have burnt ourselves out."
What are the broader questions that fascinate you in your reading/thinking/writing?
I'm fascinated with the physical world, and the afterlives of disaster and failure that show up in the physical world as ruins. As someone who is constantly and unsuccessfully trying to control his own life and environment, I am fascinated with the limits of human control and the evidence that suggests humans are not the masters we think we are. And so naturally I'm writing about weeds.
William Thomas Okie is the author of The Georgia Peach: Culture, Agriculture, and Environment in the American South and "Amber Waves of Broomsedge." He teaches history at Kennesaw State University in Georgia.