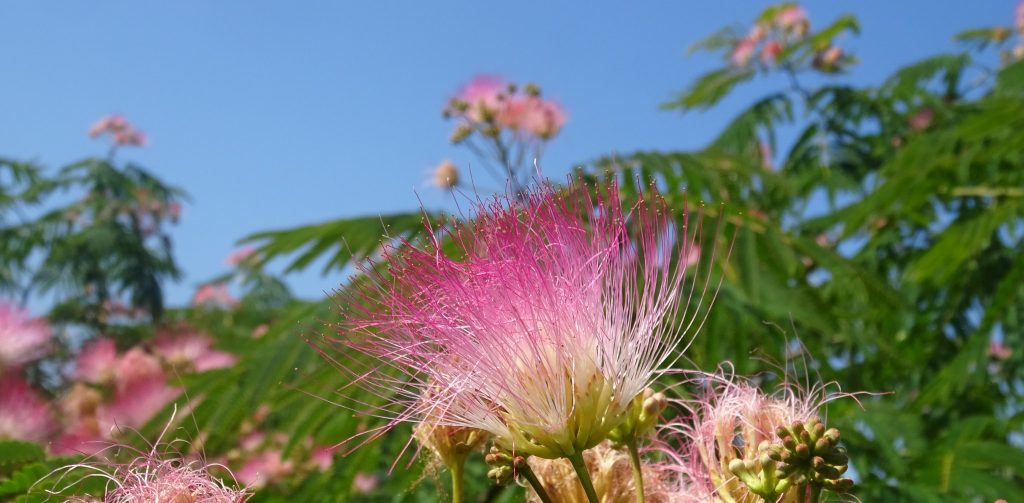 A "wonderful awful tree" shows us some wonderful awful things about ourselves
It's blooming time for mimosa (Albizia julibrissin). That's what we always called them growing up, though I've since learned that "Persian silk tree" is more correct. "Silk tree" is also more descriptive of the delicate pink and white flowers, "the long and slender stamens of which stream in the wind, and glitter in the sun, like a number of silken tassels artificially fastened to the boughs," as one nineteenth-century admirer put it.
The flowers rest atop fern-like leaves that fold up at night or in the rain, which in turn perch on weak limbs that extend, fan-like, from the trunk, hungry for sunlight, wonderful for climbing. They would fit right into an African savanna. But they are native to central and east Asia, from Iran to southern Korea. They showed up in European gardens in the eighteenth century, and then the famous botanist André Michaux brought some to his Charleston, South Carolina, nursery in the 1780s. In 1805, Thomas Jefferson planted a seedling by a nurseryman who praised its "beautiful & fragrant flowers"; by 1809 his gardener Thomas Lomax reported that it was "very flourishing." It was a much-prized ornamental in those days. It grew fast, soaked up heat, and seemed unbothered by drought. The shape was picturesque, and the foliage airy and gently textured. And the flowers! Exotic, otherworldly, fragrant.
Not many people grow silk trees in their yards or gardens anymore, but they are more visible now that they are no longer on display in those enclosed spaces. They have escaped into the landscape of roadsides and streambanks and vacant lots across the eastern and southern United States, and the tree seems to be on every invasive species list in the country. A single tree can produce as many as eight thousand seeds a year, and one study found that ninety percent of those seeds were still viable after five years. They routinely spread up to three hundred feet by wind, and up to six miles in high wind conditions, but they also spread by water and in the bellies of animals—despite the presence of neurotoxins in the seeds—and likely in fill dirt as well, carried in dump trucks all around the southern United States. The silk tree has been, like fire ants and poison ivy and the auto industry and the Republican Party, the beneficiary of what historian C. Vann Woodward famously called the South's "bulldozer revolution," its "rurburbanization." The Southern Living garden columnist Steve Bender once called it a "wonderful awful tree." "Plant one mimosa in the yard," he complained, "and soon every house in the neighborhood has two or three mimosas, coming up in the fence, the middle of a bush, or by the silver propane tank."
Little wonder that you can see it speeding down southern freeways, extending its long brittle branches out from the forest canopy at the edge of the road, its frothy pink flowers like something out of The Lorax. (It's possible that Theodore Dreisel had a kind of acacia tree in mind when he came up with his truffula trees.) It's a summertime tree, pastel and easygoing. It's hot outside, but I'm blooming and doing great, it says, even though it is harboring webworms and fusarium root fungus and will die in the next five years—if it doesn't smash the powerline in next winter's storm. I'm a flower like you've never seen, it says, spiky and silky and pink, and the hummingbirds and butterflies and bees love me, even as it drops seedpods containing neurotoxin alkaloids that can produce nervousness, muscular twitching, salivation, convulsive seizures, and death in cattle, sheep, and dogs.
Although mimosa cocktails (champaign and citrus juice) were supposedly named for a cousin plant, the Australian mimosa tree Acacia dealbata, the name fits Albizia julibrissin too. Mimosas: the drink of the wedding day and the luxurious brunch, the socially acceptable breakfast alcohol of the 1930s businessman and the 1960s suburban housewife. I'm fine, she says, as she pours herself another. Everything is great. Except for this "strange stirring," this "problem that has no name," this depression and alcoholism. (Or so Betty Friedan told us in 1963 in The Feminine Mystique). Everything is fine, says the young couple who spent their honeymoon in a fallout shelter and earned a 1959 blurb in Life magazine, "Fallout can be fun!"
I'm sorry—that is too much. Too much weight for the delicate anthers of the silk tree to carry. Silk trees are just doing what plants do: trying to keep a foothold, attract pollinators, ensure a future for their offspring. They are doing it very, very, well. They are extraordinarily successful. But if we project our anxieties onto the natural world—if we, say, decide to train a goshawk in order to come to terms with our own grief, as Helen MacDonald chronicles in H is for Hawk (2015)—that, as the kids say, is on us. Not the plants.
Instead, we might ask, why are silk trees here? Some opportunistic plants come as weeds, as Frieda Knobloch points out, already despised in their homelands. Wild oats and Canada thistles and spotted knapweed arrived unintentionally with the intentionally introduced wheat and red clover and alfalfa. Others become weeds only in their new environment, whether through lack of predators or climatic differences or because they "escape" their captivity in gardens. Kudzu is like that. It was meant to secure what remained of the topsoil of the South and provide useful forage for cattle. But it spread too rapidly without the predators that had kept it in check in Japan and China. The government-sponsored introduction of this "vine that ate the South" was, according to Time, one of the worst ideas of the twentieth century. Bradford pears, too. Once they had been planted in seemingly every new housing development in the country (despite their weak limbs and fetid odor) they promptly dispensed with their much-vaunted sterility and began hybridizing with Callery pears, acquiring thorns, and making themselves ineradicable. The only tree found alive in the rubble of the World Trade Center towers, according to historian Jared Farmer, was a Callery pear, the so-called "survivor tree."
Silk trees were also escapees. From Michaux's Charleston garden they have spread across much of the sunbelt and into Upper Midwest and Northeast as well. I like to think of the great botanist standing before the lone American mimosa sometime in the 1780s—Already it has grown so much! What glorious flowers! What picturesque shape!—thinking, perhaps, of his nurseryman friends to whom he might send seeds. Could he have imagined an American east filled up with silk trees? A place where silk trees grow not just in every garden but also sprout from every pavement crack, shade every wayside culvert, and poison the occasional sheep or cow?
Not likely. But the failure of imagination is mine, too. Though I hack and cut and yank up silk tree seedlings in my own yard, I cannot imagine an America without it.
William Thomas Okie is the author of The Georgia Peach: Culture, Agriculture, and Environment in the American South and "Amber Waves of Broomsedge." He teaches history at Kennesaw State University in Georgia.