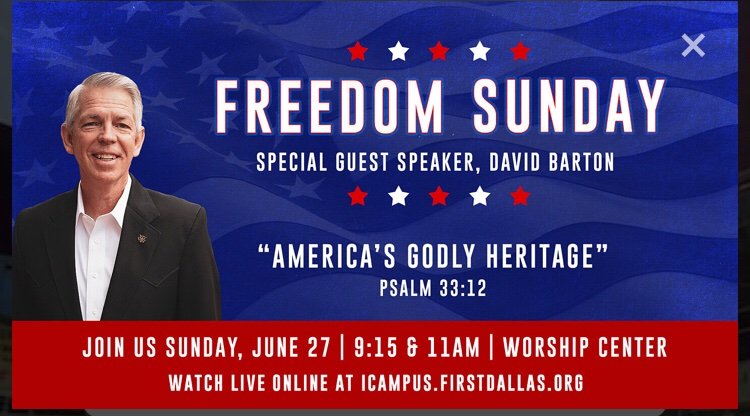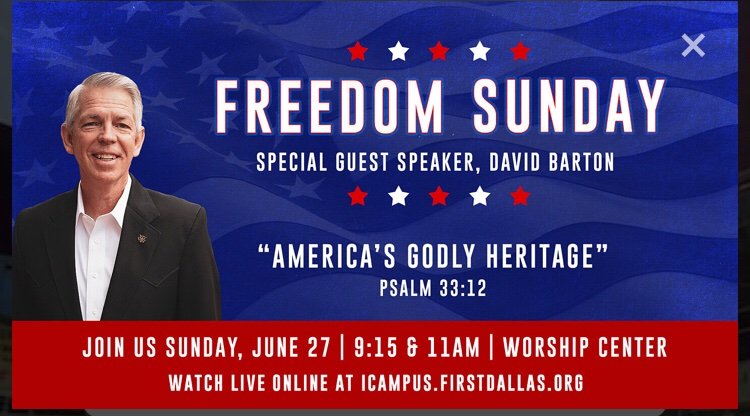 Yesterday was "Freedom Sunday" at First Baptist-Dallas. I have commented on this yearly service several times. Read my commentary here and here and here. My position on these patriotic services has not changed. In the past, First Baptist-Dallas pastor Robert Jeffress preached his "America is a Christian Nation" sermon at this service. Here is what I wrote about that sermon in Believe Me: The Evangelical Road to Donald Trump:
For the past several years Jeffress has been preaching a sermon to his congregation and radio audience entitled "America is a Christian Nation." Jeffress begins his sermon in the present by calling attention to his belief that "our government is ceasing to acknowledge any kind of acknowledgment of God…in the public square." He then rattled off a list of examples, from towns prohibiting prayers at high school football games to the banning of nativity scenes in public spaces. Jeffress does not stop there: "We are told repeatedly that our country's founders were secularists, deists, sprinkled with a few Christians who came to this nation seeking above all other things to build an un-scalable wall between the government and Christianity. And most importantly, they wanted to compartmentalize Christianity to the state and home." With the present problem diagnosed, Jeffress then attempts to marshal the past as a way of solving these problems: "I realize it is [politically] to say this, but it is nevertheless true. America was not founded as a Muslim nation. America was not founded as a Hindu nation. America was not founded as a nation that is neutral to Christianity. America was founded as a Christian nation, and today we are going to discover that truth from history
One problematic historical reference after another fill the remainder of Jeffress's sermon. He makes the wildly exaggerated claim that fifty-two of the original fifty -five signers of the Constitution were "evangelical believers." He peddles the false notion that the disestablishment clause in the First Amendment was meant to apply solely to Protestant denominations, meaning that the founders did not want a "Presbyterian nation" or a "Baptist nation," but simply assumed that we were a Christian nation. There is no evidence in the writings of the Founders to support this interpretation, although, as Jeffress notes, there were some nineteenth-century Supreme Court justices who interpreted the disestablishment clause this way. Based on this argument, he concludes that "we do not restrict other people's right to worship however they choose to worship, but that doesn't mean we treat all religions equally. This is a Christian nation! Every other religion is an imposter, an infidel." Jeffress also declares that the test oaths and Christian establishments in the earliest state constitutions still apply today, and he misinterprets the 1892 Church of the Holy Trinity v. United States case as a definitive statement that the United States was a Christian nation, when in fact that case was imply about immigration. Near the end of the sermon, Jeffress throws in his assumption that spikes in violence, illegitimate births, divorce, and low SAT scores in America are the direct product of the Supreme Court's decision to remove prayer and Bible-reading from public schools.
…It is worth noting that Jeffress's interpretation of the past to advance his Christian Right agenda and scare his congregation into political action comes straight out of the playbook of David Barton, his friend and fellow conservative activist…Nearly everything Jeffress says in this sermon he lifted from Barton's Wallbuilders website. For the past thirty years, Barton, a GOP operative from Aledo, Texas, has provided pastors and conservative politicians with inaccurate or misinterpreted facts used to fuel the Christian Right's politics of nostalgia. Barton's understanding of the past has been debunked by nearly every serious American historian, including those who teach at the most conservative colleges; but he continues to maintain a large following in the evangelical community. Barton is not a historian; he is a politician who uses the past to achieve the political goals of restoring America to its supposedly Christian roots.
On this particular Freedom Sunday, Jeffress went straight to the source. His guest preacher was none other than Barton himself. So in this post, I want to interpret what this Christian Right activist and purveyor of the past had to say to the people of First Baptist-Dallas.
Watch:
41:00ff: Jeffress, as he usually does, says that he and his church does "not apologize" for having a patriotic service. We are not "worshipping America," we are worshipping "the God who blessed America." He adds: "We acknowledge that this nation was founded as a Christian nation and we declare that our blessings as a nation depend upon our fidelity and faithfulness to God." If you are interested in testing Jeffress's claims against the historical record, I explore this more fully in Was America Founded as a Christian Nation: A Historical Introduction.
42:00ff: Here comes the victimization. Jeffress appeals to this. If you are a member of the Christian Right, you cannot have a Fourth of July celebration without victimization and an invocation of the politics of nostalgia.
At about the 43:00 mark, Jeffress says that the Left wants to "erase our history." This is rich coming from the guy who presided over a First Baptist-Dallas 150th anniversary celebration a few years ago that did not mention anything about the church's segregationist and racist past. Who wants to erase history, Bob?
43:30: Jeffress introduces Barton as a "patriot and a prophet of God for this time in our nation's history."
44:30: Barton begins by lamenting that "we don't teach American history any more." Our failure to teach American history makes this generation "completely different from anything we've had in any previous generation." He is worried that only 1 out of 3 young people know about 1776 and the Declaration of Independence. As Stanford education scholar Sam Wineburg has noted, complaints like this have been around for a long, long time. Here is the opening vignette of his book Historical Thinking and Other Unnatural Acts:
Identify the source of the following statement: 
"Surely a grade of 33 in 100 on the simplest and most obvious facts of American history is not a record in which any high school can take pride."
The above characterization of high schools students historical knowledge comes from:
(a). Ravitch and Finn's report on the 1987 National Assessment of Educational Progress, in which they argued that students' test scores place them "at risk of being gravely handicapped by…ignorance upon entry into adulthood, citizenship, and parenthood."
(b). The 1976 New York Times test of American youth, published under the banner "Times Test Shows Knowledge of American History Limited."
(c).  Reports on the 1942 New York Times history exam that prompted Allan Nevins to write that high school students are "all too ignorant of American history."
(d). None of the above
The correct answer is (d), none of the above.  This quotation comes from neither the 1987 National Assessment nor from any of the earlier reports.  To find its source we have to go back to 1917, long before television, the social studies lobby, the teaching of "thinking skills," the breakup of the family, the growth of the Internet, or any of the other factors we use to explain low test scores.  Yet the conclusions of J. Carleton Bell and David McCollum, who in 1917 tested 668 Texas high school students and published their findings in the fledgling Journal of Educational Psychology, differ little from those of subsequent commentators.  Considering the vast differences between those who attended high school in 1917 and the near-universal enrollments of today, the stability of students' ignorance is amazing.  The whole world has turned on its head, but one thing has stayed the same: Kids don't know history.
In other words, there was never really a time, at least in the 20th century, when American school children knew their American history. We have been complaining about it for more than a century. So no, we are not in some crisis moment right now. The crisis has been going on for a long time.
45:00: Barton says that if you major in history at George Washington University you will not "get a single course in American history." At this point I would tell my students to look at the source Barton is citing. The source is Glenn Beck's "news" website, The Blaze. First, the article he references was published in 2016. Second, most of The Blaze article manipulates the truth. George Washington University still requires history courses for its history majors. It just give students who took AP courses the opportunity to pass out of a required "survey course." I might add that virtually every college or university in the country does this. The entire framing of Barton's talk is deceptive and dishonest. By the way, a very quick look at The George Washington University History Department website reveals that history majors must take a "minimum of 13 history courses. Students who get a "4" or a "5" on the AP exam get credit for an introductory course. Barton is blatantly lying in the pulpit of a church so he can advance his political agenda.
45: 29: Barton claims that in 62 of the top 74 colleges in the country today history majors are not required to take a single course in American history. I don't have time to look this one up, but my guess is that it is not true.
45: 35: Barton propagates the myth that "teaching" is the only thing a history major can do. This is a tangential point, but it is a pet-peeve of mine.
45:50: Barton falsely claims that a University of Wisconsin campus is dropping history because they "don't like what the nation was" and "they want to be something different." This is a complete lie. The University of Wisconsin-Stevens Point dropped history because of low enrollments.
46:20:Barton claims that students who take AP U.S. history learn "nothing" about the founding fathers or the American Revolution. This is again is a blatant lie. The AP Exam had a Free Response question on the American Revolution in 2019, 2018, 2017, 2016, and 2015. In all of these questions students were asked to engage with ideas put forth by the founding fathers.
At this point, I would encourage anyone who has read thus far to see what is happening. If you have a friend or family member who loves Barton, please show them how he plays fast and loose with the truth in order to rally the political base.
50:00ff: Barton praises the founding fathers for writing so much. This is a good point. I would argue that it is interesting just how much the founding fathers did not say about their personal piety or embrace of Christian doctrines such as the deity of Jesus of Christ and the resurrection. When they did speak about these doctrines, they tended to criticize them more than celebrate them.
51:00ff: Barton seems to believe that the delegates to the First Continental Congress were in the midst of a military battle with the British. The First Continental Congress met in 1774. Shots were not fired in the so-called "Revolutionary War" until April of 1775. Barton is also correct when he says the First Continental Congress opened in prayer. Anglican minister Jacob Duche prayed the following prayer on September 7, 1774 at 9am:
"O Lord our Heavenly Father, high and mighty King of kings, and Lord of lords, who dost from thy throne behold all the dwellers on earth and reignest with power supreme and uncontrolled over all the Kingdoms, Empires and Governments; look down in mercy, we beseech Thee, on these our American States, who have fled to Thee from the rod of the oppressor and thrown themselves on Thy gracious protection, desiring to be henceforth dependent only on Thee. To Thee have they appealed for the righteousness of their cause; to Thee do they now look up for that countenance and support, which Thou alone canst give. Take them, therefore, Heavenly Father, under Thy nurturing care; give them wisdom in Council and valor in the field; defeat the malicious designs of our cruel adversaries; convince them of the unrighteousness of their Cause and if they persist in their sanguinary purposes, of own unerring justice, sounding in their hearts, constrain them to drop the weapons of war from their unnerved hands in the day of battle!
Be Thou present, O God of wisdom, and direct the councils of this honorable assembly; enable them to settle things on the best and surest foundation. That the scene of blood may be speedily closed; that order, harmony and peace may be effectually restored, and truth and justice, religion and piety, prevail and flourish amongst the people. Preserve the health of their bodies and vigor of their minds; shower down on them and the millions they here represent, such temporal blessings as Thou seest expedient for them in this world and crown them with everlasting glory in the world to come. All this we ask in the name and through the merits of Jesus Christ, Thy Son and our Savior. Amen."
It took me 67 seconds to read this prayer. But for the sake of argument let's say that Duche's was a very slow talker and it took him 20 minutes to read it on September 7, 1774. This is a far cry from the "two hour prayer meeting" Barton says took place on the first day of the First Continental Congress.
52:00: Barton rattles off a series of fasting and prayer declarations. There were indeed a lot of them. (Although I can't verify his claim of 1400). He uses the large number of declarations to argue that Americans from a generation ago would never claim that the founders were "deists" or "atheists" or "agnostics" because "we knew too much about our founding fathers." Does Barton really believe that most Americans knew about declarations of fasting and prayer in the 1990s? (Let's assume that a "generation" is twenty to thirty years). Moreover, I do not know of any American historian who thinks that all the founding fathers were a "deists," "atheists," and "agnostics." I have even argued that Thomas Jefferson and Ben Franklin were not deists.
But my real issue with Barton has less to do with whether he has a copy of John Hancock's prayer declaration or whether the founding fathers were deists or Christians. My issue has more to do with how he uses the past in the present. The Christian Right's ahistorical approach to the past is why I followed-up my book Was America Founded as a Christian Nation? with a book titled Why Study History? Barton fails to understand change over time. He fails to recognize that we no longer live in the 18th-century. We are a more diverse country today. One cannot simply leap from the 18th century to the 21st century without acknowledging change. This is what Princeton historian Matt Karp recently pointed out in his Harper's essay on "stamped from the beginning" history. Based on the logic behind Barton's view of the past, we should also be endorsing slavery because the founding fathers owned slaves.
55:00ff: Barton talks about the Aitken Bible. He is partially right here. In 1777 Congress explored the possibility of publishing an American edition of the Bible, but the idea was shelved due to the cost of publishing, the availability of the appropriate paper, and the pressing demands of war.  In Philadelphia, printer Robert Aitken went forward with the publication of his own American Bible.  Congress had turned down Aitken's initial request for funds to support his Bible project, but it did give his new Bible an official endorsement. But something else is worth noting. Barton is a master at knocking down straw men.  After showing the Bible to the crowd and noting that Congress recommended the Aitken Bible for schools, Barton says sarcastically, "and where told the founding fathers never wanted the Bible in schools." I say that Barton is attacking a straw man because I don't know of any legitimate scholar of religion and the American founding who would argue against the idea that there were many founders who thought the Bible was a useful textbook for schools.
57:00ff: Barton says we don't study anything "about Black history today." Wait a minute, is he advocating critical race theory? 🙂
1:04ff: Barton says that 29 of the American founders were involved in "direct Christian ministries" and attended "Bible schools." He is still repeating this falsehood.
1:09ff: Barton addresses the issue of American slavery by saying that it took the "southern states" a "little while to get on board." That's it.
1:11ff: Barton quotes a July 3, 1776 letter from John Adams to Abigail Adams in which he says, "I am apt to believe that it will be celebrated, by succeeding Generations, as the great anniversary Festival. It ought to be commemorated, as the Day of Deliverance by solemn Acts of Devotion to God Almighty. It ought to be solemnized with Pomp and Parade, with Shews, Games, Sports, Guns, Bells, Bonfires and Illuminations from one End of this Continent to the other from this Time forward forever more."

Based on his reading of this letter, Barton concludes that Adams believed Independence Day should be a "religious holiday." First, Barton assumes that because Adams said it, it must be theologically correct. Don't get me wrong, I think we should give thanks to God for the freedoms we enjoy in this country. But I also think it is heretical, if not idolatrous, to mix God and country in the way Barton and Jeffress do and then appeal to a Unitarian founding father, instead of biblical theology, to justify it. If Independence Day is a "religious holiday," it is a holiday of American civil religion. Second, anyone who wants to believe that Independence Day is a "Christian" holiday should read Frederick Douglass's "What to a Slave is the Fourth of July?"
Enough!