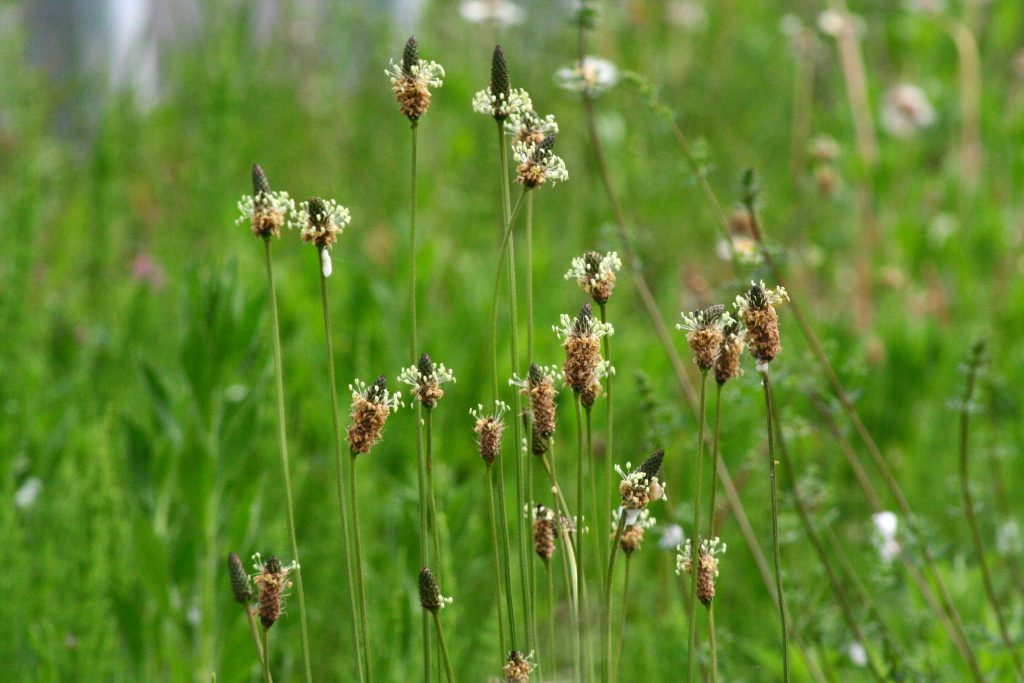 If we've strayed from the center of the dance, an unassuming partner can guide us back
"Oh!" Maria exclaimed. "I did it!"
We were sitting in a circle, my students and I, at the tail-end of a two-week blitz through US history since 1877. We'd been swallowing knowledge at an unsustainable rate, four-and-a-half hours a day, and the shared misery was making us a little loopy. So—what else does one do in such circumstances?—I brought in a bundle of ribwort plantain flower stalks and taught the students to shoot. Maria discovered that she had a knack for sending the sturdy little flower heads across the gazebo.
I did not have to look hard to find these harmless projectiles. There was an impressive stand in a carwash median on my way to class. Ribwort plantain (Plantago lanceolata, also known as English, narrow-leaved, or buckthorn plantain, as well as kempseed, ripple grass, and curl noddy) seems to grow pretty much everywhere, and, around here, late-May to early-June is its moment. It forms a rosette of leathery, ribbed, lanceolate leaves and sends up tough squarish stems anywhere from three inches to three feet, topped by flowers the English writer James Hardy described as a "napless sugar-loaf hat."
Although it is edible and has medicinal applications—incredibly, you can purchase fifty seeds for $14.95 on Etsy—it's also much-despised. It's exactly the sort of broadleaf weed that "ruins" a manicured lawn, the sort herbicides can destroy handily. It thrives in disturbed environments and seems to grow in almost anything remotely resembling soil, from heavily compacted highway shoulders to construction debris. It is a perennial. It resprouts from the roots every year and then seeds prolifically. In the Neolithic era it spread with agriculture, as livestock grazed and people cleared and plowed and otherwise disturbed the landscapes of the Old World—so reliably that paleobotanists use its pollen as an indicator of the emergence of agriculture. It followed European agriculture to North America and now covers pretty much the whole continent. Here in suburban Atlanta it loves the roadsides, where county and municipal landscape crews usually can't mow quite frequently enough to keep it from blooming and reseeding.
I had only recently rediscovered how to turn the flower heads into projectiles. A distant memory from my youth, the interest of my own children, and the extravagant overproduction of plantain in my neighborhood inspired my devoted relearning of the ancient skill—by which I mean I typed in "shoot plantain flower" in YouTube and found an instructional video that is so pure, so plainspoken and unobtrusive, so satisfyingly truthful about what it promises and what it delivers, it almost restored my faith in the internet. "And you take the stem," the narrator says, "and wrap it round like so . . . you push it right up to the head of the grass, and you go, 'Whee!' and the grass flies."
With that bit of assistance we were off. My twelve-year-old found that it's best to push the loop forward rather than to pull the flower head backward, and also that onion seed heads shoot just as well. My four-year-old can send them off as reliably as I can. I asked him if I should teach my students to shoot. "Yes," he replied without hesitation, and placed half a dozen stalks in my hand. "These are for your students." The next day my college students, about half of them anyway, shot at least one, sometimes on the first try. Maria was a natural. Will they leave this fortnight of "history camp" with knowledge of American history? Perhaps. But at least a few will leave with practice in playing with plantain.
Anywhere ribwort grows is now a potential a playing field, or battlefield, with hopelessly inaccurate projectiles flying this way and that. And so we are participating in a very old, perhaps ancient practice. In the British Isles during the nineteenth century, the more common game was something called "kemps" or "hard-heads," which transformed the match from languid launching to vigorous hand-to-hand combat: two players with matching numbers of stalks taking turns slamming their ribwort caps like battle axes in an attempt at decapitation. The player with any heads remaining on their stalks wins.
How had it been passed on to me? An older sibling or cousin or friend, perhaps, on some lazy summer day? Maybe there is some direct lineage between my plantain play and that of my Eurasian forebears. More likely it is a near-universal instinct, born of boredom rather than lore—which worries me just a little, since so few of us permit ourselves what Robert Louis Stevenson called the "full, vivid, instructive hours of truantry." No wonder ribwort wars are the territory of children. "We live in our own world," say the child narrators of Welsh poet R. S. Thomas's "Children's Song":
A world that is too small
For you to stoop and enter
Even on hands and knees,
The adult subterfuge.
We have a long history of anthropomorphizing and discerning a kind of power or intelligence in plants. In Cherokee mythology, plants entered the world on the side of humans, to help in them in their struggle with animals and disease. The ancient doctrine of signatures held that plants displayed their useful characteristics: an orchid useful for infertility looked like male genitalia; and Victorian writers unashamedly feminized flowers: "the demure daisy earliest unseals its rosy lips and laughs out in the sunshine," to quote the plantain chronicler James Hardy again. But only recently have scientists such as Suzanne Simard begun to map what appears to be a vast "neural network" of interaction between plants, on a time scale that we can only dimly appreciate. There is so much going on that we don't understand and cannot even perceive, so much life that, in a way, concerns us not at all. (In another way, of course, we ignore it at our peril.) And yet, here are these ribwort plantains, just begging to be launched and whacked.
We live in this fretful time of information overload and social acceleration, doomscrolling and surveillance capitalism, Zoom meetings and clickbait. Everyone and their mother seems to be recommending some way out of the technology loop: taking piano lessons, meditating, planting seeds, backpacking, birdwatching, exercising yourself into transcendence, baking sourdough, taking up origami or needlepoint, #vanlife, reading big old paper novels. Are we trying to learn how to play again? R. S. Thomas again:
And though you probe and pry
With analytic eye,
And eavesdrop all our talk
With an amused look,
You cannot find the centre
Where we dance, where we play
Plantain play is ephemeral, only available in ribwort season. It is easy and requires very little commitment. It is useless and will never be a side hustle. It is fun, but not exciting. Whee! Perhaps we have lost the center of the dance. But we can stumble back toward it. Plantain play is one place to start.
William Thomas Okie is the author of The Georgia Peach: Culture, Agriculture, and Environment in the American South and "Amber Waves of Broomsedge." He teaches history at Kennesaw State University in Georgia.