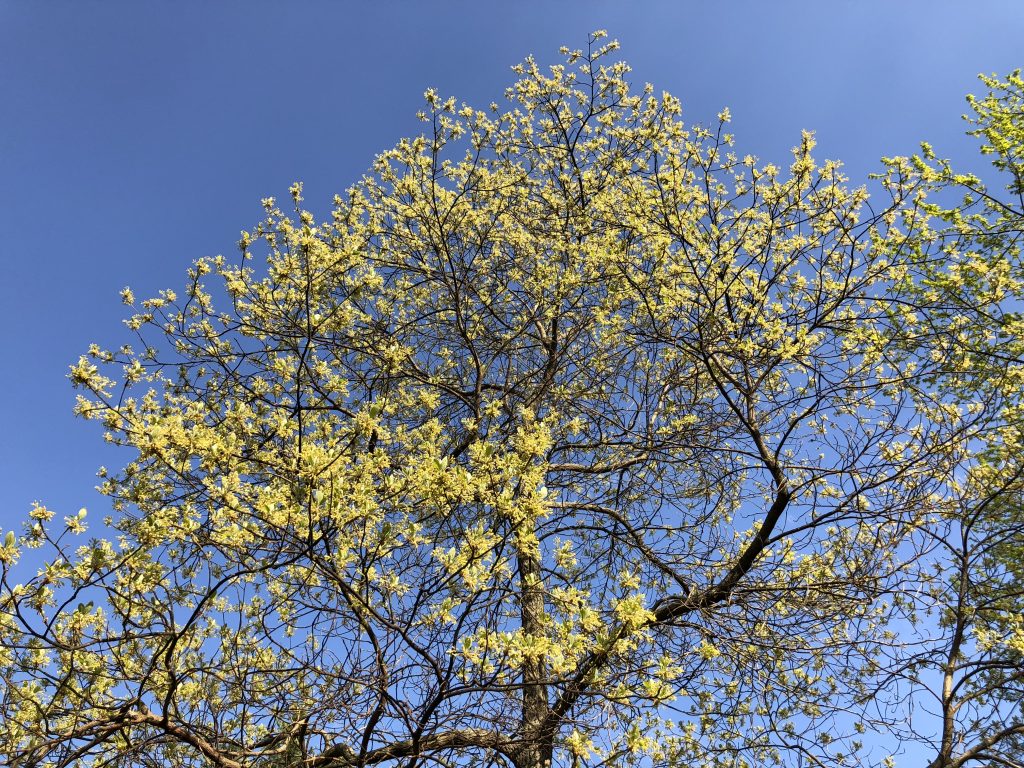 Those suffering in earlier epidemics believed there was power in the wood. Are we so different?
It's hard to keep up with all the things. Will the vaccines beat out the variants? Will Prince Andrew wear a military uniform at Prince Philip's funeral? Will Iran have a nuclear weapon by the end of the year? Will Duke make it to the final—oh, wait.
Anyway, it may all seem like a blur. But this is happening. It started down in the thickets of Florida in February and right now, at the end of my little dead-end street, a scraggly female sassafras (Sassafras albidum) just finished blooming. By June, even in Maine and Wisconsin, the sassafras bloom will be over. If you live in the North American East, go take a look before it's gone. Sassafras has something to say to us.
Look for it along fencerows and roadsides and the edges of forests, often in dense thickets. It's surprisingly easy to find even in Queens or the southside of Detroit. (For a more direct route to locating it, use the crowdsourced identification maps at iNaturalist.org). It's easiest to see in the autumn, when the leaves glow like iron heated in a forge, but in the early spring while most deciduous things are naked grays and browns, the yellow-green umbels really stand out. Leaves come shortly after the flowers, and they come in three distinct shapes: two-lobed mittens, three-lobed tridents, and smooth ellipses. What other tree does that? For obvious reasons (three for the price of one!), it's a great favorite of grade school leaf collections. Sassafras may grow to ninety feet, with trunks five feet in diameter, but even as small shrubby trees along fencerows its branches and twigs are characteristically "upswept," like a candelabra. A sassafras tree, the botanist Donald Culross Peattie observed, "lifts up its hands and testifies to glory."
For Europeans in the sixteenth century, sassafras testified to healing power. Early European explorers reported smelling it "so sweet and so strong"—perhaps because of Native woodsburning—when they were still miles from the North American shore. Native peoples from New England to Florida used it for medicine, food, and ceremony; John White depicted the Secotan waving what appear to be sassafras fronds in his famous "Festive Dance" watercolor in 1585. The Timucua people showed it to the French Huguenots attempting to settle along Florida's Atlantic coast in the 1560s; the French in turn shared it with the Spanish soldiers who had attacked their settlement and taken them captive. Some of those Spanish soldiers, returning home by way of Seville, showed it to the great physician Nicolás Monardes. "Maister," they said, pulling pieces of sassafras from their pockets, "doo you see heere the Wood, that everie one of us dooth bring to heale us withall, if we fall sicke, as we have been there?" Monardes took down their testimony and conducted his own clinical trials and included it all in his landmark three-volume materia medica, translated into English with the altogether awesome title Joyfull Newes from the Newe Founde Worlde. Sassafras, Monardes reported, had "an excellent sweete smell," like fennel or cinnamon, and even "a little quantity" could "fill the ayre" in a room.
Aroma mattered. A strong-smelling plant was almost certain to possess "great vertues, and great excellencies," and Monardes enumerated a long list of afflictions sassafras could treat: gout, dropsy, headaches, chest colds, toothaches, stomachaches, kidney stones, appetite loss, infertility, and anything that stemmed from "opilations" or blockages. But there were many European treatments for most of these illnesses. What made sassafras appear especially valuable and gave it a leading role in the English exploration of North America was the Great Pox, or syphilis.
Monardes discovered sassafras in a moment not unlike our own. A mysterious disease ravaged the land and folk of all classes cast about for remedies and preventative measures—even, according to Desiderius Erasmus in 1518, a "Mask with Glasses for Eyes to see thro', and a breathing Place for their Mouths and Nostrils," with an air tube extending over the shoulder and down the back. Syphilis had broken out in 1495, amid an army of mercenaries under Charles VIII of France attacking Naples, and rapidly spread to all parts of the continent. The French called it the Neopolitan sickness, Germans and Italians the French sickness, Poles the German sickness, and so on, though by the time Monardes discovered sassafras most believed that it was a New World disease, "Montezuma's revenge." (Today's scholars continue to debate this question.) A typical case started with ulcers on the genitalia, followed by a reddish rash, hardened pustules all over the body (often leaking foul-smelling pus) and pain in the joints. Later, large tumors would appear in muscles and bones, hard at first, then softening to a "whitish and viscous substance" as they ate away the tissue and bones beneath them. Victims sometimes lost noses, lips, tracheas, or genitalia. "Until now," the German scholar and syphilitic Joseph Grunpeck wrote in 1496, "nothing so horrifying, nothing more terrible or disgusting, has ever been known on this earth."
Sassafras had much to recommend it as a treatment. For starters, its chief competitors were mercury and guaiacum (Guaiacum officinale, also known as lignum-vitae or "wood of life"). Mercury seemed to relieve the pain and clear up the ulcers, but it was toxic. As the historian Alfred Crosby noted, one of the signs of mercury poisoning was salivation, pints of it, which of course seemed a good sign if one assumed that the body needed to purge itself of phlegm. But with alarming frequency "gums, teeth, and assorted interior fragments of the body" ended up being purged, too. Guaiacum, a heavy, hard, "impressive" wood, had fewer long-term side effects than mercury. But by the 1560s the market had been flooded with counterfeit guaiacum, and some of its prominent promoters had died of syphilis. Like guaiacum, sassafras was North American and came highly recommended by North Americans, and according to popular views at the time, God usually provided the remedy close to the geographical origin point of the disease.
Sassafras did not cure syphilis, nor any of the afflictions on Monardes's list, so far as we can tell. But folks continued to drink it as a "spring tonic" for centuries on the theory that it could strengthen and purify the blood, and it remained a common tea substitute and the central flavoring in most versions of root beer until it was declared carcinogenic in 1960 by the FDA.
How strange—a world where people carried bits of wood around in their pockets, or hung chunks of it up in churches, or drank tea made of it until they broke out in sweats, purging their blood of ill humors. There was power in the wood, they thought.
How strange. But as we suffer from social isolation and viral infections, and as we wait for and debate, and receive or refuse, the COVID-19 vaccine, aren't we looking for something quite similar—a power, distilled from nature by experts, infused into our own bloodstreams, to protect us from something we don't understand and cannot predict? And as we rue the ways the coronavirus has disrupted economies, polities, communities, and families, aren't we acknowledging that the more-than-human world has powers, and that we ignore those powers at our own expense?
If so, I say again: the sassafras is blooming. Go, see, smell, taste. And remember that there are powers in the world beyond our own.
William Thomas Okie is the author of The Georgia Peach: Culture, Agriculture, and Environment in the American South and "Amber Waves of Broomsedge." He teaches history at Kennesaw State University in Georgia.