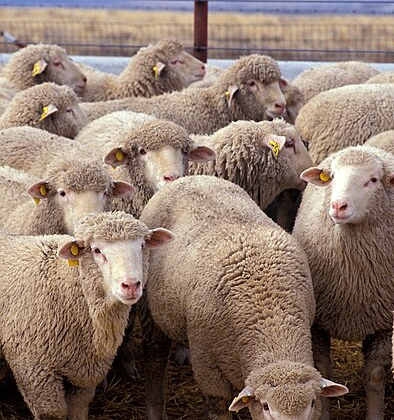 Last week, Peter Singer, who has long advocated for the rights of animals as at least equal to—but sometimes superior to—those of humans, posted a controversial (even for him) Tweet: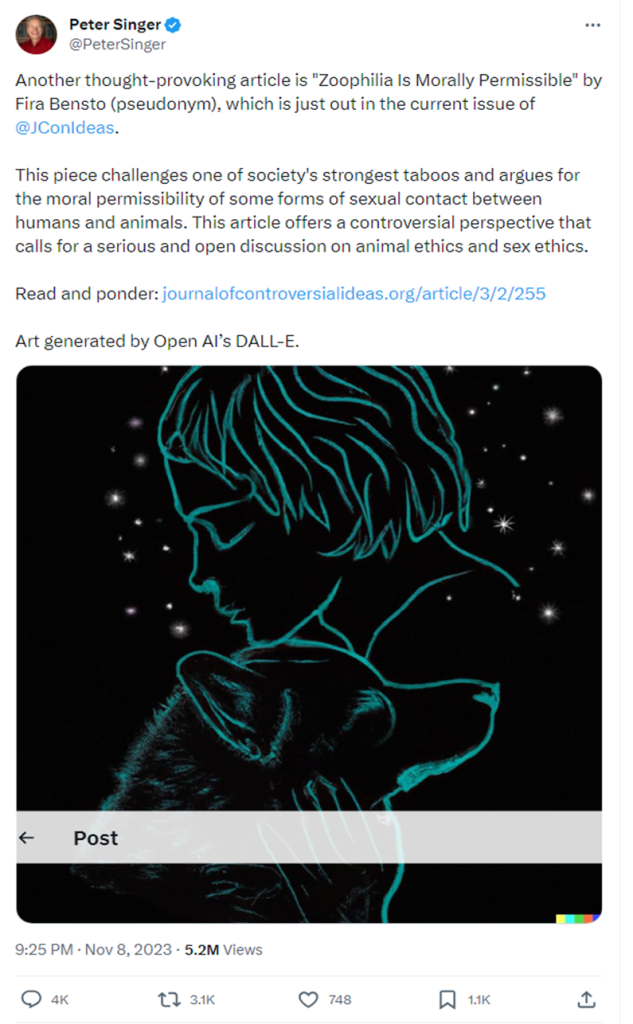 Responses to Singer's post predictably ranged from disgust to laughter to concern about all this amounting to no less an abuse of an animal than eating it. And what about consent, some wondered. Singer, of course, thoughtfully responded in more detail. As someone else remarked about that response, it managed to be even worse than the original post. A tall order, but I humbly concur.
It is tempting to think of Peter Singer's views on, well, everything as "fringe" and controversial. He seems to relish the attention that he gets for scandalizing popular sensibilities, liberal and conservative alike. And yet, what is striking is that while zoophilia is unlikely to become the next big thing, Singer's philosophical views reflect a distinctly post-Christian distortion of views on humanity and human life—a distortion readily visible in other areas of life all around us.
In the increasingly more post-Christian world around us, we see what happens when some, at least, walk away from the Judaeo-Christian beliefs and lingering traditions that have hitherto influenced our worldview. We see, to begin with, an abandonment of the imago Dei, the concept of humanity made in God's image and, therefore, priceless. This doctrine, first stated in the initial description of the creation of human beings in Genesis 1:27, is an integral component of theology but also of Christian anthropology. It proposes that human beings—and human lives—are more valuable than the lives of animals, both because people are made in God's image (and animals aren't) and because God gave people sovereignty over animals. We see in Genesis that this sovereignty is meant to be care of creation. Some Christians, like the Catholic theologian Charles Camosy, indeed read it as an exhortation to veganism.
So what happens when increasingly more people no longer believe in the preciousness of human life and have no framework to consider human life priceless and, needless to say, more valuable than the lives of animals? Here are just three examples that do not seem connected at first glance but work as part of this new ecosystem.
Pet psychics: Right as Peter Singer was posting his controversial endorsement of zoophilia, The Wall Street Journal published an article on the new and very expensive trend of… pet psychics. One pet psychic profiled in the piece "charges $550 for 90 minutes and has a wait list of 7,600 customers."
Recently I wrote about the new trend of AI girlfriends, which allows someone to customize the ideal virtual companion to accompany him all day, always be happy to see him, never disappoint him, never argue, etc.
In her newest NYT Opinion column, Anna Louie Sussman bemoans the low rates of marriage in a poignantly titled piece: "Why Aren't More People Marrying? Ask Women What Dating is Like."
Maybe it is not always the same people who decide to devote a big chunk of the monthly grocery budget to pay for a pet psychic and who also pay for a custom-made AI girlfriend and who also find themselves incapable of committing to marriage to another human being. And yet, our financial decisions reflect genuine priorities. In this light, spending money (and time) on improving relationships with animals and AI but refusing to commit to marriage reflects an extreme devaluing of people—as opposed to animals and AI.
It is striking to consider that all of these decisions—both Singer's and the three additional examples I just listed—involve a life without God. Of course, not every person who lives a life apart from God embraces such views that place human beings below other entities. And yet, God's exclusion from one's life makes them possible. Also, we cannot miss the gendered dimension of this crisis. More women than men are churched. By contrast, women are not the market for zoophilia or AI girlfriends. Men are. And they are the ones who are increasingly much less interested in marriage than women.
Ultimately, our disordered priorities of overvaluing animals and undervaluing human beings manifest in myriad ways that seem merely ridiculous or laughable taken singly. Considered as a body, however, they show a disturbing glimpse of the post-Christian mindset. The correct response to them, therefore, should be not laughter but mourning.