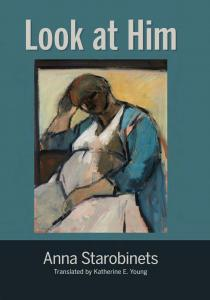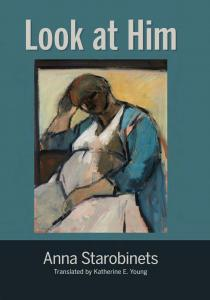 Look at Him by Anna Starobinets. Translated by Katherine E. Young. Three Strings Books, 2020. 151 pp., $19.95
When God created the first human being, he looked at him before lovingly pronouncing this creation to be very good. The same idea is ingrained in all of us. To look upon a person is to acknowledge that person's humanity—that this is someone worthy of our glance, at least. To turn our face away, by contrast, means a rejection or even a denial of that person's humanity—like Frankenstein's refusal to look upon the monster he created. But sometimes a sense of self-preservation kicks in as well: we do not like to look at death, because it hurts.
All of these ideas combine in the title of Anna Starobinets's moving memoir about losing her son to a fatal birth defect. But the Russian medical establishment—the ultimate villain of the book—greatly and unnecessarily compounded the tragedy, showing a disregard for the worth of the living just as much as the dying and the dead. Writing this book was, for Starobinets, a bold act of essential advocacy for others who might experience similar tragedies in the future.
Starobinets was the picture of privilege in contemporary Russia–a place where such privilege and success are rare. An award-winning and bestselling horror fiction writer and journalist in Moscow, she seemed to have everything. A loving and successful journalist husband, a healthy eight-year-old daughter, a nice apartment in Moscow, and of course, a dream career. All she felt was missing in her family life was one more child. She was overjoyed, therefore, to be expecting her second baby in 2012.
A routine ultrasound at sixteen weeks of pregnancy turned her dream into a nightmare. Her baby's kidneys had a fatal defect. This diagnosis took her from ultrasound appointment to ultrasound appointment, as she hoped for better news in second, third, and fourth opinions. But after the diagnosis was confirmed multiple times, she was faced with a devastating choice: to carry the pregnancy to term, knowing that her baby would die during or shortly following birth; or to follow recommendations of doctors to abort.
But while technically she was given two options, she felt supported in neither. She learned that Russian hospitals would not welcome her to give birth, should she carry her baby to term, out of fear for harming their statistics on infant mortality. Indeed, when she conducts interviews with other women who had experienced similar pregnancies later on, she meets a woman who chose to give birth to her baby at home, because no hospital would accept her. At the same time, while doctors were insisting that Starobinets undergo an abortion, the medical protocols for late-term abortion in Russia would have punitively secluded her from her family for a minimum of two weeks in a specialized hospital with no visitors allowed. Worst of all, through this process, not a single healthcare professional showed the least sympathy or compassion for her plight, as she was mourning the baby in her womb. From the moment her baby's fatal condition was revealed, everyone referred to her baby merely as "fetus."
At last, Starobinets and her husband raised enough money—with the help of her parents, to fly to Germany to a Berlin clinic specializing in pregnancies with difficult diagnoses, including fatal ones for the baby. And there she encountered, for the first time, compassion for her sorrow. She was shocked that each medical professional with whom she interacted recognizes the tragedy that she was mourning. She considered carrying her baby to term in Germany, but financially, she could not imagine staying there for another twenty weeks, separated from her eight-year-old daughter, who remained in Russia. And so, at the end, Starobinets allowed for an induction of labor a little after twenty weeks of pregnancy. As predicted, her baby did not survive the delivery.
In the moment that gives her book its title, Starobinets refuses initially to look at the baby. Her rationale? Fear of nightmares of seeing this monster. At last, her husband, who wants to see their son, assures her that "he is not scary." In a touching scene, the two of them sit together in a small room at the hospital, designed for these very difficult goodbyes, and mourn together the loss of their baby, who looks perfect on the outside—and with a sad and hurt expression on his face—but could never have lived outside the womb.
Soon after, they return to Russia and try to resume their lives. Horrifying panic attacks, however, leave Starobinets unable to swallow, walk more than a few steps unassisted, or generally function in everyday life. Her eight-year-old daughter, furthermore, begins having nightmares and panic attacks of her own. In this too, Starobinets finds the Russian medical establishment uncaring and callous, devoid of all trace of compassion. In one particularly horrifying moment, when she tells one therapist that she is unable to swallow, the therapist tells her on the spot that she would like to commit her to a mental health facility until she recovers. Worse, the therapist makes it sound as though she has the authority to lock up Starobinets at that moment. Had she not been a knowledgeable journalist, Starobinets reflects, perhaps she would have been bullied into this. Instead, she is able to muster the strength to walk out. It felt like an escape from a kidnapping, she muses in hindsight.
In 2016, a recovered Starobinets with her husband and now two children—she had a healthy baby boy in 2015—return to Berlin. This time, her husband is undergoing treatment for aggressive cancer, from which he will eventually die. But at that moment, they do not know this. Instead, they finally have the occasion to visit the cemetery where their other baby boy was buried in 2012:
There's not just a common grave, as we expected: there are fifteen. They're surrounded by a large, neat, empty lawn for new graves. The ones that are here resemble large sandboxes in which children celebrating their birthdays forgot their gifts. Teddy bears, wooden horses, iron birds, kites, porcelain angels, rainbow pinwheels spinning in the wind, flowers, candles, and—carved pebbles. Pebbles with a date of birth that corresponds to the date of death… It's possible that they play together there. It's possible. After all, they have all these toys. All of them, except our baby. He doesn't have any toys, or a stone. Maybe they don't let him play because of that?
"What if they don't share with him?" I say, aloud.
"I don't think so," answers my Sasha, not at all disturbed by the idiotic question. They're all here forever at the age when there's no understanding of 'mine' and 'yours.' There's no greediness yet, either. I don't think they're unkind."
In Russia, Starobinets reflects, her baby would have been disposed of as medical waste. In Germany, he was at least given the dignity of a burial with other children like him. Seeing this boy treated with dignity and recognition of his personhood at last gives Starobinets a sense of closure.
The first part of this book concludes here. This is a memoir, telling in intimately gut-wrenching detail of the horrors of the Russian medical system and its callousness towards pregnant women. But the book does not stop here. In the shorter second part, Starobinets interviews a number of other women and healthcare providers in Russia and Germany. In the process, she unveils a horrific picture of the devaluing of all human life in Russia—a default ethos that pervades the entire medical system. Underlying the utter lack of care for life, though, is the culture of secrecy that the Soviet Union produced.
Because of that culture, those who have tragically lost a child, for instance, were never allowed the opportunity to process their grief with anyone else—the topic was entirely taboo. Decades earlier, people "disappeared" into Stalinist Gulags or KGB interrogation facilities, and those who loved them or knew them were expected never to speak of them again. And now, the same culture is applied to every area of life, including pregnancy loss or the death of a child. Traitors to the state are not just those who spoke ill of Stalin or the Communist machine, but also those who produced imperfect children—those useless to Mother Russia.
That is the culture that Starobinets set out to change with this book. Did she achieve it? The furor that her book produced upon publication gave hope. But now, as the Russian invasion of Ukraine nears its second anniversary, Putin's attacks on Ukrainian civilians make it clear that the culture of disregard for the sanctity of human life remains much more deeply ingrained in Russia than, perhaps, even Starobinets realized.