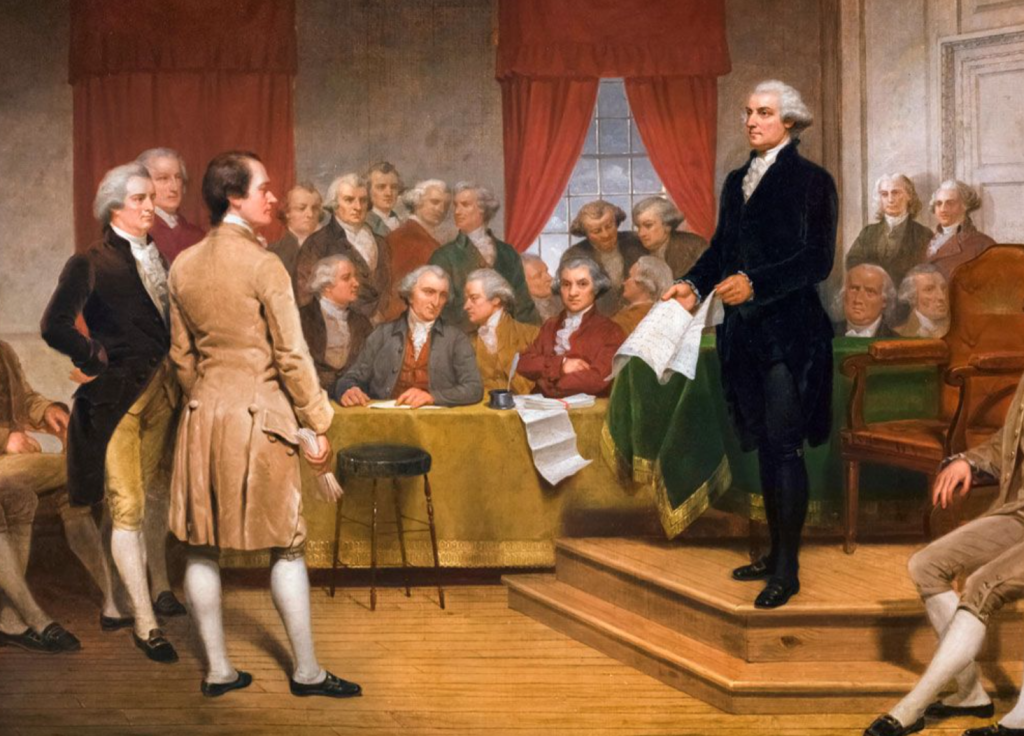 John Adams was right: Our constitution was made "for a moral and religious people."
On October 11, 1798, President John Adams wrote a letter to the officers of a brigade of Massachusetts militiamen who were prepared, if needed, to protect the commonwealth from a possible French naval assault on American shores. Adams, like many of the founding generation, believed the United States was morally superior to European nations. The American republic, he wrote, was "untainted with the Principles and manners, which are now producing desolation in so many Parts of the World." 
Not only did Adams hope for a military victory in this undeclared war with France, he also wanted a moral victory. He urged the Massachusetts brigade officers to squash "Iniquity and Extravagance" and "rapine and Insolence" in their ranks so that the men defending the homeland would model national values such as "justice and moderation" and "Candour, frankness, & sincerity."
Near the end of the letter, in order to drive his point home, Adams wrote, "Our Constitution was made only for a moral and religious People. It is wholly inadequate to the government of any other." These words, ripped from the context of the original letter, have become a mantra for politicians and pundits today who believe the United States was founded as a Christian nation. For example, Speaker of the House Mike Johnson has revived Adams's words, using his "moral and religious" sentence to help advance a Christian conservative agenda.
Whenever a politician starts quoting the founding fathers on religion, accusations of "Christian nationalist" start to fly and critics start to pounce. For example, Princeton historian Kevin Kruse's recent Substack post downplays Adams's line about the Constitution's creation for a "moral religious people." He argues that this was a personal letter—the views of one man.
Adams was expressing his views as an individual. However, the president's belief that the Constitution required a moral and religious citizenry was not unusual in the late eighteenth century. In fact, it was something that many, if not all, of the founding fathers embraced in one form another.
As some on the Christian Right are quick to point out, George Washington wrote in his 1796 farewell address that "of all the dispositions and habits which lead to political prosperity, religion and morality are indispensable supports." Benjamin Franklin believed that religion and morality made for a better, more humane society. He said that "most of the world" was made up of "weak and ignorant Men and Women" who needed religion to "restrain them from Vice." Franklin was horrified by the thought of a world without religion: "If Men are so wicked as we now see them with Religion what would they be if without it?"
A better way of interpreting Adams's letter to the Massachusetts militia is to consider the two sentences that precede the line cited by the likes of Speaker Johnson. Adams writes: "We have no Government armed with Power capable of contending with human Passions unbridled by . . . morality and Religion. Avarice, Ambition, Revenge, or Galantry [sic], would break the strongest Cords of our Constitution as a Whale goes through a Net."
Adams was saying that religion and morality are essential for curbing the "unbridled" sinful passions of the human heart. What are those passions?
"Avarice" and "Ambition": The founding fathers often thought about these two social sins together. Benjamin Franklin famously said during the Constitutional Convention that "two passions have a powerful influence on the affairs of men. These are ambition and avarice; the love of power, and the love of money." He added that some people will "move heaven and earth to obtain" them, thus "dividing the nation and distracting its Councils."
Thomas Jefferson worried about the "avarice" and "corruption" that stemmed from a "commercial society." James Madison mentioned "ambition" and "avarice" as part of a "conspiracy against the desire of duty and peace."
Perhaps Adams and his fellow founders were right. Maybe it is time to think about how religion and morality might serve as an antidote to corporate greed, self-interested social climbing, and careerism—not to mention the raw pursuit of political power and the rampant materialism fostered by consumer capitalism.
"Revenge": Vengeance, in the minds of the founding generation, was associated with social division, tribalism, terror, and violence. When Adams wrote about "revenge" in this letter, he was no doubt thinking about the cut-throat political culture of 1790s America (as portrayed on Broadway through the musical Hamilton) or the guillotines of the French Revolution. Madison believed that those caught up in the passion of vengeance, especially when it came to the practice of political pardons, "forget humanity."
Again, perhaps the founders' wisdom transcends their eighteenth-century world. What role might religion and morality have played in curbing the vengeance of the January 6th insurrectionists—the attack on the U.S. Capitol that John Adams-quoting politicians like Mike Johnson helped foment? Or how might religion and morality curb the vengeance-filled presidential run of Donald Trump and his "own-the-libs" supporters?
Gallantry: When most people think about gallantry, bravery in battle comes to mind. But in the world of John Adams it could also mean something completely different. As historian Anthony J. La Vopa writes, "The gallant was a master of the art of pleasing women in speech and in manner. This was an aesthetic of performance with erotic innuendos, or at least an erotic subtext, a game of words and gestures and glances that might end in seduction but in the ideal was pleasurable precisely because it has no consequences." Adams, a descendant of New England Puritans, no doubt believed that religion and morality might serve as a deterrent to the sexualized culture of gallantry so prevalent among the eighteenth-century European aristocracy.
At one level, Adams' claim that gallantry would undermine America's constitutional republic might resonate with the family-values wing of the Republican Party that Speaker Mike Johnson represents. But I am afraid that most of the Christian Right surrendered the moral high ground that Adams staked out on this front when they threw their political support behind a serial adulterer who has faced multiple charges of sexual harassment and assault.
In the end, Adams and many other founding fathers were right. The Constitution was "made only for a moral and religious People." Sadly, Adams's worst fears have come true. American ambition, avarice, vengeance, and gallantry have broken the cords of our republic "like a whale goes through a net." Ironically, today those who claim Adams's words bear much of the blame.
John Fea is Executive Editor of Current