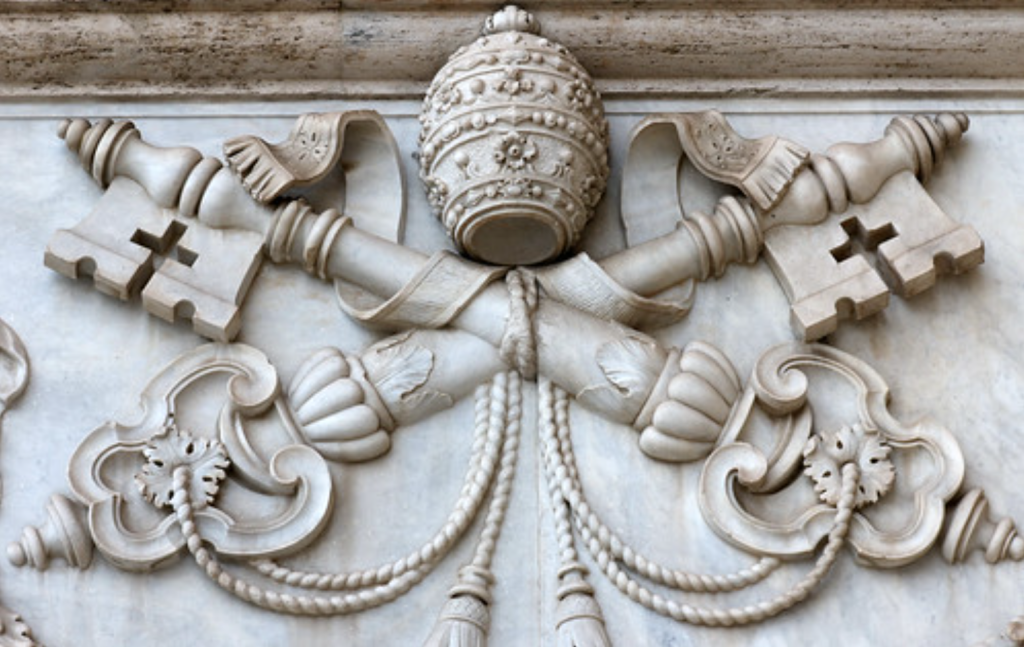 Toward a better ecology of news
Catholics and Contempt: How Catholic Media Fuel Today's Fights, and What to Do About It by John L. Allen, Jr. Word on Fire Institute, 2023. 304 pp., $19.96
There is little more that Americans can agree on right now than this: We are a nation divided. Religion offers one fault line of division, as one front of the on-going culture war pits Christians against secularists. Yet another front of division exists within the Christian camp. It is not the old theological division, pitting Catholics against Protestants. Rather, the new political division pits conservative Catholics and other Christians against their liberal counterparts. These divisions deepened and widened during the Trump presidency and now persist as the MAGA faithful await the return of the king.
Commentators and analysts trying to understand these developments often point to the corrosive effect of social media and the internet on civil discourse. John Allen Jr. offers one version of this argument in his most recent book, Catholics and Contempt: How Catholic Media Fuel Today's Fights and What to Do About It. Allen is a professional journalist uniquely positioned to assess the politics of media today. He first came to prominence writing for the liberal National Catholic Reporter in the 1990s. His success there earned him a promotion to Associate Editor covering religion at the mainstream liberal Boston Globe. The Globe sponsored a side-project Crux, a website dedicated to covering the Catholic Church. That website eventually became an independent entity, with Allen as editor-in-chief. He has spent much of his career covering not simply the Church in general but the Vatican in particular.
Allen's perspective has, however, gradually moved rightward over time, landing him somewhere in the Catholic center. He has written a book-length investigation of the conservative Catholic organization Opus Dei, a bête noir of Catholic liberals. Yet he has also authored a book-length exposé of the global persecution of Christians, a topic of great concern to conservative Catholics yet largely ignored by the mainstream liberal media.
I came to Catholics and Contempt as someone living in one of the centers of the current culture of contempt among Catholics. The general ethos of my small-town Catholic parish is MAGA. The most vocal members of the community seem to follow lockstep in whatever direction the most conservative fringe of the Republican Party points. I expected the book to provide a catalog of outrages, accompanied by an electronic media trail to identify the guilty parties. The book does this, but the first half of the book is Allen's cri de coeur lamenting the decline of principles—most especially the principle of objectivity—that shaped the world of journalism within which he came of age.
Allen's first chapter, "A Mission Statement for Catholic Press," resonates with many of the issues that Christian historians have grappled with since George Marsden first proposed his "outrageous idea of Christian scholarship." Although Allen's subtitle notes "Catholic media," he identifies himself not as "a Catholic journalist" but rather as a "journalist who covers the Catholic Church."
Allen insists that there is "no such thing" as Catholic journalism while conceding two caveats. First, "my obligations to the faith run deeper than any professional code of conduct. If there were a real and unavoidable conflict between being a good Catholic and a good journalist, I would be morally obligated to side with Catholicism." Second, "while journalism isn't in itself a religious exercise, good journalism is nevertheless an enormous service to the Church." On this second point, Allen notes the role of journalism in exposing the sex-abuse scandal and cover-up within the Church. Such work could only have been accomplished by professional journalists, including journalists who are Catholic, independent of the direct authority of the Church. Finally, Church tradition itself affirms the principles essential to good journalism: "Catholic morality calls a person to honesty, fairness, courage, and fidelity . . . Indeed, I'd go so far as to suggest that the Catholic tradition ought to be a great corrective to many of the ills that plague the journalism business today."
Allen, like Marsden, also acknowledges the limits of objectivity. A journalist or historian approaching religion with a blank slate risks falling into serious errors not only of judgment but of basic comprehension and understanding. Mainstream media outlets often assign reporters to the religion beat who have no knowledge of religion whatsoever—something they would never do in other fields, such as politics or sports. Allen credits his "insider knowledge" as a practicing Catholic with enhancing his ability to report on Catholic matters. He criticizes mainstream media for its ignorance of the Church and its liberal bias in perpetuating prejudices against the Church. These prejudices often allege the Church's rejection of science, hostility to women and obsession with wealth and power.
Still, Allen recognizes that opinion, slant, and bias are "baked into the cake" of journalism. Here he makes the distinction between "commentary" and "contempt": "Contempt could be defined as a form of commentary in which inflicting injury is more important than truth, and in which the principal aim is not to skewer ideas but the people who hold them." The distinction is often in the "eye of the beholder," and so Allen offers a case study to demonstrate his understanding of contempt: the journalist Sean Michael Winters labeling Archbishop Charles Chaput an "American Vigano."
A little backstory on the players is appropriate here. Sean Michael Winters is a journalist for the liberal National Catholic Reporter. Charles Chaput served as Archbishop of Denver and Philadelphia. A high-profile conservative prelate, he gained special attention for his 2020 First Things article arguing that Joe Biden should be denied communion for his public support of abortion and the LGBTQ+ agenda. Allen acknowledges admiration for and personal connection to both men: he was a colleague of Winters at NCR and was a member of a small Catholic men's group that dined with Chaput once a month when he was archbishop of Denver. The Vigano in question is the Italian Archbishop Carlo Maria Viganò, a former papal ambassador to the United States who called upon Pope Francis to resign from the papacy for his mishandling of sex abuse allegations against ex-Cardinal Theodore McCarrick, archbishop of Washington, D.C. from 2001 to 2006. Viganò also became an outspoken supporter of Donald Trump and leader of the Catholic chorus attacking the public health policies of the Covid era as part of a conspiracy to establish a secular world government.
As a target of disgruntled liberals upset by the rightward shift of bishops under John Paul II and Benedict XVI, Chaput faced the full fury of liberal Catholic journalists for his public commentary on Biden. No doubt, the stakes were high in 2020. Any critique of Biden appeared to be an endorsement of Trump. And since so many anti-Francis Catholics were also pro-Trump, Chaput's critics accused him of being pro-Trump. Winters was one of those critics, writing an article attacking Chaput's position on Biden as "presumptuous" and "ludicrous," an example of "bad theology" reflecting a "misunderstanding of American politics," an exercise in the "weaponization of pastoral issues." Up to this point, Allen judges Winters' response to be within the limits of legitimate commentary. In Allen's view, Winters crossed the line to contempt with the following comment: "Chaput has become an American Viganò, and, like the disgraced former nuncio, he is dividing the episcopacy . . ."
Contempt lies not only in the turn from critiquing ideas to critiquing a person but in misrepresenting the person to punish them for a contrary political position. Allen admits he does not share Chaput's politics but defends his integrity as a loyal and obedient churchman. On the most politically urgent issue of Trump, Allen notes Chaput's public statement referring to Trump as "an eccentric businessman of defective ethics whose bombast and buffoonery make him inconceivable as president." He further notes the sharp contrast between Trump's neo-nativism and Chaput's consistent public defense of immigrants. Allen concedes that Chaput in part invited attacks by his "cautious," even "muted" response to Viganò's extreme public statements. Still, he concludes that Winters slandered a leading churchman to promote a politics of guilt by association: Anyone who opposes Biden supports Trump and a schismatic prelate seeking to divide the Church.
In this and other examples, Allen's judgments are examples of the very reasoned, responsible journalism that he extols in the first half of his book. Would that we had more journalists like John Allen! Why don't we? Here the book comes up short. The title is something of a bait-and-switch. The term "contempt" seems to speak to our current moment—the vulgarization of public discourse in the Trump era fueled by an out-of-control social media with no filters and little accountability. Still, one of Allen's major case studies reaches back to the 1980s, with the liberal demonization of then Cardinal Ratzinger (future Pope Benedict XVI) for his efforts to shore up orthodoxy in the wake of the liberal drift of the Church following Vatican II. Most viciously, the media (including actress Susan Sarandon, raised a Catholic) persisted in calling him a Nazi due to his conscription in the German army toward the end of World War II—despite his family's well-documented opposition to National Socialism.
Long before the birth of the internet and social media, the 1980s saw a shift in journalism, a revolt against the mainstream news consensus represented by right-wing talk radio hosts like Rush Limbaugh and left-leaning "shock jocks" like Howard Stern. Liberal commentators accused Ronald Reagan of pushing the world toward nuclear annihilation; beyond the issue of policy, they accused him of senility. The line between commentary and contempt was fuzzy already back then.
Allen's defense of principled journalism is in many ways admirable, as is his call for a return to something better. Once, journalists had integrity and served democracy by helping to create an informed citizenry through the communication of facts on matters of vital importance to the nation. He persuasively shows how basic standards of factual verification have fallen in recent years. The acceleration of the news cycle is at fault, as is social media in which every person becomes their own crusading investigative reporter.
And yet the alternative principles Allen extols have hardly been universal, transhistorical norms. Throughout much of the nineteenth century, the press was unapologetically partisan and expected to be so. The "yellow journalism" that stoked the passions leading into the Spanish American War inspired the rise of the idea of "objective" journalism as backlash. At the risk of playing into current critiques of "fake news," historians and sociologists like Herbert Gans in his 1979 book Deciding What's News: A Study of CBS Evening News, NBC Nightly News, Newsweek and Time, have identified a certain elitist bias in the idea of objectivity itself even during the period Allen considers the golden age of news—the decades following WWII.
We are no doubt experiencing a low point in media culture, but history suggests more a cycle of waxing and waning than straight decline. Allen understandably hesitates to condemn social media and the internet wholesale, since his book is published by The Word on Fire Institute, arguably the gold standard of contemporary Catholic online ministry. Nor does he claim that a purified online media, one that lives up to his high standards, is the solution to our current problems. Yes, good reliable journalism is essential to fostering an informed citizenry and yes, the internet appears to be here to stay. Media watchdogs are necessary, but hardly sufficient.
The first step toward developing a better ecology of news and internet usage must take place outside the world of news and the internet: the cultivation of face-to-face personal connections. Perhaps the most revealing anecdote of Allen's book comes from the period when he researched his book on Opus Dei. His wife at the time, Shannon Levitt, was a Jewish liberal and a journalist in her own right. Accompanying Allen on his research trips, she found herself spending a lot of time among Opus Dei true believers, many of whom generously offered to provide local tours while Allen conducted his archival research. Allen came home one day to find his wife in a somber mood. When he asked her what was the matter, she replied: "It's these Opus Dei people . . . I know I should hate them, but they're just so damn nice!" 
Christopher Shannon is associate professor of history at Christendom College in Front Royal, Virginia. He is the author of several works on U.S. cultural history and American Catholic history, including American Pilgrimage: A Historical Journey Through Catholic Life in a New World (2022), available now from Ignatius Press.