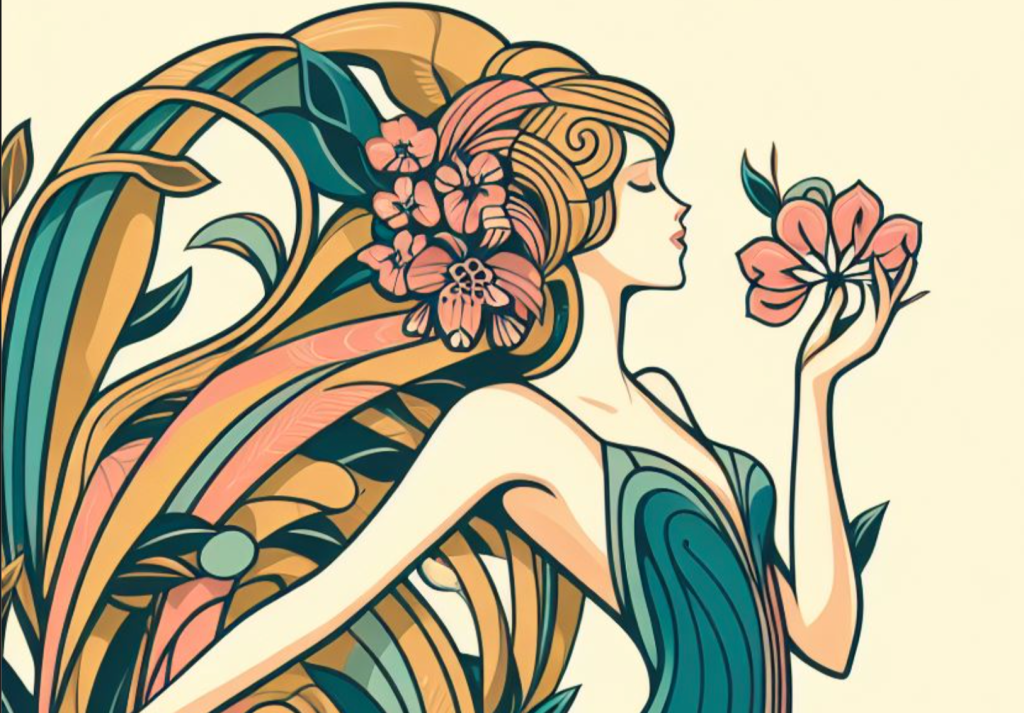 A classic fantasy speaks to our deepest needs—in just its first four pages
Recently my high school students encountered the first few pages of the 1926 fantasy Lud-in-the-Mist by Hope Mirrlees. Perhaps understandably, they balked at a style and vocabulary they found unapproachable. But as I set about unlocking the rich treasure house that is Lud, I gained a deeper understanding of why so many fantasy readers are instinctively drawn into this novel nearly a century after its publication. No one I've met feels quite able to summarize the plot. Instead, we tend to remember it as a series of impressions—like a hazy, beautiful, wistful dream. Lud, in the end, is primarily about neither character nor plot. It has much to say, rather, about the nature of fantasy stories themselves, and why we need them so much.
Right from the start the students noticed that Mirrlees does precisely the thing that our course teaches them not to do: She dumps information all over us, gleefully, in great armloads, submerging us in luxuriant scene-setting. We learn the geography of Dorimare, its boundaries and its plain, its rivers, its exotic western region, which borders Fairyland. We read of the capital, Lud-in-the-Mist, with its ancient Guild Hall built of "mellow golden bricks," ivy-covered, and in the sunlight, resembling "a rotten apricot." Its houses are "not the mere carapace of human beings, but ancient living creatures, renewing and modifying themselves with each generation under their changeless antique roofs." We are not quite sure how literally to take this. Are the houses actually living and changing, or are they changed and personalized by their inhabitants? Enchantment seems to hover about details like this one: "[Lud] had old arches, framing delicate landscapes that one could walk into."
There are long, complex sentences. Might this be a brilliant marriage of form and content? Might the sentences themselves be like stories unfolding, revealing their full import only at the journey's end?
An entire page tells us that, although the family of Chanticleer has abundant flowers in a walled garden behind the house, their front lawn contains plenty of other things just as good as flowers that will fill flowers' beautifying role. There are: (1) things that are surprising—"delicate, painted, and gratuitous," as if the Creator's main focus is on beauty—objects combined with one another simply because they look good together; (2) doves in propinquity to green lawn; (3) birches (which are good, but acacias are better); (4) a white peacock; and (5) the Dapple River, which is like an artist's palette, "with great daubs of color reflected from sky and earth, and carrying on its surface, in autumn, red and yellow leaves which may have fallen on it from the trees of Fairyland, where it had its source . . . ." All this space and art offer the reader things that are like flowers. We have not yet met any characters, and no story is yet in motion.
"What is important to this writer?" I ask my students. "How can you tell? What is the book's title?" The book isn't called Master Nathaniel Chanticleer and does not name any activity or action. This is the story of Lud, which is beautiful and contains perils such as its smuggled, contraband fairy fruit, secretly desired for its mind-altering effect. Ultimately, this fruit itself may be a symbol for the inexpressible longings of the human soul—the Sehnsucht of C. S. Lewis, who concluded that he was not made for this broken world. Is not such a conclusion about one's true citizenship mind-altering in the truest and healthiest sense?
At any rate, if Lud feels hauntingly familiar, it is because we live there.
The students protest: It's nothing like where we live. I tell them to read on.
For all the sophistication of images and rich vocabulary, we are offered a very childlike view of the world—so different from our introduction to the Brightwells' home and the London of Rachel Caine's Ink and Bone, which we are reading simultaneously in the course, along with The Hobbit and our selected short readings in fantasy. In Caine's novel, we do NOT hear about the things in the Brightwells' yard that can stand in as flowers. We hear about a ruthless father who is perfectly willing to sacrifice his own children for the family business. We read about smuggling and danger, oppression and consequence.
Then Master Nathaniel Chanticleer is mentioned, but his introduction comes with a bit of the author's philosophy: You might think Master Nathaniel Chanticleer, a hale and solid man of fifty, is a typical Dorimarite, but beware. It is hazardous to make assumptions about people: "You should regard each meeting with a friend as a sitting he is unwillingly giving you for a portrait—a portrait that, probably, when you or he die, will still be unfinished." Mirrlees posits that "you," the portrait artist, are a pessimist—the more the portrait is developed and refined, the more the initial handsome and merry face becomes a disquieting image. "And, finally, it is your own face you are staring at in terror, as in a mirror by candlelight, when all the house is still."
Mirrlees seems to be hinting that in every human being there is an unfinished work; there is a grotesque sinner in need; there is a mortal body that is going to die; and that every one of us has, in this life, flawed perception.
We learn that Master Nathaniel Chanticleer, for all his merriment and solidity, is not a happy man. He has a small, nameless fear that poisons his existence.
And now we begin to get character.
As with everything in Lud, revelation comes through a meandering journey. First, as we begin to learn about the prank Master Nathaniel and his friends played long ago as children (they intended to dress up as the ghosts of their ancestors and frighten the servants), there's a long digression about the objects in the attic, where the pranksters find their costumes and props. These objects are "lumber"—articles of furniture or other household items no longer useful but inconveniently taking up storage space.
There follows a marvelous reflection on how the images in old tapestries seem to depict creatures in forests that are not the ones we know—where did those long-ago tapestry-weavers find their models? Mirrlees brings up words we use today that deceive us, words such as:
. . . "February," or "Hawking," or "Harvest," having us believe that they are but illustrations of the activities proper to the different months. We know better. These are not the normal activities of mortal men. What kind of beings peopled the earth four or five centuries ago, what strange lore they had acquired, and what were their sinister doings, we shall never know. Our ancestors keep their secret well.
It is possible to conclude from the text that both our language and our longings suggest that something familiar and owned is now unfamiliar and nearly lost. And where language and longings come together—where the signal from that far, lost country is most strongly felt—is in our tales of wonder, of the fantastic, where the supernatural impinges and wishes are granted and all may be made well.
If one makes this assumption, stories of fairies and a certain kind of fantasy are like the tips of icebergs. Even the most eager reader may suppose those tips are all there is. But they suggest the merest pinnacles of colossal, marvelous, Heaven-made complexities in this life—including human beings, with all our fears and hopes, struggles and joys and dreams. These complexities include our journeys too.
I once heard the fantasy and horror writer Peter Straub say, "We read and write fantasy because it is the only genre capable of dealing with life as it really is." It has been said in similar ways by many others.
This idea just might give the fantasy reader a chill. It gives me one. I think Mirrlees' suggestion lands right at the heart of the genre, of why we seek it. As readers, we spy the iceberg, but we also know, from the start, that the story will take us on an exhilarating plunge beneath it. The water is dark, and the explorers have only enough air for the briefest of forays . . . but there are glimpses like those of Howard Carter, by flickering lamplight, into the tomb of King Tut—glimpses of "wonderful things."
The book goes on, still speaking of the items in the Chanticleers' attic:
But those particular toys, one felt, could never have been really frivolous—there was a curious gravity about their coloring and lines. Besides, the moral of the ephemeral things with which they were decorated was often pointed in an aphorism or riddle. For instance, on a fan painted with wind-flowers and violets were illuminated these words: "Why is Melancholy like Honey? Because it is very sweet, and it is culled from flowers."
The book is full of questions like the one above. Why is Melancholy like Honey? Why is a Raven like a Writing-Desk?
The qualification must be made that fantasy comes in many types and sub-genres, and not all fantasies are concerned with beauty or a sense of wonder. Mirrlees wrote in a time when there was no dystopia or grimdark. Fantasies and fairytales might have been plenty gruesome and dark, but stories of the fantastic generally involved some element of transcendence.
I direct my class to read again through the words about "those particular toys," substituting "fairy tales" or "fantasy stories" for the toys in the attic. Perhaps Mirrlees felt it was important, before starting what the modern reader would consider the real story, to lead us first to this realization. She has prepared us to appreciate just what treasures fantasy stories are: Like peacocks and doves, like surprising things, birches, and the River Dapple, they fill the role of flowers when no flowers are immediately obvious, bringing us beauty and fragrance (or in Tolkienian terms, they are a light to shine for us "in dark places, when all other lights have gone out"). Stories, like outdated "lumber" in the attic, are lovely and fascinating, sometimes very old, or with very old spirits, pushed aside and discounted by the pragmatic world. Yet they are not as "frivolous" as some might suppose. Perhaps, for all their "ephemeral" nature, they are "pointed in an aphorism or a riddle." We may never fully know all the ways in which Melancholy is like Honey, but fantasy stories just might bring us as close to understanding, in this world, as we are likely to get.
All this, Hope Mirrlees accomplishes in her first four pages.
And now we come to "The Note." Nathaniel as a carefree child, rummaging among the attic's quaint objects, picks up a long-forgotten lute with the carving of a cock's head at its top end. He playfully strums it. He and his friends hear "one note, so plangent, blood-freezing and alluring, that for a few seconds the company stood as if petrified." Nathaniel is terrified. He never forgets that sound. We understand more of the fear that poisons his life.
At once I noticed a connection to be drawn with the other book the students are reading: Tolkien's The Hobbit. Before he heard the Note, Master Nathaniel
had caused his father some uneasiness by his impatience of routine and his hankering after travel and adventure. . . . But after he had heard the Note a more stay-at-home and steady young man could not have been found in Lud-in-the-Mist. For it had generated within him what one can only call a wistful yearning after the prosaic things he already possessed.
In The Hobbit, Bilbo is a Baggins, and a more model hobbit there never was: He loves his home and comfort and normalcy—simple pleasures. When he is visited by Gandalf and the Dwarves, something Tookish in him awakes (the Took family is one of his ancestral lines), and he yearns for Adventure. He moves from Baggins to Took—skirts the line, never really stops being a Baggins, but also follows the Took in him, and so changes the world. On the other hand, Master Nathaniel Chanticleer starts out as a full-on Took, but after the Note he becomes a Baggins. As the book goes on, he too will skirt the line and reach his own state of fulfillment, which is woven of both natures.
Reflecting on what the Baggins nature and the Took nature indicate, I submit that the Took in us knows we are built for more than material comfort and "normalcy" and is willing to look for it; the Baggins clings to "normalcy" as a steady and comprehensible alternative to a course that involves risk—a deadly peril to body and soul—and a potential for fulfillment beyond the comprehensible, the fulfillment of a need that the Baggins nature has boarded over and finds it best not to think about.
The trajectories of Bilbo and Master Nathaniel cross in a specific moment: for Bilbo, the Unexpected Party when Gandalf and the dwarves arrive and sweep him away on an Adventure; for Nathaniel, the Note. Bilbo's moment comes as the book begins. Master Nathaniel's has come in his childhood, long before the book's outset. In the Note he hears, perhaps, the cry of his mortality, mixed with the song of possible Fulfillment—a thing he senses that he needs but has no idea how to define, let alone find.
Mirrlees follows no modern dictums about how a narrative should start. Far more important for her is taking our hands and leading us to a view of things that fill the role of flowers—to a purposeful examination of objects in the attic, all but forgotten, that allure us, whispering of seeds buried deep, of something we once had. These things may terrify us when we hear their Note, for we sense only that the sound is urgent, and not at once what we might do about it. But our best stories, disquieting in their call yet comforting with a warmth from beyond this world's walls, interpret the Note for us. They give us a course, a light to keep in our eyes, and remind us that blossoms will open again.
For over twenty years, Frederic S. Durbin has been professionally writing fiction for adults and children. His most recent novel, A Green and Ancient Light, was named a Reading List Honor Book by the American Library Association.