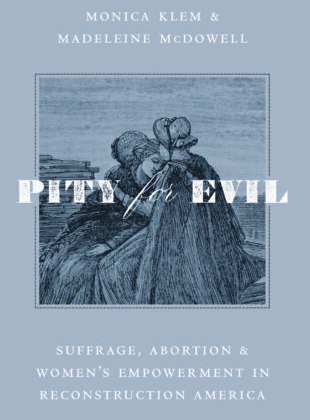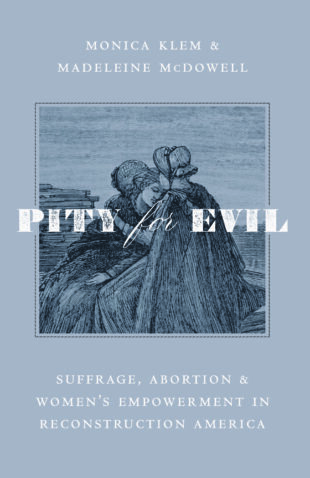 Monica Klem is an independent scholar based in Northern California. She holds a Master's Degree in Public Policy from Pepperdine University.
Madeleine McDowell is a historian of the nineteenth century whose research has focused on the religious, cultural, and intellectual history of the English-speaking world. She holds a PhD from the University of Notre Dame and lives in Sacramento with her husband and young children.
They are sisters and the co-authors of Pity For Evil. Suffrage, Abortion, and Women's Empowerment in Reconstruction America, officially out today from Encounter Books. We are grateful that they took the time to visit The Arena to answer some questions about this book and the process of writing it together.
*****
How did you decide to write this book? I am curious about the backstory to this fascinating project. Can you tell a little bit about your intellectual journey and how it led you to write this book?
Monica Klem: The topic of the early feminists' position on abortion came up in conversation with friends in the mid-2010s. At that point I was fairly agnostic on the historical question, despite the public arguments that Marjorie Dannenfelser and others were having with Ann Gordon and Lynn Sherr. It struck me that possible hyperbole on one side was matched by narrow obfuscation on the other, but I didn't really have an opinion beyond that.
At a certain point, though, it occurred to me that this was a basic historical question, and I decided to see if there was an answer to it. I was working full-time for an association in Washington, D.C. at the time, so I drove out to local universities' libraries after work and on weekends to use their physical and digital collections.
I found histories of abortion in America and histories of women and sexuality and histories of the suffrage movement and allied institutions and trends. But it struck me that there wasn't much describing the intersections of these areas of study, aside from a few single-line observations in a few influential books that the early women's rights activists were, without known (or with one possible), exception, opposed to abortion.
I found myself wondering whether that gap represented something or nothing. Had nobody written at length on the question because there was nothing to say or no stories to tell, or was it rather that there had been no interest in investigating the question? It's hard to know what to make of silence, and so I pondered the question.
At that point, I had been working on a somewhat amorphous research project for about five years and had come to something of a decision point–I had photographed and transcribed an extraordinary quantity of correspondence, and wasn't quite sure what to do with it. The clarity of the question of the early women's rights advocates' position seemed blessedly simple in comparison.
I decided to start looking into the question myself, to see what existed and what could be stated with confidence on the topic. I found that Lewis and Clark College had digitized the full run of the suffrage newspaper The Revolution. So, I downloaded and printed out all those pdfs, bought some highlighters, and started with the issues published under Susan B. Anthony's direction.
I obtained a nights-and-weekends subscription to a co-working space within a couple of blocks of my office, and most nights after work I headed over there to read the issues cover-to-cover, highlighter and pen in hand. That was when the book started taking shape as something outside my imagination.
Reading The Revolution was the backbone of my research. The newspaper's editors were engaged with discussions taking place in women's rights and suffrage and mainstream circles, and they freely reprinted snippets of articles from a wide range of sources, frequently offering commentary on them. Many of the stories in our book were ones that I discovered because of passing comments in Revolution articles that spurred me to further research.
My sister was in the history graduate program at the University of Notre Dame at the time, and so I found myself calling her frequently to talk about the material that I'd found. I asked her for reading suggestions and feedback on outlines and drafts. At a certain point, the project became "ours" naturally and we decided to make it official.
Madeleine McDowell: We made it official around the time I finished my program. I was also about to get married to another recently minted PhD, and had an additional year to fill in South Bend while he did a postdoc and started the job hunt. Working with Monica was a delight not only because the project was good and important in itself, but also because it gave me the opportunity to keep researching and writing about nineteenth-century intellectual and social history while having the flexibility I needed at the time. Having the opportunity to keep doing this sort of work while also becoming a stay-at-home mom to two (soon to be three) little ones has been a real gift. It isn't the trajectory either of us imagined we would be on a decade ago, but it has been a lot more fun than anything I could have dreamed up.
Most research on the pro-life movement has focused, it seems, on the past century or so, but you are looking at some familiar questions in an unfamiliar (to many readers on this topic) period. What is your overall argument in this book?
MK: Most fundamentally, the argument of our book is that the early women's rights advocates were cognizant of abortion as an issue, that they understood it through the lenses of classical republicanism and their abolitionist backgrounds, and that that their engagement with it during the years following the Civil War was of a piece with the other issues of importance to them.
The usual narrative of abortion in the mid-nineteenth century centers on misogynistic male doctors' use of argumentation over abortion to professionalize the field of medicine and discredit the traditionally woman-dominated field of midwifery, juxtaposing patriarchal preachiness with feminine care for persons and comfort with moral ambiguity.
Our book complicates that narrative. Pioneering women doctors were part of the move to professionalize medicine as well, and they were in part motivated to do so because of the association of abortion with informal medicine especially practiced by women. The women of the New England Hospital for Women and Children, which was closely tied to the women's rights movement in Boston, actually hired the instigator of the "doctor's campaign" against abortion to be its surgeon, while he was at the height of his anti-abortion advocacy.
Observers argued that the incidence of abortion skyrocketed after the Civil War, based on the beginning of infant and child mortality statistics and systematic interviews of imprisoned prostitutes and other efforts at the collection of public health data. Consequently, many people engaged with public life felt impelled to wrestle with the subject.
That abortion was a moral evil was largely understood as a given; this assumption served as the basis for arguments about the sorry condition of American society. If women were driven to such an evil act, the early women's rights activists argued, something was very deeply wrong. When they analogized women who sought abortion or committed infanticide with Margaret Garner, who killed her children during their escape from slavery to prevent their being returned to that life, they were not excusing filicide.
Rather than ignoring abortion, which was lumped with infanticide and other causes of infant death under the heading of "child murder," the early women's rights activists undertook a variety of efforts to reduce its incidence. Some efforts were rhetorical and tied in with arguments for suffrage; some were charitable and aimed at the most vulnerable of women; some were educational and were intended to create missionaries out of audiences of middle-class women. Our book tells these stories.
Can you give us a taste of something surprising/intriguing/funny/unexpected that you have found in your work on this project? (could be an anecdote/story from your research, for instance, or a story about your own work/life during this period of writing the book. Basically, something surprising that you learned either about your subject and/or about yourself)
MK: To me, one of the most surprising things about this project was that it produced a co-authored book!
Madeleine and I were both history majors at the University of Dallas, but we had different interests and ambitions. When I moved to DC following grad school for public policy and began working in publishing and communications and she started grad school for history at Notre Dame, it seemed like our lives were going in very different directions. I would not have guessed that we would work particularly well together.
But working with Madeleine on this book was truly a joy. Our working relationship was probably one of the smoothest I've had in my career thus far, and I think our friendship deepened over those months and years, as well.
MM: I think we spent enough time squabbling when we were younger to get most of it out of our systems!
MK: Practically speaking, we had regular meetings, first over the phone and then in person when we both moved back to California. We had a shared Google Drive, where we kept all our digitized sources and notes and drafts. Having a good system for communication and for file management helped a lot.
When we were working on writing the book, we traded off ownership of the chapters. One of us would write an initial draft, the other had free reign to edit and add to it, and then the first would review and edit and improve it. By the time we'd finalized most of the chapters, we couldn't entirely tell who had written what.
Because we were equally committed to the project we could ask each other tough questions about it and about each other's work. The good of the book really superseded our individual egos, and that was strangely enjoyable. And in a way, I think that enabled us to get to know each other better, too.
MM: And I think the fact that we were sisters made writing together possible in a rather unique way. While our areas of expertise were certainly different, we spoke enough of the same "language" and knew each other's voices well enough to truly write things together. And I think honestly being family probably gave each of us the comfort to critique the other without worrying that it would be taken as anything other than for the good of the project, and because, let's be honest, we've both thrown plenty of criticism at each other over the years and still love each other! I think there is something lovely in the fact that this book, which focuses so much on women helping other women, came about in part through literal sisterhood.
MK: Another surprising thing for me has been how interested I still am in the material. Even a year ago, I would have assumed that by this point I would be heartily sick of it. But in re-reading my book over and over in the course of the publication process, I have been struck by the desire to dive more deeply into some of the subjects we touched on briefly in our book. I still find the material intriguing, and that's an unexpected delight.
What are the broader questions that fascinate you in your reading/thinking/writing?
MK: I'm interested in the changes in understandings of personal moral obligation between the founding and progressive eras. This interest predates my work on the book, but the project of writing the book deepened my interest in the subject.
I loved finding Lucy Stone's suggestion in a letter to her sister-in-law that, "we are all getting to be women's rights advocates or rather investigators of women's duties." I found the way that the early women's rights activists talked about women's moral obligations to develop their talents and skills and to become mature human beings fascinating. And the way that Anna Cabot Lowell wrestled in her diary with her decision to join the board of the Massachusetts Infant Asylum intrigued me. These women understood that they had obligations toward their Maker, toward themselves and toward their locality–that they obtained by virtue of their own origins and that they acquired by membership in the small and large, formal and informal institutions to which they belonged.
This way of understanding moral obligation also underlays the weightier subjects in our book. Just as abortion was implicitly understood as a moral evil, the correlation of embryonic life with motherhood and its attendant rights and responsibilities was as widely understood. This is why some women who attended Dr. Anna Densmore's lectures fainted when she explained embryonic and fetal development; they understood that they had committed not just murder but filicide. When the early women's rights activists worked to reduce the incidence of abortion, and to persuade individual women to bear and bring up their children, they weren't trying to impose obligations on them but rather to give them strength to be able to meet and fulfill the duties that already belonged to them.
In fact, an appreciation of the substantial and oftentimes difficult duties of motherhood drove a lot of the early women's rights advocates' work. In the aftermath of the Civil War especially, they were keenly aware that many women were the heads of their households because they had been widowed or abandoned, or because their husbands or male relatives had been incapacitated. Working to increase women's earning potential through unions, improving their abilities to hold property, and working toward the vote were ways of giving women the practical means to fulfill their obligations of care toward their families. This complemented efforts to help women develop their intellects and their leadership skills and other creator-given capacities to fulfill their own obligations to become more fully themselves.
I want to better understand the intellectual underpinnings of this way of talking about rights and duties, particularly with respect to and by women prior to the turn of the twentieth century. The early women's rights activists were raised in various religious traditions; Most of them were also the beneficiaries of the female seminary movement, which for many women transformed their understandings of the roles they could play in associational and public life. Learning more about the content of women's education and of religious movements in the nineteenth century would be a good place to start.
More concretely, I've begun reading Cicero's de Officis and researching his influence in early American education. I've also been reading Erika Bachiochi's The Rights of Women: Reclaiming a Lost Vision.
MM: Contributing to this project came naturally to me. My dissertation focused on the development of parental rights arguments in the nineteenth-century "schools question." So, while my background was more religious and intellectual history, I was at home in the time period. Monica's focus on the question of duty matched my own focus on the arguments surrounding rights and duties in education. This book deals with such rich subject matter because these women were thinkers immersed in social and political affairs and tried to approach all of these things with moral cohesion.