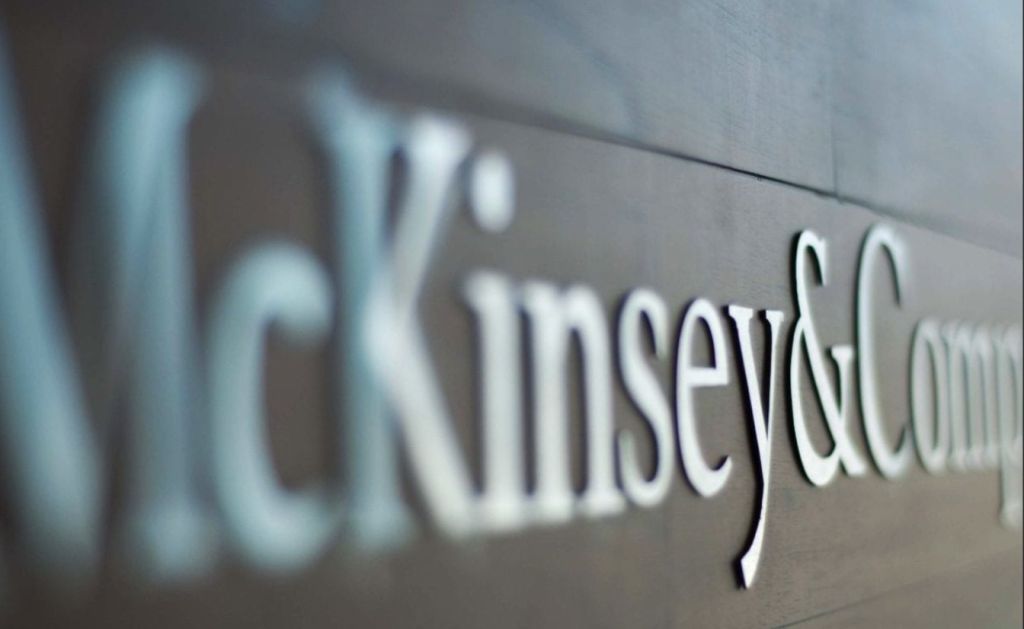 McKinsey & Company's influence is hidden—and so is its catalog of harm
When McKinsey Comes to Town: The Hidden Influence of the World's Most Powerful Consulting Firm by Walt Bogdanich and Michael Forsythe. New York: Doubleday, 2022. 368 pp., $18.00 (paperback)
The global consulting firm McKinsey & Company has been in operation since 1926. In those nearly one-hundred years they have managed to achieve top status among consulting companies and a stellar reputation worldwide. McKinsey is preferred by the powerful and boasts the majority of Fortune 500 companies and over 100 government agencies around the world among its clients.
McKinsey is associated with excellence and prestige. They hire the best people from the best schools, offering "an opportunity for young recruits to use their talents for a higher purpose, to make the world a better place." McKinsey attracts as many as 200,000 applicants a year for their positions, hiring only 1-2%. They are one of the top employers of Harvard Business School grads. Not only is it thrilling to be hired and have a chance to influence the shape of the world, even a little time in McKinsey's employ can equate to a "lifelong passport to industry and government" because of their vast alumni network. Getting hired by McKinsey is a badge of honor, one people take with them into exceptional careers in many fields. Famous McKinsey alums include a mildly absurd number of CEOs and familiar names, like Angela Duckworth, Sheryl Sandberg, Bob Haas, Pete Buttigieg, and Tom Cotton.
Beyond just wealth and prestige McKinsey envisions itself as a "values-driven organization." Its purpose is: "To help our clients make distinctive, lasting, and substantial improvements in their performance and to build a great firm that attracts, develops, excites, and retains exceptional people." If employees feel uncomfortable working on a project, they can decline to participate. If McKinsey is working for two rivals or otherwise antagonistic organizations, they have protocols to prevent information from moving between camps. It all sounds wonderful, but in When McKinsey Comes to Town, the company comes off like the circus in the 1980s film Something Wicked This Way Comes.
When McKinsey Comes to Town is a long, well-researched catalog of the consulting company's questionable ethical choices and the chaos that sometimes trails in its wake. McKinsey was behind the cost-cutting changes in maintenance and staffing at Disneyland that led to the company's declining safety record in the early 2000s. McKinsey was working with the Houston Astros in the run-up to their cheating scandals. McKinsey's suggestions led Allstate teaching adjusters to lowball claims or deny altogether what was once routine and what was under coverage. McKinsey sometimes works for both government agencies and the companies they regulate at the same time. They've served the state interests of China and Saudi Arabia. They helped "turbocharge" opioid sales, identifying doctors most likely to prescribe, teaching companies how to target prospective patients, and working on advertising, among other things. These are only some of the examples. There are more than breadcrumbs linking McKinsey with some incredibly bad outcomes. Their PowerPoints sometimes pose a threat to the general public.
How does a values-driven company end up behind so many bad outcomes? Bogdanich and Forsythe don't think everyone at McKinsey is evil. Some of the scandals in which the company has had a hand have been the source of great internal dissension among McKinsey's current and former employees. Many people join the company wanting to make the world a better place and many are rightly proud of their time there. But When McKinsey Comes to Town argues that the promise of "wealth without guilt" is false. And while people are entranced by the apparent intelligence and values, at the end of the day consulting companies work to "legitimize the goals of their clients." Those goals may be inherently flawed or even immoral. This is facilitated by the emphasis on management and executives, apart from the objectives of any particular industry or field, or the bigger picture—something Daniel Markovits has written about in his article, "How McKinsey Destroyed the Middle Class." And while McKinsey allows employees to pass on a project, the company itself almost never does. Companies seek profits, so McKinsey just has other people help China develop "smart cities" to enhance its policing abilities, for (a real-life) example.
When McKinsey Comes to Town is a disenchanting chronicle of one of the most powerful companies in the world. And while McKinsey's actions are its own, many of its flaws and its ongoing opportunities reflect wider cultural problems. There are lessons in When McKinsey Comes to Town for most of us.
For one thing, we can be blinded by perceived intelligence. In 2002 Malcolm Gladwell took a swing at McKinsey and companies like it in his article "The Talent Myth." Gladwell was reacting to McKinsey's belief that talent and a "talent mindset" distinguished the best companies. "It is the intellectual justification for why such a high premium is placed on degrees from first-tier business schools, and why the compensation packages for top executives have become so lavish." (When McKinsey Comes to Town also mentions the relationship between the firm and the dramatic increase in executive pay.) Enron, which had used McKinsey and taken its advice, was full of the "the smartest guys in the room," but it had been a bust on an epic scale and it hurt many people. Gladwell asked "What if smart people are overrated?" The issue Gladwell identified was that some believe "talent" can be divorced from performance. At a certain point, a "type" develops of what a smart, talented person looks like and we don't seem to be able to see past it. Their failures can be explained away. Many of the "top companies" have an overconfidence in what they perceive to be innate talent. They too easily ignore or disregard the importance of actual ability.
It's also true that we can be suckers when we're allowed to see ourselves as driven by ideals. Any quick glance at politics today will reveal this. As long as we're allied with what we perceive to be the "correct" group, driven by the correct "values," we'll condone just about any action and/or politician. If we believe that our organization is good, we often fail to question all of its actions. The same is true of us as individuals. We can be very slow to introspectively consider our own contributions to the world's ills. People happily work with McKinsey through just such oversights.
Consulting companies as a whole reflect the passion for outsourcing and contracting solutions that has seized our country. Often that means spending millions of dollars to save millions of dollars. But it also means that we don't trust our employee to understand the problems facing the company and find solutions in house. This pattern repeats itself over and over, as businesses pay big bucks for outsiders to tell them things that are sometimes obvious to insiders. If it's genuinely a matter of expertise—better web solutions for your restaurant—that's one thing. But too often, the whole thing is absurd. In 2022, news broke that New York City was paying McKinsey four million dollars to consider the issue of whether or not bins would be a good solution for the city's garbage piles. This kind of thing happens at all kinds of organizations, at all kinds of levels. Outsiders are brought in to teach employees about their workplace culture. Universities hire consultants and ignore actual subject matter experts. Etc. The people at the top of too many organizations are lured in by the promise of highly paid people, hand selected as elite, rather than the subject matter and hands-on experts that they themselves employ. This blindness costs money and time and continues the pattern of undervaluing employees.
The love for consulting companies is consistent with our faith that private solutions are nearly infallible. Americans love to talk about how inefficient and foolish the government is. Want something done badly? Leave it to the bureaucracy. We often prefer it when the government turns to private companies for help. But as we see in When McKinsey Comes to Town, that is expensive and often worse. McKinsey actually directed the British National Health Service to its slower service times that Americans love to criticize. The problem wasn't necessarily government-run healthcare. McKinsey was working with drug companies and drug regulators as we entered the opioid crisis. The failures in regulation may be related and not just tied to the stupidity of government employees. If you want to be really upset, look at the track record of the private companies that do military housing in order to save us from the "bad job" the government would do. While some percentage of Americans is worried about the "deep state," we are surrounded by private companies that have a powerful impact on our lives and whose full significance we simply ignore. It's true: We don't need public solutions for everything. Government and bureaucracy will not solve all of our problems. But we are foolish to believe that profit-seeking companies will always serve our collective best interest. They aren't paid to do that.
Why aren't we more upset about McKinsey's actions? Well, McKinsey is a company of "hidden influence." Shady things thrive in shadows. McKinsey has a tight defense of nondisclosure agreements and secretive practices. It took years of investigation for Bogdanich and Forsythe to complete this book. It makes little sense for private companies to have their operations open to the public—it would be absurd. But it makes less sense to assume that what we don't know must not be worth worrying about. When McKinsey Comes to Town argues that governments should be more cautious about hiring an organization that is so secretive and also incredibly unrooted. It seems inappropriate for millions of taxpayer dollars to go to McKinsey for consulting with the U.S. Defense Department when they are advising the Chinese Navy at the same time.
It's also true that McKinsey isn't cooking up schemes for misdeeds. Too often we are looking for cover for our selfish decisions. Perhaps a company wants to fire people. It's easier if experts have helped them come up with the "optimal" number of employees first. That seems rational rather than reactive, professional rather than cruel. McKinsey hasn't created our obsession with efficiency. They haven't taught us to value profits over people. They haven't convinced us to seek out mass surveillance. The "big problems" that McKinsey gets asked to solve are our own. That we seek solutions from McKinsey is on us.
You can imagine Wendell Berry shaking his head at everything described in the book. There is a big gap between what seems good and what is good. We attach prestige to being hired by the "right" company and esteem that company because of its proclaimed values. All the while, we know or care little about the actual overall impact of the company. We are caught up in appearances. And the company is so little attached to place (which would run counter to seeking profits) that it is no friend to the American people, or really people anywhere. We want big ideas from bright outsiders that will bring us quick paydays. We don't commit to the steady and laborious efforts required to bring gradual and genuine improvements to our places of work and life. We don't listen to the people on the ground.
When McKinsey Comes to Town is a compelling read. The authors have compiled a great deal of information about a powerful company whose influence is hidden to the general public. McKinsey's connections to some of the big scandals of our times is very troubling. Even for those not especially interested in McKinsey, this book is a helpful guide for considering the actual relationship between our ideals and our actions. What does it take to keep our companies and ourselves truly on the straight and narrow? Can we, as a people, better manage the role of such companies in our shared political and economic ecosystem? 
Elizabeth Stice is Associate Professor of History at Palm Beach Atlantic University. Her essays have appeared at Front Porch Republic, History News Network, and Mere Orthodoxy.