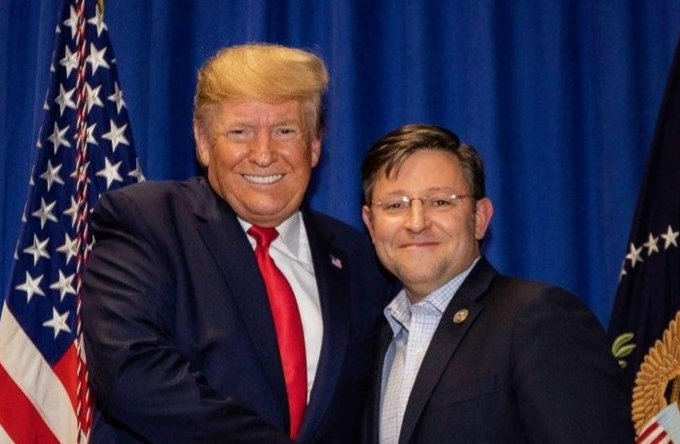 We covered a lot of the responses at today's evangelical roundup. Here's more:
David Barton and his Wallbuilders gang are over the moon. Johnson has a long history with Wallbuilders. Tim Barton says that Wallbuilders have been praying for a man like Mike Johnson to become Speaker of the House. David Barton says "we've already been talking with him about staff." He also says, Johnson will "make you smile before he hits you in the mouth so he won't bloody your lips when he breaks your teeth." Host Rick Green tells Christians to "drop on your knees and thank the Lord" for pro-Trump, Christian national, election denier Mike Johnson.
Listen:
A piece today at the Louisiana Baptist Messenger notes that Johnson attends Cypress Baptist Church in Benton, Louisiana. (As I noted in today's feature, he has also attended First Baptist Church of Bossier City, Louisiana.)
Tony Perkins of the Family Research Council, a longtime friend of Johnsons and fellow culture warrior, does not want you to trust what the media says about Johnson:
For the Christian Right, Johnson, a man with no leadership experience who refused to certify the 2020 presidential election, is right for the job because he is a Christian:
It's the "hand of God." Where were these tweets when McCarthy, Pelosi, and others were Speaker?
And while we're at it, why not take a shot at CNN:
A court evangelical responds:
Al Mohler loves the choice. He voted for an election denier for president in 2020, so why not praise another election denier?:
Mike Johnson is a solidly conservative Republican legislator. And in terms of worldview commitments, I think it's very safe to say he has worldview commitments very much in line with what we would be looking for in a Speaker of the House of Representatives. Now, the progressive media are going to be catching onto this, and even last night they were really beginning to catch onto a lot of this.
Mike Johnson has been associated with the Southern Baptist Convention. He has been associated as a board member with one of our agencies. He has been an attorney and spokesman for the Alliance Defending Freedom, which is one of the most important religious liberty litigators as an organization here in the United States. He has also been a faculty member, including service currently as an adjunct member of the faculty at Liberty University.
So we are talking about a self-consciously committed evangelical Christian. We're talking about an attorney who has put his reputation on the line to defend religious liberty. We're talking about someone who clearly is willing to identify with evangelical Christians as an evangelical Christian, and he comes with a great deal of experience, not only as a legislator, both in Louisiana and now in the House of Representatives, but also as a litigator and attorney with Christian commitments.