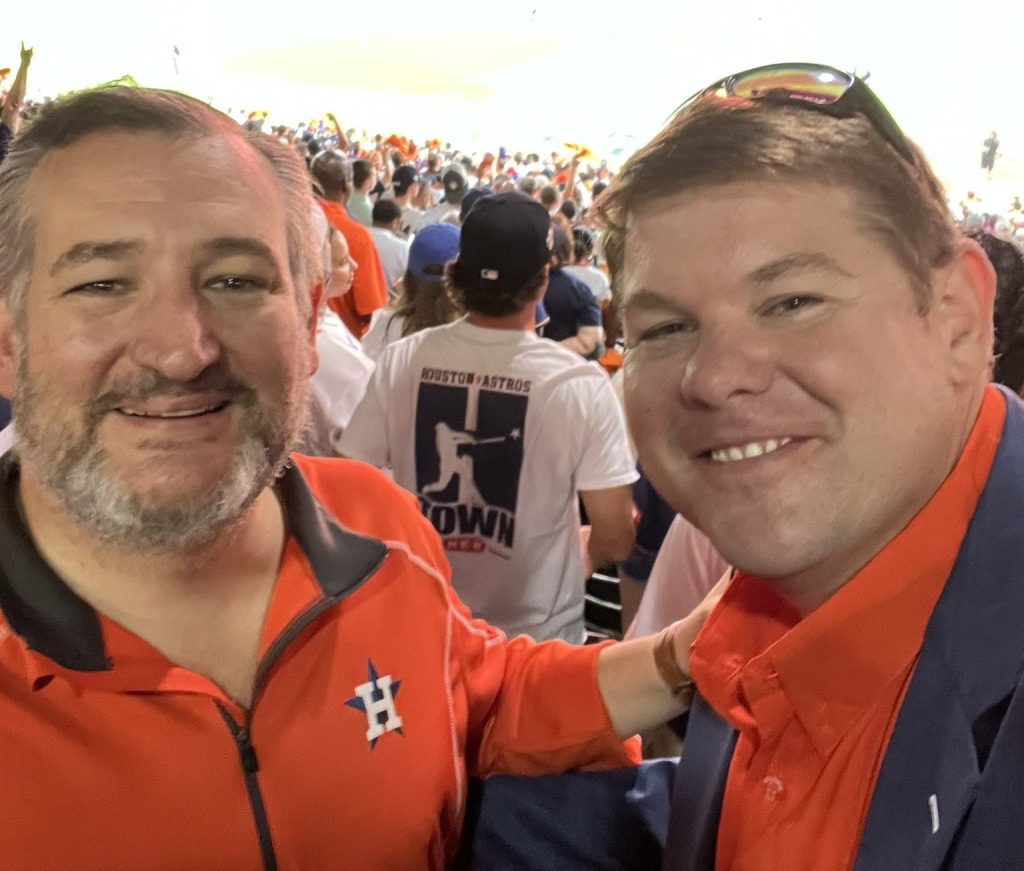 In case you missed it, last night the Texas Rangers won game seven of the American League Championship Series over the Houston Astros and are headed to the World Series against either the Philadelphia Phillies or the Arizona Diamondback (they are playing their game seven tonight).
Yesterday Astros fans were, according to this piece at The Hill, "begging" Texas Republican Senator Ted Cruz from attending the game. They think he brings bad luck.
Here is a taste of Olafimihan Oshin's piece:
"All I ask for is for Ted Cruz, the King of Jinxers, to not attend Game 7 of the #ALCS, so the Astros can have a good chance at victory," wrote one X user. 
"I appreciate that Ted Cruz, as a dad, loves taking his kids to the @astros games," another Astros fan wrote on the platform. "But for the love of all things Houston, let Heidi take them! Send them with friends! It's game 7 man. We can't risk this. The whole city is asking you."
Meanwhile, Rangers fans are begging Cruz to attend the contest, with one user writing in an X post: "As an honest Astros fan I speak for when I say Ted Cruz is a great man and great senator and should attend our game tomorrow night, he's our good luck charm." (The user's feed is filled with support for Dallas-area teams, including the Rangers.)
A Cruz spokesperson confirmed to Rolling Stone Magazine that the senator plans to attend Monday's contest, noting how Cruz has been an avid fan of the Houston, Texas-based MLB team since the 1980s and attending games has been a tradition he shares with his daughter. 
"No one calls them the 'Astros.' Go Stros. Senator Cruz has a legendary record supporting the Stros in their biggest victories, including when he cheered the Stros on to victory on June 3, 1989, which was one of the longest baseball games in history," the spokesperson told Rolling Stone. 
The Hill has reached out to Cruz's office for comment and more information. In response to the Rolling Stone article, Cruz posted on X, "For 7 years, Catherine & I have attended nearly EVERY Astros home playoff game. If they're going to blame me for our recent home losses, pls also credit us for TWO World Series Championships & SEVEN consecutive ALCS's—we were there cheering Stros on!"
Yet some say Cruz, who ran for president in 2016, has arguably been a bad omen to Houston-based professional sports teams in the last few years. 
Read the entire piece here. I can't believe that a Cruz spokesperson actually responded to Rolling Stone by suggesting that the Astros have also won game when Cruz attended!!
Here are some tweets posted after last night's Astros loss:
Beto O'Rourke crushed Cruz in Harris (Houston) and Fort Bend County in the 2018 Senate election, but Cruz won by massive margins in the Houston suburbs:
This guy's not playing along:
Chris Hollins is running for Houston City Controller: