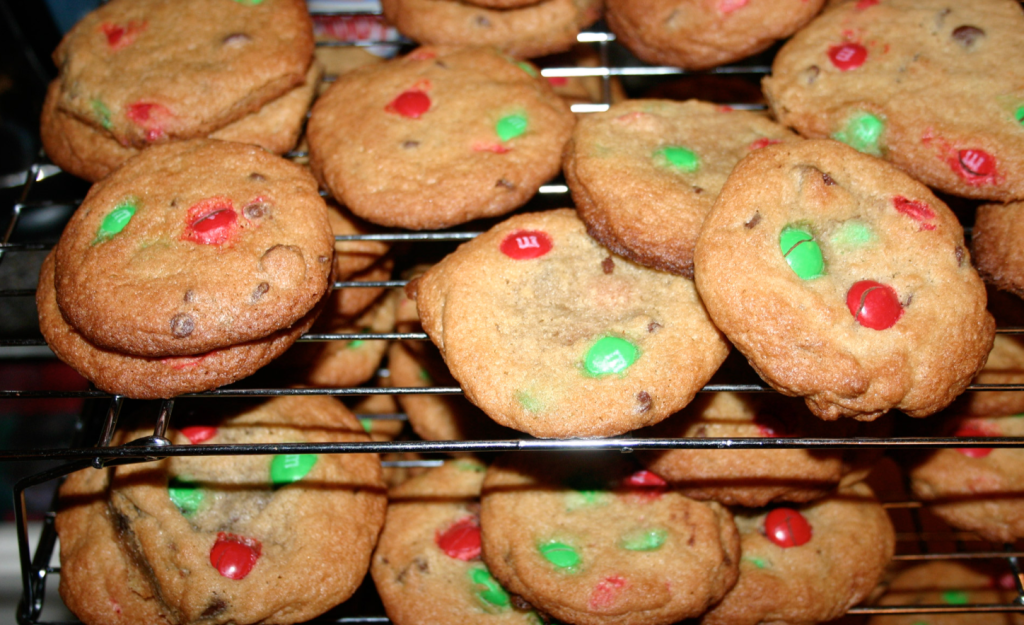 Wielding cookies and conversation for the common good
Two years ago this fall, Proud Boys celebrated victory over my small Oregon hometown. Newberg had made national news several times that September. First, the newly-elected school board decided to ban Black Lives Matter and Pride flags from classrooms. Next, local high schoolers "sold" their Black peers in an online "slave trade," and then an educational assistant showed up for work in blackface, her attempt to protest the school system's vaccine mandate. By the time the Proud Boys arrived, driving down their white supremacist flags in our city center, Newberg had already entered a new era.
That same fall the school board's new chairperson proudly claimed Newberg was the "tip of the spear" in Oregon, leading the charge against progressives who were trying to usurp parents' rights. In this remark at least, he was correct. Acrimonious school board battles across the state—and the nation—mirror what has happened in my town, where the election of a far-right majority school board cratered a once-vibrant district. Using the guidance of groups like Moms for Liberty and the Western Liberty Network, the board stoked many parents' fears, insisting that teachers were indoctrinating their children. The resulting hostile work environment, established under the banner of removing politics from the classroom, resulted in over 200 educators leaving our district.
Some folks in Newberg will insist that despite these events our town is neither racist nor homophobic. I might have thought the same about Newberg—until I had children and saw with clarity how people of color were sometimes treated, including my own Asian-American boys. Here and elsewhere school board battles have become a kind of Rorschach test, laying bare our communities' worst impulses, turning neighbors against each other, making us distrustful of folks beside whom we've been living, working, and worshiping, sometimes for a lifetime.
Given this rancor and division, finding our way forward might seem impossible, especially when calls for unity can come at the cost of justice. Fundamentally, school board conflicts across the country are being built on fear—on the sense that those who are Black or queer or poor or Jews or Muslim are dangerous to schoolchildren. Moms for Liberty, a group labeled an extremist organization by the Southern Poverty Law Center, insists that educators thwart parents' effort to teach kids godly principles, that public schools are destroying America's moral fiber, and that parents—and parents of faith in particular—need to "fight those who stand in the way of liberty."
But scripture tells us love—not liberty—overcomes fear. "There is no fear in love," 1 John 4:18 reads, "but perfect love casts out fear." Communities broken by school board battles will not find healing so long as fear remains. Nor will they find freedom in deciding that some parents' rights matter more than others, and white children's comfort should drive a school's policy-making decisions. Finding healing from school board rancor requires love: a seemingly simplistic pathway that requires the hardest work imaginable.
One group of grandmas is seeking to honor love as they work to elect a bipartisan school board this November. I know about this group because its co-founder Shirley Showalter is a friend and mentor, someone who saw my hometown as a harbinger for what might happen in her own town. Shirley and three other gray-haired women decided to combat the fear roiling her community with the fierce love only grandmas can provide, and Grandmas for Love was born.
Lititz, Pennsylvania, and the school district that surrounds it has a history of moderate Republican majorities. This November seven of nine school board member seats are open. The slate includes seven well-qualified candidates who are running because they love the schools. On the other side are several who have spoken positively about Moms for Liberty and publicly describe the school as failing. Shirley and her "grandma" friends mobilized others in her community to become politically active. Their first public action was a full-page ad in the local newspaper during the primaries with seventy-five citizens signing their names and paying for an ad about love—in contrast to fear-based messages expressed by right-leaning citizens attacking the school and its leaders.
When a grandma—a lifelong Mennonite, no less, and a former president of a Christian college—shows up at your door with a smile on her face and love in her heart, fear might diminish. That's Shirley's hope, at least, and she's spent the summer months canvassing, baking cookies, meeting with neighbors she knows might disagree with her on some issues but who also don't have the radical views espoused by some school board candidates. "People are alarmed by the extremists," Shirley says, "but they are also not sure what's going on with the curriculum and the libraries. They fear the loss of their own values in schools." Having a conversation on a doorstep or over tea and cookies has helped them find common ground in "the hopes and fears of other grandmas."
The Grandmas' activism extends beyond canvassing and cookies, though. Shirley and her co-founders have started making media appearances and have written letters to the editor. This summer Shirley attended the Moms for Liberty national convention in Philadelphia and wrote about her experience for WHYY (NPR's Philadelphia affiliate). The Grandmas are also asking about and learning from the conflict-free candidates' forum held last April in Newberg, where several hundred people showed up in a college classroom to hear ten school board candidates speak about their visions for local schools.
Sharing resources, despite the 3000 miles between us, has been one way Shirley and I are trying to create change in our communities. Extremist groups have an extraordinary reach, are well-funded, and know how to use cultural wars to stoke parents' fear. Fostering networks focused on love and inclusion helps neutralize those who insist that fear and grievance should drive our public school system.
In Newberg, at least, love won out over fear. A new school board election in May removed five of the seven far-right candidates, which might have restored some order to the district. But the work is not done here, nor will it be in Lititz should the Grandmas for Love efforts pay off. School board battles in our communities have exposed deep currents of discrimination that run beneath our carefully-cultivated neighborhoods, unearthing racism and homophobia that many insist no longer exists in America. Ultimately, the divisions created by school board elections across the country have revealed that these divisions were already present. Continuing to work together will be crucial, and not just in Newberg and Lititz, if we are to undo a 400-year history of oppression in a country founded on a principle of liberty for all.
Our communities' school board rancor is a stark reminder that liberty remains elusive. Until perfect love drives out fear—in our schools, communities, and our own hearts—nobody is truly free.
Melanie Springer Mock is Professor of English at George Fox University. Her books include Finding Our Way Forward: When the Children We Love Become Adults (2023), Worthy: Finding Yourself in a World Expecting Someone Else (2018), and If Eve Only Knew: Freeing Yourself from Biblical Womanhood to Become Who God Expected You to Be (2015). Her essays have appeared in Christian Feminism Today, Literary Mama, The Chronicle of Higher Education, Brain, Child, and Runner's World, among other places. Much of her work focuses on her experiences parenting, feminism within Christian context, and social justice.