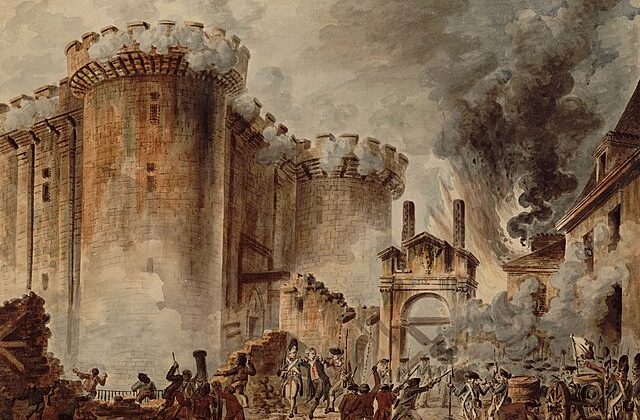 The French and American revolutions seem to simultaneously have both a lot and very little in common. Both are Enlightenment-era revolutions steeped in the language of natural rights, insistent about constitutions, wary of monarchy, and interested in founding a lasting republic. The outcomes were quite different. But so were some of the impulses. (FYI, this piece has nothing to do with Robespierre. This is the last mention of a guillotine you will see.)
The French Revolution went through many phases. The first phase still supported constitutional monarchy. But soon enough, it became about a more radical democratic ideal. It was not just "liberty, equality, fraternity," it was also the abolition of slavery being championed in 1794. Our constitution ended with a Bill of Rights, the French starting point was the Declaration of Rights of Man and of the Citizen. But perhaps most radical and different of all was the French republican calendar, which not only had different months and days of the week, but a new year one! Yes, for some people, a new era of human history was thought to begin in 1792.
Why did the French start history over again in 1792? At that stage of the revolution, its leaders were certain that this event, their revolution, was the dawn of a new era for all of humanity. Republicanism should and would break out everywhere. Monarchs would fall. The Hercules of the people would triumph over the old order. At that stage, the French Revolution had a decidedly universalist bent. That didn't all work out, but they did give us the kilogram, which has taken off in most places.
In great contrast, the American Revolution was much less universal. We may have been talking about natural rights and "the course of human events" and things "self-evident" but we weren't necessarily trying to export republicanism all over. We didn't want to be bossed around by a king, but we didn't take an anti-king agenda on the road. We were undertaking a bold experiment in government, but we also had more experience than many places, thanks to the existing colonial governments and legislatures. We were not espousing radicalism as a diet for everyone.
The French had little choice but to consider how their new political experiments related to the practices of their neighbors. They were almost immediately at war with all kinds of countries, not always by choice. In the United States, our sense of isolation across the pond from many "authority figure" level governments meant that even if we held our principles to be universally relevant, we weren't automatically at war with everyone else.
Our distance from rivals and our lack of universalist zeal at our founding have had interesting consequences. As much as the United States has often contained many people convinced that our way of doing government is the best, we have also always had a strong isolationist wing. We are not always evangelistic about our political ideals. Though sometimes we will take up the charge, very often the general sense is that our founding was great for us, but it was no year one for humanity. Some of us, past and present, are pretty universalist about our love of democracy, but some of us are really more about our democracy than we are about democracy, in general.
1776 was our year, not everyone's. Domestically, one consequence is that some people exist who think they can be pro-America and anti-democracy. In terms of foreign policy, it means we are always between or attempting both—idealistic alliances and military involvement based on spreading democracy/opposing its enemies, etc. and hard-nosed realist alliances based on our interests, supporting people who oppose our principles.
Sometimes we are the city on a hill, sometimes we don't care to be. Sometimes we have to go to Vietnam, because communism might otherwise triumph. Sometimes we have to be friends with Franco, because communism might otherwise triumph. We went to Afghanistan, in part, to stop the Taliban. We made deals with the Taliban in order to leave Afghanistan. Sometimes we're the Marshall Plan, sometimes we're meddling in democracies. Are we all about what we stand for? Or are we just busy standing up for ourselves? And maybe Reinhold Niebuhr is right that humans can be moral in ways that countries cannot be.
But it all gets interesting when someone starts singing "Which side are you on?" In Christianity Today, Russell Moore recently made the argument that the U.S. should stand with Israel, in part, because "it is a fellow liberal democracy—and a democracy in a region dominated by illiberal, authoritarian regimes." No sooner had Moore written that than others got online to say "not so fast." Maybe we shouldn't automatically be friends with liberal democracies, or places attempting them. This underlying sentiment reflects what we have seen in responses to Chinese and Russian aggression in recent years, many people in democracies do not have a sense of international solidarity with other people attempting democracy. Why should we care about Hong Kong? Or Taiwan? There doesn't seem to be a national consensus.
One of the interesting things about mid-twentieth-century communism was its universalism among its true believers. It's not just that their hit song was "The Internationale," true believers kept up their dreams of worldwide workers' liberation even if they were just "fellow travelers" in France or England. There was a solidarity among those who subscribed (even if it was later disappointed, more on that next week). Though there were many mistakes as a result of that sense of solidarity, it offered a moral clarity.
The lack of universalism at our founding is not a fatal flaw or a founding promise, it's just a historical reality that helped set the scene for the political culture we have today and the various ways Americans imagine our place in the world. There is some ambiguity about what we represent and how applicable we believe our approach to government is. We lack a moral clarity that comes with strongly held conviction. An interesting outcome is that when it comes to our international friends and relations, it's not always clear to everyone who they might be or should be.