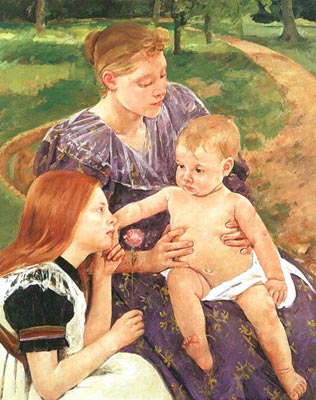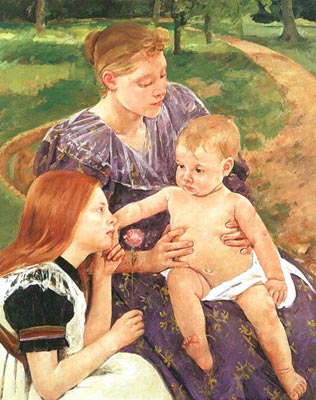 Step 1: Decide you want to write a book.
You want to write a book. There, you've said it. You're sticking it to those who said you'd never amount to something if you stayed at home with your kids, and you're also sticking it to those who said you'd never be a good mother if you didn't devote every waking moment to your kids.
Take that, Naysayers! Even though you have a toddler, as well as at least one or two more happy progeny laying waste to your sense of control, you will Write A Book.
Step 2: Consider Your Options.
There are two normative paths here.
Path A – don't write a book. Accept that the toddler jumping on your back is all that you can handle right now. There is dignity in this.
Path B – find another back on which your toddler may jump while you write a book. Spouse? Family member? Daycare provider?
Realize that Path B won't work because Spouse is already also writing his own book and you feel it your bounden duty to do the bulk of the supervising of your own little ones. Just for the most part. Because IDEALS. And because homeschooling. Also, because you have no money and you don't want to work full time right now. (Finally, you're pretty sure daycare providers don't tolerate back-jumping.)
Realize that Path A won't work because you really want to write a book, you have gifts in this area, and you're a person, too. Your dreams and desires and well-being are important.
Step 3: Presume Plan C is out there somewhere, probably on the internet.
Get lost temporarily in the sea of happy, patient, well-coiffed influencers until Spouse reminds you that you are only seeing their "outsides" and that there's probably either lots of help or lots of struggle going on behind the scenes.
Forget about someone giving you a ready-made Plan C.
Step 4: Plunge in anyway.
You are a planner by nature, but you realize you have no way to actually plan to find time to write a book, because finding that time seems next to impossible. True, you could hire a babysitter each Friday afternoon, eating beans three times a week to make up for the cost, but you know deep down that 2 times out of 3, either she or you will have to cancel. Because the babysitter is prone to going on last-minute trips with her boyfriend, and you – poor you – have a toddler who not only jumps on you, but frequently comes down with nasty stomach bugs.
So you just plunge in. One time during naps you let the little ones sleep longer than perhaps is best even though you know you'll pay for it in the evening, and you finish up a chapter draft. Another time you finally do actually allow Spouse to take all the kids to the Zoo at once without you, even though you think they might literally die, because no, they literally won't die. The world will keep spinning without you for a few hours while you write.
You write an essay or two for places that are generous to new writers. You dust off some old research from graduate school. You start to meet editors. You start writing lots of essays, some in preparation for your book. You start a Substack. You cold-call podcast hosts who, in spite of your bravery, have not interest in interviewing you whatsoever. Oh, well.
You discover that some of the editors and writers you meet are also seeking a via media within parenthood and authorship. But no one seems to actually be following a clear Plan C, and even the full-timers seem to be forging unique paths. It's all catch-as-catch-can. As one book review editor tells you, "Sometimes I find something I wrote late one night and I can't even remember writing it. It's like the elves wrote it."
At some point you realize that your proposal and a sample chapter or two are done.
Step 5: Send your book proposal to a famous press.
Yay! You did it. Tell yourself you will of course not be disappointed if they don't want it or even just plain ignore you, but secretly believe that they'll get back to you within days. You are That Good. You wrote this despite having a toddler on your back!
Step 6: Wait.
Step 7: Accept that they have ignored you.
Step 8: Wallow.
But not for long. Consult the elves. Realize that, like the toddler, this process is capricious and unpredictable. You will have to keep trying.
If there's one skill you know you have, it's perseverance in the face of setbacks. After all, you have potty trained four children.
Step 9: Send your proposal to more publishers. Wait. Then send it to more.
Step 10: Almost give up.
Then decide to send it to just one more.
Step 11: Get an immediate, enthusiatic, excited bite from a great publisher.
What just happened? Quick, send your chapters off to peer review!
And then wait some more.
Step 12: Realize maybe you can actually write a book with a toddler jumping on your back.
Turns out that you can both care for books and care for toddlers.
It's just a matter of forging your own path.