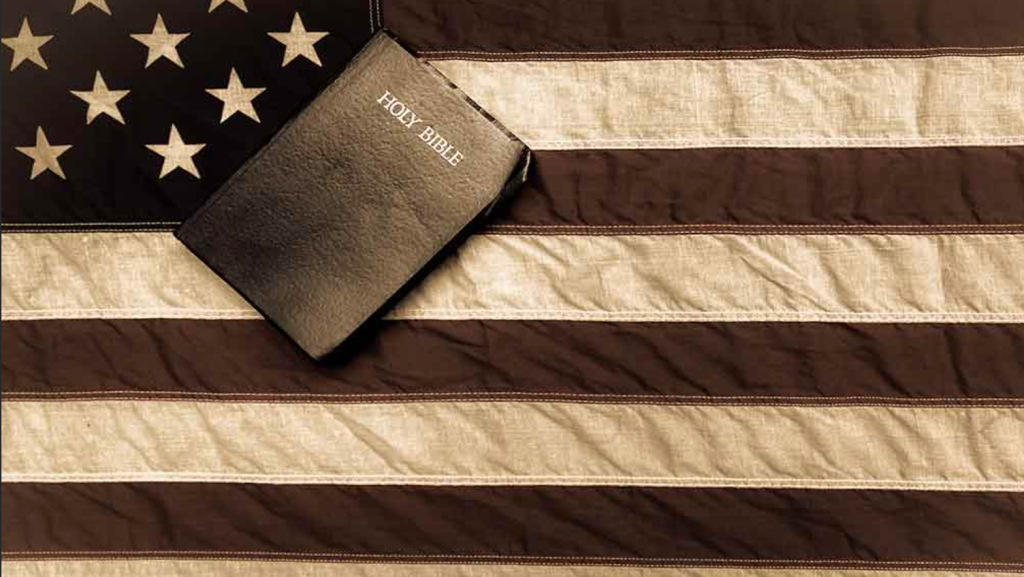 Two long books about one sacred book take us to the heart of the nation's past—and present
More than forty years ago a few historian friends and I found ourselves engaged in a lively conversation sparked by the question of the Bible in history. We were all connected in different ways to an American evangelical world busily tying itself in knots debating the doctrine of biblical inerrancy: Was the Bible true as history? While not indifferent to that question, we were thinking like historians when we concluded that how people actually put Scripture to use deserved at least some of the attention that was being paid so obsessively to what Scripture was and what it was supposed to mean.
That conversation led to a conference in 1979 and then a book of essays from the conference entitled The Bible in America: Essays in Cultural History. I guess I was hooked: I have been researching aspects of this very large subject ever since. After various delays, in 2016 I was able to finish In the Beginning Was the Word: The Bible in American Public Life, 1492-1783, and then in 2022, America's Book: The Rise and Decline of an American Bible Civilization, 1794-1911.
Although I pursued this research primarily for the purpose of historical understanding, more than a few reviewers and friends have asked a pointed question (though not as often as I have asked it of myself): What does an American history of the Bible from Christopher Columbus to Woodrow Wilson mean for the present? A précis of America's Book may help before trying out some answers.
When Tom Paine, a hero of the American Revolution, in 1794 published an incendiary attack on the Bible entitled The Age of Reason, he was doing what to him seemed only logical: If monarchy was a curse to overcome, as he had convinced Americans in 1776 with his pamphlet Common Sense, so also was traditional reverence for Scripture a burden to be thrown off. Yet Americans of all sorts, instead of agreeing with Paine, set aside their considerable political and theological differences to mount an all-out defense of the Scriptures. In fact, after the break from Britain, public repudiation of Paine on Scripture may have been the new nation's first point of nearly universal ideological consent.
In a context in which the props of Christendom had been kicked aside, energetic Methodists, joined by Baptists and then followers of the Restorationist Movement led by Alexander Campbell, relied on "the Bible alone" to achieve a remarkable Christianization of the population. More staid Presbyterians, Congregationalists, and Episcopalians, often led by active church women, created nation-wide voluntary organizations they hoped would lead to the Bible shaping the nation as a whole.
Soon, however, Protestant hopes for a free and democratic civilization based on "the Bible alone" faltered. As the rising number of Catholic citizens rejected Protestant impositions—like mandatory reading of the King James Bible in tax-supported schools—controversies began over the place of religion in public life that continue to this day.
An even stronger reason for the collapse of Protestant hopes came from the intense controversies among white Protestants about the teaching of Scripture. Most damaging was fundamental disagreement over whether the Bible could sanction the American system of slavery. By brandishing the Scriptures to defend (or attack) American slavery, these Protestants turned the decades before the Civil War into a cacophony of biblical disagreement.
As the Bible became a weapon dividing white Americans, a growing number of free Blacks and enslaved African Americans were also appropriating the Scriptures, but on their own terms. Although the wider society paid hardly any attention, reformers like David Walker, Frederick Douglass, and Sojourner Truth were drawing as deeply from the Bible as any Americans of their era.
This antebellum history, in turn, decisively shaped what happened after the Civil War. The controversies over the Bible and slavery led some white Protestants to rely on "historical consciousness" as a way of modernizing Scripture for a world smitten by the "assured results" of contemporary science. It led others to double down on the Bible's "literal" meaning in order to keep modernism at bay. For African Americans, the conviction that Scripture addressed physical liberation and spiritual liberation as an indivisible unity would many decades later contribute to the Civil Rights Movement that finally did catch the nation's attention.
My book ends in 1911 with the extraordinary burst of public celebration that commemorated the 300th anniversary of the King James Version, celebrations that mostly treated Scripture as the servant of national civil religion. In the great outpouring of attention to the KJV in 1911, only a very few voices referred specifically to the Christian meaning of the Bible.
Over the last century, Scripture has obviously remained central for weekly observances in American churches and synagogues, as in the private lives of countless families and individuals. But as a force in American public life, the Bible has continued to recede.
Another long book would be necessary to assess the contemporary relevance of this earlier history, but it would need to address at least five implications or questions.
First: How should the democratic appropriation of Scripture be assessed? Those who dug the channels in which the U.S.'s later history flowed were self-trained, self-motivated, and self-appointed laymen and laywomen. They did not wait to carry out the Lord's work until they had received the sanction of government, the approval of their learned betters, or in most cases the guidance of presbyteries, associations, or bishops. Instead, self-confident in their own grasp of Scripture, they preached the good news of salvation, organized converts for discipleship, and encouraged believers to lead holy lives. Viewed as a blessing, the confluence of energetic evangelism and entrepreneurial democracy spurred the most rapid evangelization of a national population in modern world history, even as it provided hope, discipline, and altruism to countless Americans of high estate and low.
Yet the same free-form, liberated, and unregulated public space in which evangelization "from below" occurred also gave charismatic populists wide-open opportunity to promote questionable readings of Scripture. So it was when Nimrod Hughes in 1812 and 1813 convinced thousands of Americans that the Bible foretold the immediate end of time. And then similarly with William Miller, only now with hundreds of thousands of Americans who followed him in believing that the book of Daniel specified 1843 (and then 1844) for the return of Christ. Other effective communicators soon convinced even more Americans that Scripture itself taught the likelihood of further written revelations or that the Bible's verses could be assembled like a jigsaw puzzle to scope out the future. The question posed by this history is with us still: What happens to the character—and quality—of biblical teaching when approval by the masses becomes the sanction of authority?
The history of Methodism in early U.S. history presents an equally pertinent question: Can an apolitical appropriation of Scripture, whatever its benefits for personal spirituality, generate positive Christian guidance in politics, culture, and society? After the American Revolution, there were far more unchurched Americans than churched, and many more nominal, inactive Protestants than active, engaged believers. Yet with Methodists as the crucial driving force, the nation was evangelized; the rate of church adherence advanced much faster than the population's general increase. Only a handful at the time of the Revolution, Methodists by 1840 numbered almost as many adherents as all the main Protestant bodies from the colonial era combined.
How did it happen? Following the example of John Wesley, Francis Asbury and other Methodist leaders recruited men (and a few women) whose only qualification was zeal for a message of sinners redeemed by God's grace. They preached from "the Bible alone" to commend a life of holiness active in love. Itinerants went where the population went; they communicated persuasively to ordinary people. Under Asbury's direction, the tiered layers of Methodist organization worked brilliantly to encourage (and guide) lay-led local classes, recruit (and assign) itinerants and settled ministers, inspire (and coordinate) the movement. Crucially, until some years after Asbury's death in 1816 the Methodist leadership remained determinedly apolitical.
Most other Protestant bodies, with Baptists foremost, adapted their traditions to some of what Methodists were doing: less concern about formal training, more time for singing, preaching geared to conversion, and practical exhortation instead of learned exposition. But unlike Methodists, other Protestants tinctured their religious efforts with political commitments. Baptists, anti-formalist "Christians," and Campbellites, especially in the South and the opening frontier, opposed national efforts like the American Bible Society, which for them looked like the kind of top-down tyranny from which the nation had recently escaped. Some eagerly supported Thomas Jefferson's crusade for small government; others later joined in the enthusiasm for Andrew Jackson.
In opposition, nationally minded Presbyterians, Congregationalists, Episcopalians, and Unitarians constituted the Federalist party at prayer. They believed that republican liberty depended upon national organizations to promote the spread of the gospel and inculcate virtue in the entire citizenry. They campaigned against Jefferson, abominated Jackson, and became the basis for the Whig and Republican parties.
Important as these others were, there never would have been a "Christian America" without the Methodists. Yet "Bible-only" evangelization faltered in the face of social crisis. Early American Methodists instinctively opposed slavery. Yet despite considerable success among African Americans, that stance gave way as more and more white slave owners were converted. By the 1830s white Methodists began to take positions on public issues, including slavery, but with southern Methodists falling in line with their region and northern Methodists the same with their region. Evangelization alone did not bring the transformation of society.
Could it or a variant have done so? Do so?
A third question concerns the clash of interpretive conventions. In the period I studied white European approaches to Scripture—developed over centuries of literacy, learned exposition, scholarly debate, verse-by-verse exposition, and libraries full of books—were joined by Black approaches that were sometimes pre-literate, usually communicated orally, and focused on the sweep of biblical redemptive history.
With the tools of European and Enlightenment discourse, proslavery and antislavery antagonists hammered away. Prooftexts flew: pro from passages like Leviticus 25:44 (Israel could enslave its neighbors) and Ephesians 6:5 (slaves obey masters "as unto Christ") versus anti from passages like Exodus 21:16 (death to manstealers) and Jeremiah 22:13 (woe to the one who "useth his neighbor's service without wages"). Disputants argued over what meanings from which kinds of "history" were relevant for interpretation. Meantime, Black Christians found in Scripture a story extending from the Garden of Eden and the Exodus through Gethsemane and the empty tomb to their own lives. For them the evil of enslavement was never in doubt.
Contrasting hermeneutical assumptions were so deeply engrained they could hardly be recognized. But now, blessed and cursed with more self-consciousness, there should be wide agreement with the late missiologist Andrew Walls in realizing that "the Bible is not an Enlightenment book." Or maybe more precisely, "not only an Enlightenment book."
Today, the challenge for white Bible believers is to internalize, if only vicariously, the logic of biblical interpretation from those who have been despised and rejected because of their race. For Black Bible-believers, it is to show that interpretation arising from Black experience does not cancel but rather can enrich inherited traditions of White interpretation.
Fourth: Does the history of changed opinions about the Bible and slavery provide a template for other possible reinterpretations of Scripture, especially concerning same-sex marriage? Since it is now taken for granted that a proper understanding of real Christianity condemns slavery, thus reversing the widespread antebellum conviction that the Bible permitted slavery, can we not now agree that a better understanding of Scripture should reverse the traditional prohibition against same-sex marriage?
The history of controversy over the Bible and slavery suggests that this analogy is not as straightforward as it seems. From the pioneering antislavery works of the Quakers John Woolman and Anthony Benezet in the 1750s and 1760s through several of the most careful abolitionist writings of the 1850s and 1860s, antislavery polemicists contended that traditional Christian adherence to Scripture showed the evil of contemporary American slavery.
As noted, abolitionists could match proslavery advocates prooftext for prooftext. They also asked why we should disregard principles clearly drawn from other prooftexts like Matthew 7:12 (the Golden Rule) and Matthew 22:39 (loving your neighbor like yourself). They claimed that hard historical facts, not modern opinions, relativized biblical proslavery passages. To wit: Israel was allowed to take slaves, but nothing in Mosaic law sanctioned the selling of slaves. When Paul urged slaves to obey their masters, he was simply taking for granted the reality of Roman social order, since to question it would have brought massive official persecution. When Paul, without addressing Roman order, wrote to Philemon, he articulated a new standard for how believers should treat each other. In circumstances like nineteenth-century America, where centuries of Christian teaching instead of conventions from pagan Roman shaped the social order, the implications of Paul's teaching should have been clear.
Yet in antebellum America, proslavery prooftexts seemed dispositive to whites both North and South—but only because of "common sense" assumptions undergirding anti-Black racism for which no biblical teaching (prooftexts, principles, or otherwise) existed. Several whites (William Ellery Channing, John Fee, James Pendleton, Daniel Goodwin) and Blacks (James W. C. Pennington, Frederick Douglass) stressed how much proslavery depended upon these modern notions by asking, if the Bible defends slavery so clearly, why not sanction the enslavement of whites as well? In their eyes, proslavery biblical arguments seemed strong only because the "spirit" of the modern age disregarded foundational biblical teaching that treated every human as a creature made in the divine image.
Thus, to see why an analogy may exist between proslavery and same-sex marriage indicates how complicated argument by historical analogy can be.
Finally, the history of Protestant efforts to create a Bible civilization shines light on a central concern of general American history. From the early United States into comparatively recent times, a wide range of Protestants supported mandated readings from the King James Version in tax-supported public schools.
As explained by the pioneers who established common schooling, Bible readings nourished the personal virtue required for the survival of a democratic republic. Political logic inherited from the Revolutionary era identified the governmental corruption that led to tyranny as springing from personal vice. By contrast, personal virtue in the populace ensured government working for the common good and thereby guaranteed liberty.
The fading of this original republican logic, along with the pluralization of American religious life, eventually doomed required Bible readings, but not constitutionally until the Supreme Court's Abington decision of 1963. For a modern citizenry practicing many religions, and none, this was the correct decision for education funded by the population at large.
But what of the foundational question concerning the health of a republic? Were the promoters of Bible reading correct in worrying about their republic falling prey to the excesses of democracy? From a realistic understanding of American history it can be argued that, even if forcing students to read the King James Version is not acceptable, those who originated the practice were still reasoning correctly.
In the twenty-first century, where the founders' realistic view of human nature no longer commands general assent, there exists no agreed upon moral framework to harmonize the clashing pursuit of differently defined individual rights. A sober view of the nation's history must recognize that many severe impediments (especially racial and economic impediments) have undermined the republican ideal of liberty and justice for all. These impediments have also frustrated the ability of citizens to act with altruistic public virtue even if they wanted to. Worries about the fate of the republic seem especially justified in a political climate where advocacy from the Left focuses on what government should do and from the Right on what it should not do, but with neither Left nor Right stressing the duty of citizens to develop the internal moral character that could subordinate personal advantage to the public good.
This aspect of the American history of the Bible, therefore, raises a pressing question: If a healthy social order depends as much or more on individual self-discipline (individual virtue) as on governmental protections of justice (however defined), where in contemporary society can motives for such self-discipline be found?
The five matters highlighted here are only some of the concerns that surface when eyes are raised from the history of the Bible to consider pressing contemporary challenges for both Christian churches and American society.
Mark Noll is retired as a historian who taught at Wheaton College and the University of Notre Dame. The books mentioned in this essay continue work begun with America's God: From Jonathan Edwards to Abraham Lincoln (2002) and The Civil War as a Theological Crisis (2006).