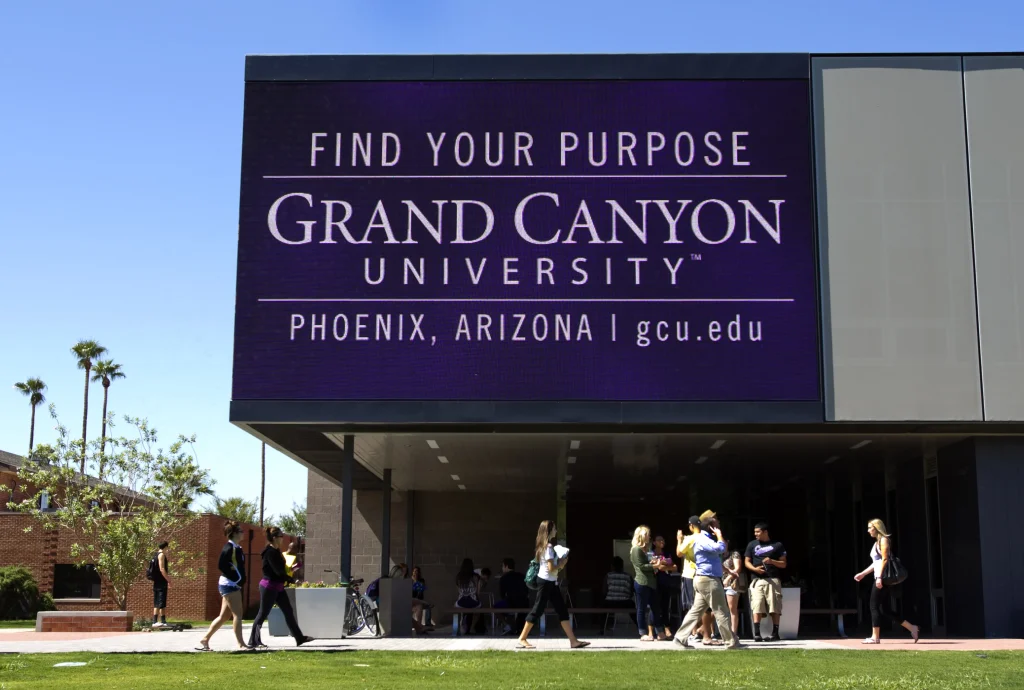 Grand Canyon University, a Phoenix-based private evangelical university, is one of the largest Christian universities in the world. It is now claiming that United States government is "coordinating attacks against it."
Here is Katherine Knott at Inside Higher Ed:
Grand Canyon University is alleging that three federal agencies have coordinated their investigations to "unjustly target" the institution for "political or ideological reasons we don't understand." It's the latest development in a years-long dispute between the university and the Education Department over its bid to become a nonprofit.
The university says it is feeling attacked on several fronts, with multiple federal agencies or oversight bodies—including the Education Department, the Federal Trade Commission and a state arm of the Department of Veterans Affairs—questioning its practices.
In a lengthy statement posted on its website Thursday and also sent to media outlets, Grand Canyon officials provided detailed responses to those investigations or findings and outlined their own allegations that the agencies are retaliating against the university for its 2021 lawsuit against the Education Department.
Grand Canyon, a Phoenix-based private Christian university with nearly 120,000 students on campus and online, sued the department after the agency rejected its application to convert from for-profit to nonprofit status. The department questioned whether Grand Canyon University had sufficiently separated from its former owner, Grand Canyon Education, a publicly traded company that continues to provide marketing, recruitment and support services to the institution. The university's president also serves as CEO of Grand Canyon Education.
A federal judge ruled late last year that the department acted lawfully. Grand Canyon has appealed that decision. In the wake of the lawsuit, Grand Canyon officials wrote that they received "broad requests for voluminous amounts of information and records about our operations" from federal agencies.
"By intentionally mis-classifying GCU as a for-profit institution for purposes of federal student aid, ED is now able to target the university as part of a coordinated effort … to 'pursue the full range of sanctions' against for-profit institutions that they frequently decry as bad actors due to the disproportionate number of Americans who attended those schools and then defaulted on federal student loans," the statement said.
Grand Canyon has spent years trying to convert from a for-profit to a nonprofit institution. The university became a for-profit in 2004 in response to financial difficulties and saw its enrollment skyrocket thanks largely to its online programs. In 2018, the university attempted to switch back to nonprofit status, in part because of the stigma associated with being a for-profit. The sector has come under additional scrutiny from federal agencies in the past decade, leading some, such as ITT Technical Institutes, to close entirely.
Grand Canyon is now recognized as a nonprofit by the Internal Revenue Service, but it can't market itself that way until the Education Department approves the conversion. Other regulators, including the university's accreditor, have approved the switch.
"People are wondering why, and it's a difficult thing to explain," said Brian Mueller, president of Grand Canyon University and CEO of Grand Canyon Education, in an interview Thursday. "We don't know why it is happening. From our standpoint, it runs its course. Faculty and staff have had it with this whole thing."
Grand Canyon wants the Education Department to recognize its nonprofit status and stop "these targeted actions," according to the statement.
Read the rest here.