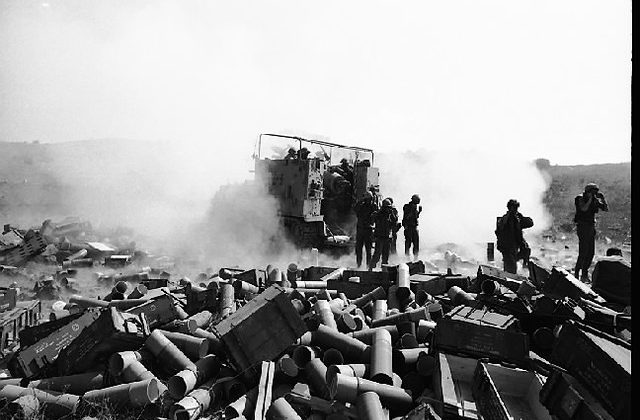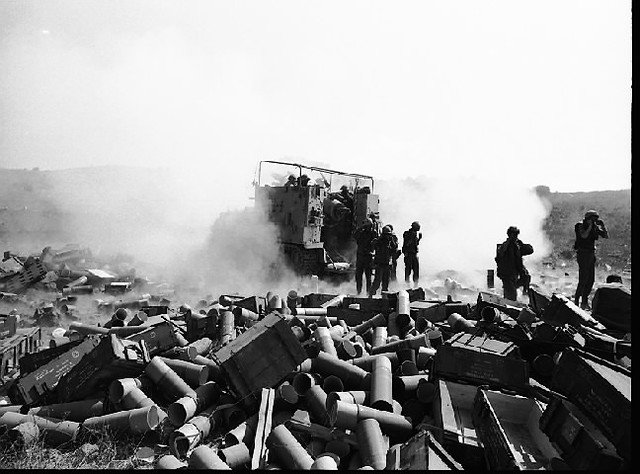 Since war broke out in Israel and the Gaza strip over the weekend, writers and journalists are comparing it to the 1973 Yom Kippur War. (For those unfamiliar with the Yom Kippur War of 1973, get up to speed here.) See, for example, this piece at The New York Times.
But Michael Oren sees only a few comparisons.
Here is the former Israeli ambassador to the United States today at The Atlantic:
The comparisons only go so far, however. Militarily, these two wars already look very different. The Yom Kippur War began with a massive conventional attack by the Egyptian and Syrian armies against Israeli forces in the Sinai desert and the Golan Heights. The war was fought far from Israeli population centers with very few civilian casualties. The current war began not with thousands of enemy planes and tanks but with waves of terrorists carrying automatic rifles and grenades. The fighting raged in Israeli cities and towns and on farms. Many hundreds of civilians—including women, children, the aged—have been killed, maimed, or captured in a matter of days. Israeli neighborhoods have been targeted by thousands of terrorist rockets.
Both Egypt and Syria neighbor Israel and in 1973 directly threatened its borders. Today, those borders are threatened by terrorist groups financed and trained by a state located almost 1,500 miles from Israel. The main threat to Israel is no longer Arab but Iranian.
Financially and tactically, Iran backs Hamas and Islamic Jihad, and Iran has a pressing interest in war. The ayatollahs saw an Israel deeply divided over the government's proposed judicial reform, where air-force pilots and other reservists opposed to that overhaul had been refusing to report for duty. Iranian rulers also saw an America desperate to avoid further foreign entanglements, and a Western world reluctant to stand by Israel's extreme right-wing coalition. But the Iranians are also afraid. They fear an impending peace treaty between Israel and Saudi Arabia and its promise of Saudi nuclearization. Looking at America's political polls, these rulers fear the return to the White House of Donald Trump, who canceled the nuclear deal that President Barack Obama had negotiated with Iran and that President Joe Biden promised to revive. Trump, who ordered the assassination of the Quds Force commander Qassem Soleimani in 2020, would be willing to bomb Iranian nuclear facilities—or so the ayatollahs believe. What better way for Iran to take advantage of these opportunities, and allay these fears, than by triggering a destabilizing Middle East war?
The Yom Kippur War ended with an astonishing military victory for Israel, its forces totally surrounding those of Egypt and its artillery well within range of Damascus. Nonetheless, the price for Israel was excruciating: 2,656 Israeli soldiers killed. The current war has already claimed some 700 Israeli lives and will surely take more as the conflict continues. Victory, even if definable, will likely be Pyrrhic. The 1973 war created the conditions for negotiations between Egypt and Israel and led, six years later, to the Camp David Accords. But Egypt's president at the time, Anwar Sadat, sought peace; Hamas's leaders seek genocide. This war will at best conclude with Hamas's uprooting from Gaza and, almost certainly, its leaders' deaths.
The Yom Kippur War had a profound impact on Israeli society and politics. The Israeli people's trust in their leaders, their relationship with the state—whether rooted in Judaism or democracy—and their attitudes toward peace were irrevocably altered. The Peace Now movement, dedicated to ceding territory for treaties, and the Bloc of the Faithful, utterly opposed to such concessions, both emerged in the war's aftermath. The current conflict, too, is certain to have a tectonic effect, further shaking Israelis' confidence in the government and perhaps even the army, and making them either more opposed to, or more desperate for, peace. The war, some Israelis will say, occurred because of the absence of a two-state solution. Most others, though, will argue that such a solution would result in Hamas ruling not only Gaza but also the West Bank. The next war, they warn, would be truly existential.
Read the entire piece here.