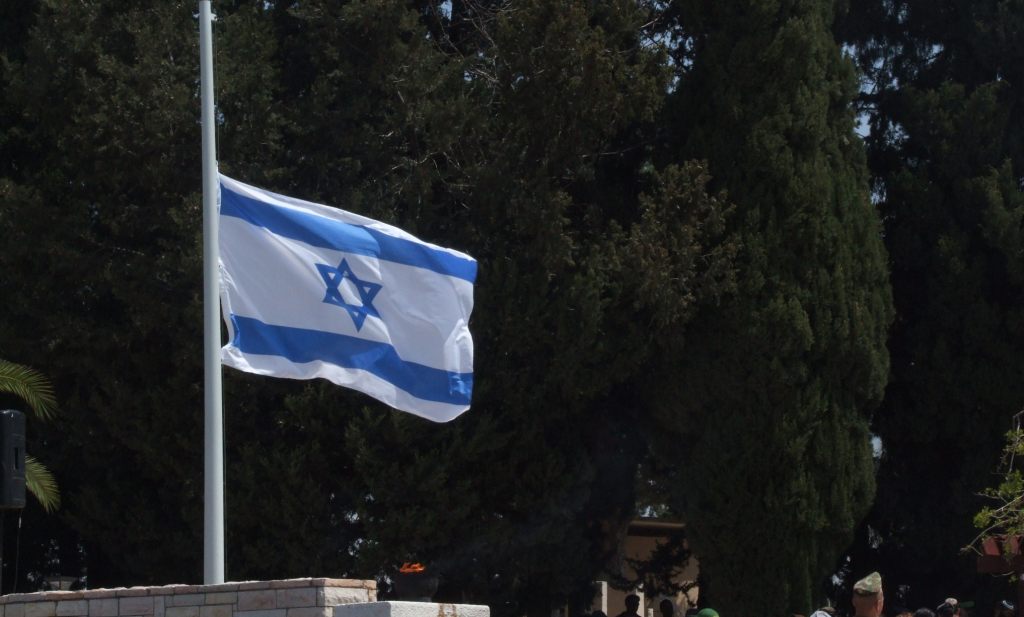 A long crimson thread links the present to the past
Israel's national anthem, "Ha-Tikvah" ("The Hope"), concludes with these words:
Still not lost is our hope,
The hope that is two-thousand years old,
To be a free nation in our land,
The land of Zion and Jerusalem.
The Jewish poet who composed this in 1878, Naftali Herz Imber, lived in Zolochiv, a city that is part of modern-day Ukraine but was then part of Poland under the rule of the Austro-Hungarian Empire. This was the idyllic-looking Galicia that borders the Carpathian Mountains. There traditional Hutsul shepherds, from whom as a child my own Jewish mother would buy milk eighty years later, herded flocks on the hillsides on the edges of towns, as they had done from time immemorial, or so it seemed. Imber was a dreamer, a visionary filled with ambitious hopes. He was also a doer: At a time when to do so seemed but a dream, he immigrated to Palestine in 1882.
Still, it's unlikely that even he, when he put his dreams and longings into Hebrew verse, could have imagined that sixty years later the Jewish nation would be formed. It's also unlikely that he imagined, even as he witnessed an age of intense anti-Semitism, that anything like the Holocaust would wipe out the Jewish communities that dotted Poland and Ukraine. What neither Imber nor, perhaps, later generations of immigrant-dreamers envisioned is that modern Israel's history would continue to be a history of suffering so intense that the days of commemoration of traumatic events would come to form a liturgy of national suffering on the nation's calendar.
This weekend's events have added one more such day. When on Saturday Prime Minister Benjamin Netanyahu promised that Israel would avenge this "black day," that is indeed what he meant. The past, in Israel, is never far from the present. In commemorating the suffering of the Jewish people, ancient and modern, past and present blend seamlessly. But the message that comes through is, perhaps, not so hopeful: Yes, be glad that you have this country. But the suffering of thousands of years is not over. You are yet a part of it, and it is a part of you, a part of your very DNA, along with the memories and photographs of relatives lost—in the Holocaust, in the wars of Israel, in bus explosions and other terrorist attacks. In this calendar, losses ancient and modern mix, and sometimes seem no less raw as a result.
Consider Tisha be-Av, the ninth day of the month of Av in the Jewish calendar, usually falling sometime in late July or August. It was on this day that both the First and the Second Temple in Jerusalem were destroyed, by the Babylonians in 586 BCE and the Romans in 70 CE. Even in antiquity Jews believed this was no mere coincidence. God's judgment in wrath was deliberate and deserved, as the prophets had predicted. This made it no easier to bear, however, and so the annual day of mourning and fasting continues to this day.
Also included in the annual modern Jewish calendar are three dates that march together each spring and mark Israel's more recent history. Yom ha-Shoah (Holocaust Memorial Day) is followed exactly one week later by Yom ha-Zikaron (Remembrance Day for those who died in Israel's wars), finally followed the very next day by Yom ha-Azmaut (Israel's Independence Day). The deliberate scheduling of these three days each spring allows the entire country to come together to mourn its shared history and shared losses, but then to celebrate their survival, also shared.
But these are relatively late additions to the nation's calendar. Since the distant days of Israel's escape from Egypt, the Jews were to annually commemorate God's deliverance of them from slavery. Both the week-long Sukkot festival in the fall and Passover in the spring celebrate aspects of that escape and deliverance. The final day of Sukkot, a high holiday in which the annual reading of the Torah is complete and restarted anew, is particularly significant. It is no coincidence that it was on this holiday, Simchat Torah, meant to be a day of rejoicing over God's provision, that Hamas this past weekend chose to attack Israel. It is no wonder that the timing of the attack reminds so many of the Yom Kippur War of 1973.
The thread connecting these events, whether decades or millennia apart, remains the same. The liturgy of national suffering continues to lengthen. Indeed, the events of this weekend only add more mournful shades to the nation's tapestry of woe. Consider, for instance, that one of the Israeli hostages kidnapped by Hamas is a Holocaust survivor.
Netanyahu's anger and desire to retaliate make sense, as Israel's death toll exceeds 700 at the time of this writing. What else can one do when under terrorist attack? As The Jerusalem Post reports,
Netanyahu warned Hamas that it was "responsible" for the safety of the hostages. "Israel will come to account with anyone who harms one hair of their head," he added. Netanyahu cautioned Israelis, "This war will take time. She will be hard. Challenging days are still ahead. But I can guarantee one thing: With the help of God, with the help of the joint forces of all of us, with the help of our faith in the eternity of Israel—we will win."
And yet, if we stop here, we forget that this story is not just that of Israel—and admitting this reality does not diminish the suffering of the country's Jewish residents. Memoirs of two eyewitnesses of the early years of Israel's history drive this point home with painful clarity. Born in Jerusalem in 1939, Israeli writer Amos Oz reminisces about the horrors of war he experienced in the siege of Jerusalem of 1947-48. A neighbor who went out for a walk and was killed by a missile could only be identified by his socks. By contrast, a Palestinian intellectual who was raised in his family's home just blocks from Oz's childhood neighborhood, Sari Nusseibeh, tells a tale of Israel's deliberate oppression and enmity towards his family and community in the decades after 1948, even as they tried to live their lives in peace. Their stories are a reminder of who suffers and what is lost in wars like this one: the people who simply want to live their lives—and maybe just hope to study philosophy and write books, as did both Oz and Nusseibeh. Oz and Nusseibeh met later in life and were vocal proponents of the two-state solution.
It is easy to demonize the other side, to say that everyone who lives in a particular territory must be an enemy. But history reminds us that it is not so simple. The history of Palestinians, squeezed more and more tightly into the tiny territory of the Gaza strip, is one that could be written as a liturgy of suffering as well. More suffering is yet ahead for them, too, as the residents of the strip, now living in a warzone, cannot leave—for where would they go? How might they escape?
In counseling, there is a commonly stated truism that trauma begets trauma. In the history of nations and peoples, it is no less true.
Nadya Williams is the author of Cultural Christians in the Early Church (forthcoming Nov. 2023 from Zondervan Academic). Her next book, Priceless, is under contract with IVP Academic. She is Book Review Editor for Current, where she also edits The Arena blog.