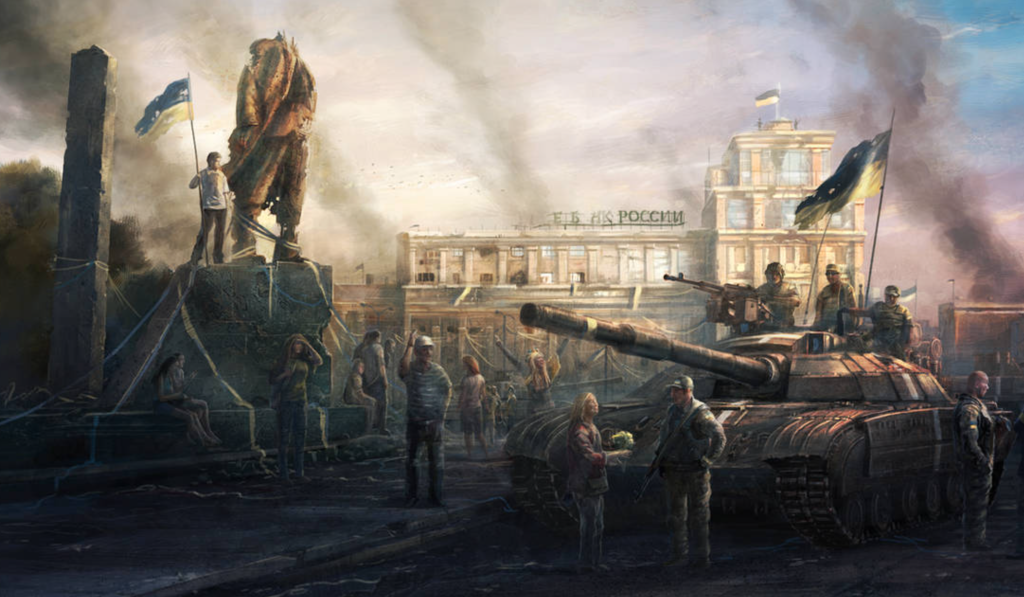 A Ukrainian diarist gives the world a disturbing glimpse of a ghastly war
Diary of an Invasion by Andrey Kurkov. Dallas, TX: Deep Vellum Publishing, 2023. 304 pp., $25.00
"Will I ever be able not to write about the war?" asks novelist and journalist Andrey Kurkov in the March 28, 2022 entry of Diary of an Invasion, a collection of his personal writings and essays chronicling the months immediately before and after the full-scale Russian invasion of Ukraine on February 24, 2022.
He posed this question a mere month after the invasion began, before the world witnessed Russian atrocities in places like Bucha and Irpin. Yet Kurkov, an ethnic Russian who, along with his British wife, made Ukraine his adopted homeland, was already busily documenting the horrors the Russian invaders have been inflicting upon the Ukrainian population.
He shares news reports of Ukrainians being stripped of their Ukrainian passports and documents and forced onto buses to . . . somewhere, maybe one of the many "filtration" camps Russia operates all across occupied Ukraine and Russia itself. He worries about the children. "More than 115 children have died already in Ukraine at the hands of the Russian military," he writes on March 24; that number is over 500 now. Many others have been taken from Ukrainian orphanages and shelters or separated from their families. "Tracing these missing children, so that they can return home to Ukraine after the war, will be very difficult." At the time of this writing, Russia has, by its own admission, taken more than 700,000 Ukrainian children.
By March 2022, the entries are a litany of bad news upon bad news. Kurkov writes that he has lost his sense of humor. By May, he has "forgotten how to read"—and Russian missiles are destroying the Ukrainian book industry anyway.
And yet when the Diary opens, in late December 2021, the war seems barely in the background. Yes, technically Russia and Ukraine have been fighting for eight years. But the front lines are far away; Kyivans like Kurkov have other concerns. The coronavirus pandemic is raging; vaccination rates are low. President Zelensky's New Year address mentions the war only once, just briefly; no mention at all is made of the Russians' new buildup of troops and weapons on Ukraine's borders. Even if a full-scale invasion were to happen—and many at this point doubt that it will—"it would hardly be a popular topic of conversation at the festive table." On Ukrainian social media, Kurkov notes, there are always more posts about cats than about the war.
Even so, even though the war had not yet come to Kyiv, Ukraine's tortured past haunts the pages of the Diary in the leadup to February 24; you can't escape it. Kurkov gives a lecture on February 11 in the library of a rural village near Kremenchuk—the city where, in June, Russian missiles will slam into a shopping mall, killing at least twenty Ukrainian civilians. "I did not hear a word about the war there," Kurkov writes, "or meet any participants in the war." Yet he notes that the convent near the library is where, in the 1939-1940 war that Russians do not consider part of World War II, five thousand captured Polish officers were imprisoned by the Soviet NKVD prior to being disappeared. Their ultimate fate is unknown.
There is a seemingly endless number of tragedies anticipating the present tragedy, a seemingly endless number of historical precedents for the atrocities Russia is committing in Ukraine today. No part of this war is new. As refugees pour out of Kyiv in late February 2022, fleeing on overcrowded trains for Lviv and other parts of western Ukraine, Kurkov notes that "In February 1919 something similar happened, when the Bolsheviks broke into Kyiv. They shelled the center of the city and killed everyone they met on the way. Now history is repeating itself." Elsewhere he writes of the "medieval" feeling of witnessing the forced displacement of millions of people. Indeed, in April he writes that almost half of Ukraine's population has sought refuge outside Ukraine or is internally displaced.
"I admit I should have known better," Kurkov writes on March 10, when he confesses that he did not imagine Russia would bomb Kyiv. "My own compatriots, those living in the eastern areas of the country, have been experiencing attacks like these for eight years. I even wrote about it in Grey Bees. But still I was unprepared."
The Diary is, as is to be expected, self-contradictory in places—a real-time chronicle of Kurkov's own evolving understanding of the war. He has a clear-eyed view of Russian aggression, rather than Ukrainian or NATO provocation, as the root cause of the war. Yet he wonders in January 2022 whether the war is ultimately about Ukraine at all: "It is possible that for Vladimir Putin a blow to NATO's reputation is even more important . . . Perhaps he will even apologize to Ukraine later, after the war." He has moved away from this line of thought a month later, when he writes that Putin's goal is "to seize Ukraine and turn it into the southwestern federal district of the Russian Federation." He is under no illusions whatsoever by March: "It is beginning to feel like attempted genocide."
Kurkov's attitude toward Russian culture undergoes a similar evolution. He writes in March 2022 that he is "sad to think that after this war, when children will be offered Russian to study at school, they will flatly refuse and say, 'The Russians killed my granddad!' or 'The Russians killed my little sister!' It will surely happen." Putin, he laments, is destroying Russia and the Russian language as much as he is destroying Ukraine—though he admits that "the Russian language is one of the least significant victims of this war." By May, he is lashing out passionately against "great Russian culture" and the millions of dollars the Kremlin has poured into polishing and promoting the image of Russkiy Mir, the Russian world, abroad. "Yes," he writes, "the historical achievements of the Russian theater in the twentieth century really were great, but after a Russian bomber very precisely dropped its half-ton bomb on the city theater in Mariupol, I no longer feel like discussing Russian theatrical art and Russian culture in general." He rattles off a painfully long list of Ukrainian cultural objects that Russia has destroyed: monuments, plaques, archives, schools, libraries, museums.
"Why?" he demands elsewhere. "Why are they bombing children's hospitals and schools? Why do they destroy the residential areas? . . . Why are they bombing bakeries and bread shops? I do not have the answers to any of these questions."
As a writer he is concerned particularly with the fate of Ukrainian writers: his friends, the literary circles in which he has moved for much of his career. He is worried that their names are on the Russians' kill lists targeting politicians, officials, and cultural leaders who would form the backbone of a resistance movement. "I have not heard from my friend in Melitopol for several days now," he writes in mid-March 2022. "The last thing she had time to report was that Russian FSB agents were going door to door with lists of people they wanted to detain. They were conducting searches and interrogations. A journalist and writer, she is undoubtedly on these lists."
He alludes to the Executed Renaissance, the generation of Ukrainian writers and artists killed by the Soviets in the late 1930s. "If Russia takes over," he fears, "there will be another executed generation of Ukrainian writers." His fears are well founded. The number of Ukrainian writers killed by Russia keeps growing. Children's book author Volodymyr Vakulenko was executed sometime between March and May 2022. Writer and poet Victoria Amelina—who recovered and published Vakulenko's buried diary—died at the beginning of July 2023, from wounds sustained during a Russian missile strike on a Kramatorsk restaurant frequented by journalists.
Kurkov fears, too, that the world will move on; that the war will be forgotten; that too many Ukrainians will die before victory and justice come. There is some hope, perhaps, so long as Ukrainian resistance has "merchandising potential." But he fears the moment when Europe, especially, will grow tired of helping the war effort and urge Ukraine to accept Russian annexation of its southern and eastern territory. "Ukraine will either be free, independent, and European," he writes, "or it will not exist at all. Then they will write about it in European history books, shamefacedly hiding the fact that the destruction of Ukraine was possible only with the tacit consent of Europe and the entire civilized world."
For now, Kurkov has put aside his unfinished novel manuscript and the children's story he hopes to write. "War and books are incompatible," he says. "Every writer, every artist, or representative of any creative profession, must work for their country and for victory in this war." After the war, perhaps, there will be time for books again—perhaps even books in which there is no war. But first he must survive.
Amanda McCrina writes historical fiction about Poland and Ukraine during World War II and the Cold War, inspired by her own family's heritage. Her latest is I'll Tell You No Lies (FSG, 2023). She lives outside Nashville, Tennessee.
Image credit: RadoJavar, Summer in Ukraine, Creative Commons