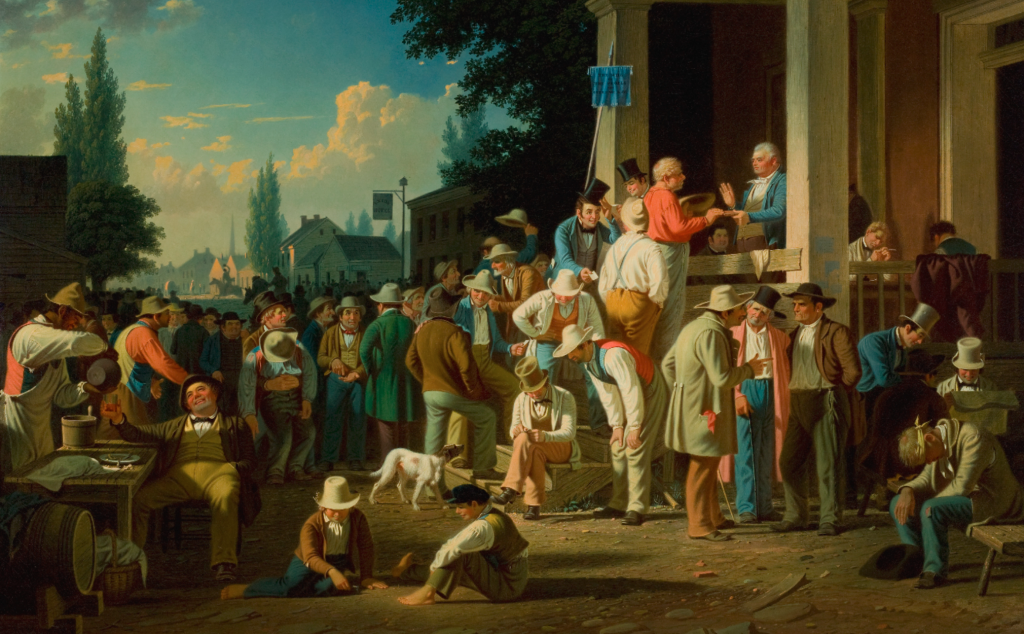 In the midst of our own conflict and contention, the crisis of antebellum America yields wisdom
Sovereign of a Free People: Abraham Lincoln, Majority Rule, and Slavery by James H. Read. University Press of Kansas. 432 pp., $39.95.
Is the anxiety of Americans about the state of our democracy justified?
The evidence seems to require an affirmative answer. While we have yet to reach the levels of political violence of the late 1960s and early 1970s, we have witnessed in recent years the destruction of property and aggressive defiance of the rule of law by extremist groups on both the left and right. Most egregious was the Capitol riot of January 6th, 2021. To be clear: All political violence deserves our condemnation. But this event seems particularly insidious because its intent was to undermine the peaceful passage of power and the integrity of our electoral process, all with the encouragement of then-president, Donald Trump.
It is not uncommon in our day for political observers to raise the specter of civil war. I find such talk unhelpful and possibly irresponsible. Still, one cannot help but inquire, along with Lincoln at Gettysburg, whether this nation, conceived in liberty, can endure much longer. It is human beings who create political regimes and participate in them. Like all human things, they are fallible. While one should caution against reckless talk of civil war, it is true that we cannot take any regime for granted. Perhaps we have for too long simply assumed that our democracy would continue by inertia, not recognizing that this noble cause takes effort.
In this effort I can think of no more heroic inspiration than Abraham Lincoln, who is the subject of James H. Read's excellent new book, Sovereign of a Free People: Abraham Lincoln, Majority Rule, and Slavery. Read, a professor of Political Science at St. John's University/College of St. Benedict in Minnesota, gains his inspiration from the following quotation from Lincoln's First Inaugural address: "A majority held in restraint by constitutional checks and limitations, and always changing easily with deliberate changes of popular opinions and sentiments, is the only true sovereign of a free people." The foundation of a just democratic government resides in majority rule, but the majority must be well guided to ensure that its rule is consistent with justice. One cannot read this without thinking of the political events of recent years. Read himself sometimes directs our attention in this direction. Lincoln's timeless wisdom in combination with Read's skill in marshaling that wisdom in defense of sound majoritarian democracy make the book particularly necessary for this moment.
The seemingly escapist genres of literature and film, like the western or science fiction, often speak to contemporary problems from a distance. Likewise, Read uses the past to speak to our present democratic anxieties. At the end of the book, Read notes, "Whatever one's view of Lincoln, I hope readers will take away from his life and thought the realization that great injustices will not disappear without organized, sustained public action and that, in a democracy, such action depends on cooperation among individuals and constituencies who in many respects have little in common." Read had spent the preceding three-hundred pages showing how Lincoln himself engaged in "organized, sustained public action" with the goal of eradicating the evil of slavery. I cannot touch on every element of this rich book here, so let me hit a few key highlights of most interest for contemporary political observers.
Read focuses largely on Lincoln's pre-Civil War thought and actions, taking his arguments against secession as something of an apogee of Lincoln's thoughts on majority rule. Lincoln believed that a people's ability to govern itself rests on "obeying laws they themselves have made." Read's Lincolnian thesis is essentially "so long as it respected constitutional processes and did not overstep any clearly specified constitutional limitations, the majority was authorized to decide matters of great political and constitutional importance, even in the face of intense minority opposition."
He points out that when, on the eve of the Civil War, "an outvoted minority, at the urging of 'fire-eating' demagogues, forcibly resisted the results of an election that did not go their way, coerced dissidents, seized federal property, and declared the Union dissolved, Lincoln saw it as mob violence on a mass scale." Lincoln most directly addressed the problem of mob rule in his Lyceum speech of 1838. That speech is often interpreted as Lincoln's firm defense of the rule of law. Read's take is slightly different and, as a result, original.
For Read, the lesson of this address is more about obeying a process than obeying the law in general. For Lincoln, in preaching an almost religious obedience to law, "it was not the laws as such or even the Constitution that Lincoln proclaimed to be sacred and inviolable. What was sacred was the people's legitimate power and, by extension, that of their elected representatives to pass, repeal, or amend laws through constitutionally specified processes. Lincoln urged citizens to embrace not thoughtless obedience . . . but a patient willingness to make and change the law through legitimate processes." Lincoln, argues Read, encourages us to recognize that our disagreements should be solved through voting. Most people, after all, are capable of understanding that solving problems through a democratic process is superior to mob rule. We must take action to remedy unjust laws and not rely on some "will independent of the society" (to use Madison's phrase) to ameliorate our ills.
Another unique take by Read is his discussion of Lincoln's emphasis on political party as an instrument of sound democratic rule. Today, perhaps vexed by the behavior of our two major parties, we tend to think of political parties as narrow and self-seeking enemies of independent thought. Anything "partisan" is bad. Lincoln thought quite differently. While discussing his political hero Henry Clay, Lincoln said, "A free people, in times of peace and quiet—when pressed by no common danger—naturally divide into parties. At such times, the man who is of neither party, is not—cannot be, of any consequence. Mr. Clay, therefore, was of a party." Read notes that Lincoln thought that while slavish devotion to one's party in times of crisis was a vice, in the normal course of things parties were vehicles to tamper the ambitions of determined office seekers.
The job of a healthy political party is to manage a coalition of disparate interests, directing them to a common electoral goal. Drawing from Martin Van Buren, Read notes the discomfort many had regarding the personality cult politics of Andrew Jackson. In effect, the party is an antidote to the politics of celebrity. In Lincoln's view, the common attitude of "I vote for the person, not the party," merely promotes a politics of personality over policy. This approach incubates demagogues. Lincoln believed a party should have a definitive platform (which led to frustration with his own Whig Party in 1848) around which a party could rally. In Read's locution, people need "something" to vote for, not just "someone."
Parties help contribute to a more deliberative, orderly democracy, stemming the temptation toward passionate politics that often leads to bad policy and can also ultimately encourage political violence. Again, in the First Inaugural, speaking to Southerners contemplating secession, Lincoln says, "Nothing valuable can be lost by taking time. If there be an object to hurry any of you, in hot haste, to a step which you would never take deliberately, that object will be frustrated by taking time; but no good object can be frustrated by it."
Political parties and sound statesmanship help protect the population from demagogues. It was southern demagogues who encouraged their fellows to see Lincoln's election as a threat to their very existence. "They were willing to risk civil war rather than allow Lincoln and the Republican Party to ban slavery in the territories and initiate a slow but inexorable process of weakening and ultimately extinguishing the institution of slavery."
We see this in our own time. Think of efforts of some Republicans (including Donald Trump) to promote the notion that Barack Obama was a Muslim from Kenya, an attempt at "otherizing" him. Or think of then-Vice President Joe Biden accusing Mitt Romney of wanting to put African Americans "back in chains." Read quotes David Siemers describing calumny as "public accusations against an official made without any formal charge . . . The purpose of a calumny is to discredit someone without evidence. . . . Calumnies degrade the rule of law and damage the efficacy of political institutions, because the public presumes there is no legal remedy for the problems that are proffered." In modern parlance, you must destroy the other side.
This is the intent of the kinds of accusations leveled against Obama and Romney. One effect of our debilitating polarization is the sense that if the other side wins all hell will break loose, thus justifying any means to keep them out of power. Read's Lincoln would advise cultivating strong parties that have more control over their extreme, demagogic elements and educating and promoting statesmen who are more careful with their rhetoric. Read points us to Lincoln's admonition in his 1842 Temperance Address: "If you would win a man to your cause, first convince him that you are his sincere friend." In Lincoln's case, the "hope to extinguish slavery without civil war depended on somehow reconciling white southerners to slavery's gradual disappearance."
A democratic politics of ever-shifting coalitions grants incentives to never permanently alienate anyone. It is said that politics makes for strange bedfellows, and that is how Read depicts Lincoln's view of a healthy democratic politics, mediated through strong political parties. Read cautions us against a politics based on non-negotiable "ascriptive" characteristics such as ethnicity, race, language, or religion. "It should be emphasized that it is not the existence of ethnic, religious, racial, linguistic, geographic, or economic diversity that undermines the preconditions for healthy majority rule but the degree to which those differences control the political behavior of both elites and ordinary voters." Healthy democratic politics dwells on what we have in common, not what divides us.
Read devotes a significant portion of the book to Lincoln's multiyear combat with Stephen Douglas, that promoter of a debased notion of majority rule known as "popular sovereignty." Douglas's view was that as new territories were organized (e.g., Kansas and Nebraska at that moment), Congress should refrain from banning slavery from those territories, instead allowing the territorial residents to decide on slavery's legality themselves. Lincoln rightly noted that in the case of Kansas, "popular sovereignty" gave pro-slavery forces from neighboring slave-state Missouri an advantage. This was less majority rule than mob action, almost immediately enforced by violence and intimidation.
For Lincoln, "[T]he majority, to avoid committing injustice, ought to be guided in its decision making by the principles of natural right," which is precisely what Douglas was asking Americans to ignore. Still, the majority has the right to decide how natural right should be applied in any given case, as "no other person or body had any inherently superior claim to understanding what the principles of natural right prescribed." It was Lincoln's position that congressional majorities, not just territorial majorities, had the rightful power to decide the issue of slavery on federal land, as in the case of the Missouri Compromise. In addition, as noted, debates over slavery in Kansas were less "popular sovereignty" than "squatter sovereignty," as Lincoln derided them. They were not the real voice of the people. Proper process was ignored.
Read notes that Lincoln promoted public education as "the most important subject which we as a people can be engaged in" because it was essential that every man "be enabled to read the histories of his own and other countries, by which he may duly appreciate the value of our free institutions." He concludes the book with this warning:
I believe we are best served by assuming, with Lincoln, that any disagreement can turn violent if we do not consciously direct it into peaceful channels and that any disagreement, however contentious, is potentially resolvable, or at least containable, through peaceful democratic processes. Moreover, to speak as if some disagreements run so deep that they cannot be resolved except by violence is to hand a theoretical weapon to those who would violently obstruct the democratic process.
As we head toward another electoral season where those who have deliberately fomented political violence seek positions of highest office, we should take Read's warning seriously. The need for instruction regarding the value of our free institutions has certainly never been higher.
Disclosure: I am a graduate of St. John's University and a former student of James Read. I read a portion of this book in draft and received an acknowledgment in the book.
Jon D. Schaff of Professor of Political Science at Northern State University in Aberdeen, South Dakota. He's the author of Abraham Lincoln's Statesmanship and the Limits of Liberal Democracy and co-author of Age of Anxiety: Meaning, Identity, and Politics in 21st Century Film and Literature.
Image credit: George Caleb Bingham, The County Election, Saint Louis Art Museum