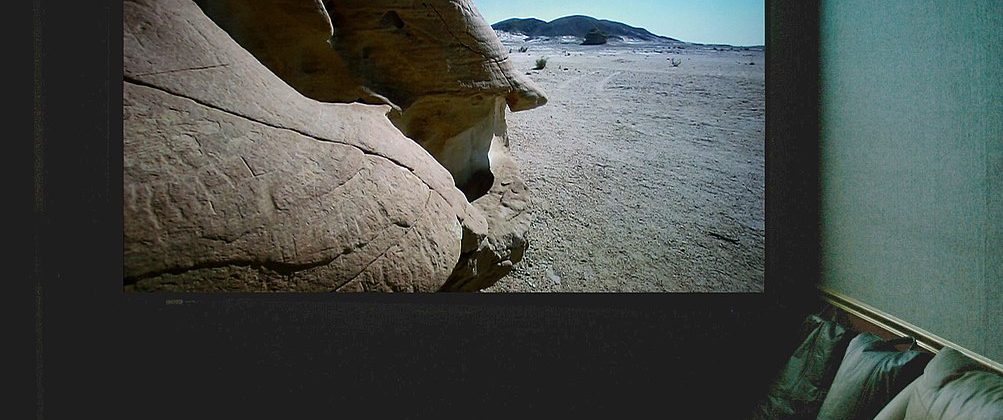 There's an episode of Northern Exposure, when Leonard the shaman comes to town to gather some stories. In his own practice, he often uses "healing stories," so he wants to know what kinds of stories are in use in Western culture. People share their stories with him, but they're mainly the kind of apocryphal stories you get about the woman with the beehive hairstyle that's full of bugs. Leonard is very disappointed, until the end of the episode, when he finds Ed watching Citizen Kane. Ed has watched it hundreds of times, but he always comes back because it's comforting to him. Leonard realizes that movies are the healing stories of Western culture.
Movies can play a major role in our lives. Think of the movies that you can quote by heart. There may even be a movie you can recite in its entirety. My cousin once watched Angels in the Outfield once a day for months when he was a kid. People have movies that they want to introduce to their friends, or their children.
For me, movies do fill the "healing stories" role. When I'm sick and stuck at home and feeling feverish and sorry for myself, I usually watch movies. Very often, they're Woody Allen movies. (This is not an essay justifying or condemning Woody Allen. Make your own call.) I recommend the comedies for your sick days.
What is it that I like about Woody Allen movies? There are some surface aspects that are comforting. Once you've seen a few, the plots and characters start to feel familiar. The movies are all different, but there are a lot of recurring tropes. You don't know exactly where the movie is going, but you have some suspicions. Someone is unhappy in their relationship. Someone is neurotic. Someone is about to experience something totally absurd. There's a good chance you get some classic New Orleans jazz in the soundtrack.
Many Woody Allen movies feature nostalgia. Radio Days is all about the era of his youth and the 1940s. Many are about the charm of movies in the old days, like The Purple Rose of Cairo. Midnight in Paris is all about Paris of the 1920s and how desirable it is now. Nostalgia is, in itself, comforting and certainly won't hurt when you have a cold.
Another thing about Woody Allen movies is that the comedies still hit some of the big questions in life. Very often a main character is afraid of death or is increasingly distressed by the seeming meaninglessness of life. What is it all about? How can relationships work? What is my purpose in life? This is good, because if you're really feeling sick, you're wondering some of these things, but you also need a little laugh.
On the one hand, these comedies might not seem very comforting with those kinds of questions in them. And Woody Allen's work does not suggest there is much meaning in life. He's skeptical of theism and many of his characters are somewhat miserable (often that misery is self-imposed). The universe just keeps expanding, and then what? On the other hand, Allen's work is incredibly affirming about the wonder of existence. Even when you're feeling sorry for yourself, life still has a lot of beauty and if we don't enjoy it, that's on us. We're still encouraged to laugh and to "enjoy yourself, it's later than you think" and reminded that "when you're smiling, the whole world smiles with you." And what business is it of yours if the universe is expanding?
At the end of Mighty Aphrodite, we learn that"Life is unbelievable…miraculous, sad, wonderful." That theme is in many of Woody Allen's comedies. Consider the end of Manhattan. The main character is feeling that life has no purpose and his life is over and he still can't seem to write his great story about the city. We get a monologue:"
An idea for a short story, about, um, people in Manhattan, who are constantly creating these real, unnecessary, neurotic problems for themselves because it keeps them from dealing with more unsolvable, terrifying problems about… the universe. Let's… Well, it has to be optimistic. Well, all right, why is life worth living? That's a very good question. Well, there are certain things, I guess, that make it worthwhile. Like what? Ok. For me… Ooh, I would say Groucho Marx, to name one thing. And Willie Mays. And the second movement of the Jupiter Symphony. And Louis Armstrong's recording of Potato Head Blues. Swedish movies, naturally. Sentimental Education by Flaubert. Marlon Brando. Frank Sinatra. Those incredible apples and pears by Cezanne. The crabs at Sam Wo's. Tracy's face." 
Even if you can't figure out what life is all about, how can you not appreciate the crabs at Sam Wo's? Wouldn't you rather laugh with Groucho Marx than not? Life can be very rough, but it also includes some beautiful things and some beautiful people. And we're fools if we don't see what we have.  
Toward the end of Midnight in Paris, the main character, Gil, realizes that his fantasy of living in the 1920s is an error. He and a woman he's attracted to end up in the 1890s and she wants to stay, but he wants to back to the 1920s, even though he's from our century. As he tries to talk her into returning to the 1920s, he comes to some realizations. 
"Because if you stay here and this becomes your present, sooner or later you'll imagine another time was really the golden time. And so will I—I'm beginning to see why it can't work Adriana. The present has a hold on you because it's your present and while there's never any progress in the most important things, you get to appreciate—what little progress is made—the internet—Pepto-Bismol. The present is always going to seem unsatisfying because life itself is unsatisfying—that's why Gaugin goes back and forth between Paris and Tahiti, searching—it's my job as a writer to try to come up with reasons why despite life being tragic and unsatisfying, it's still worth it." 
Whatever time we're in, it's a pretty good time. And whatever is happening in our life, it's a pretty good life. Think about Annie Hall. The relationship between the two main characters doesn't work out. Maybe relationships, in general, are always doomed. But Alvy remembers a joke he's heard: 
"I thought of that old joke, you know, this guy goes to a psychiatrist and says 'Doc, my brother's crazy. He thinks he's a chicken.' And the doctor says, 'Well, why don't you turn him in?' And the guy says, 'I would, but I need the eggs.' Well, I guess that's pretty much how I feel about relationships. You know, they're totally irrational and crazy and absurd, but I guess we keep going through it because, most of us need the eggs." 
Woody Allen comedies don't tell you there's no reason to feel sorry for yourself or skeptical about big things. But they also tell you to stick with it and to smile. There's a lot of magic here on earth, whatever else is happening or is real or whatever. And when you're sick, or sick at heart, and lying on the couch and feeling miserable, it's a comfort to be reminded of that.