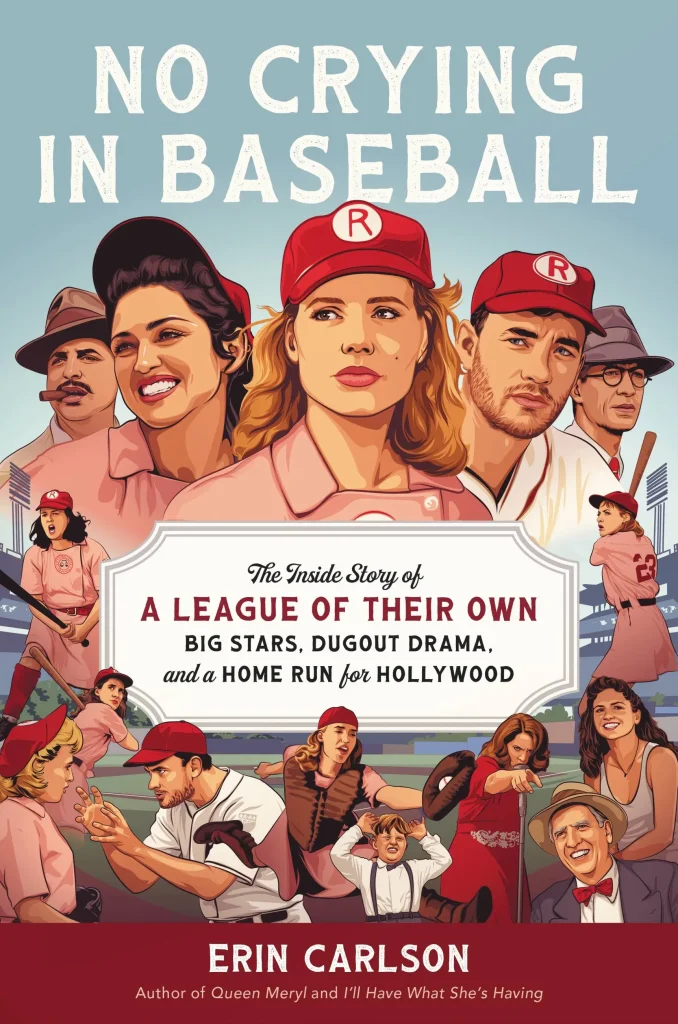 A League of Their Own is one of my favorite baseball movies. I've watched it dozens of time–mostly with my daughters. "Marla Hooch–what a hitter!":
If I get some free time I want to read Erin Carlson's NO CRYING IN BASEBALL: The Inside Story of a League of Their Own: Big Stars, Dugout Drama, and a Home Run for Hollywood. LitHub is running an excerpt. A taste:
Hundreds upon hundreds of hopefuls converged on the diamond at the University of Southern California to try out for the women's baseball movie, the talk of the town. Many were very famous. Others not so much. One actress, Glenne Headly, showed up in ballet slippers. Another, Sean Young, of Blade Runner and Dune fame, walked onto the grass in an antique Yankees uniform. Marla Maples, a former beauty queen and future wife of Donald Trump, wore full-glam makeup and a sash that read "Rockford Peaches." Of Maples, director Penny Marshall would remark, "She wasn't bad."
That winter, actresses booked every LA-adjacent batting cage in anticipation. A League of Their Own felt once-in-a-lifetime, the Halley's Comet of jobs. A refreshing antidote to the stock female sidekicks on the call sheets: Supportive Wife. Nurturing Mom. Hot Girlfriend. Third Babe from the Right. While David Anspaugh advised agents to send only their best, the very worst tried crashing the audition anyway. Penny, who was wrapping Awakenings in New York, refused to coddle the athletically challenged. She told Lowell Ganz, "You could bring me the greatest actress in the world—if the coaches say they're not trainable, they have no chance of being in this movie."
Team Penny divided prospective Peaches into three categories—Athletes, Trainable, and Hopeless—and brought Rod Dedeaux out of retirement to score the women on hitting, catching, and fielding. Dedeaux, who coached the Trojans to 11 national titles during his 45-season tenure, patrolled his namesake stadium alongside USC assistant baseball coach Bo Hughes, grading the women on a scale of one to five, worst to best. He loved the ladies. The septuagenarian had his eye on one woman, a stunner, who couldn't swing a bat to save her life. Frowning, he asked in his New Orleans accent, "Is she trainable?"
Read the rest here.
The auditioners included Courteney Cox, Cindy Crawford, Sarah Jessica Parker, Tatum O'Neal, Kelly Preston, Brook Shields, Elizabeth Perkins, Darryl Hannah, Mariel Hemingway, Laura Dern, Jennifer Grey, and Demi Moore. Of course there was also Madonna, Gina Davis, and Rosie O'Donnell. They all landed parts.