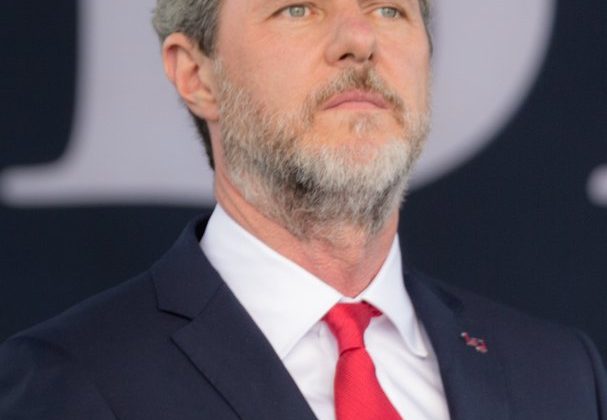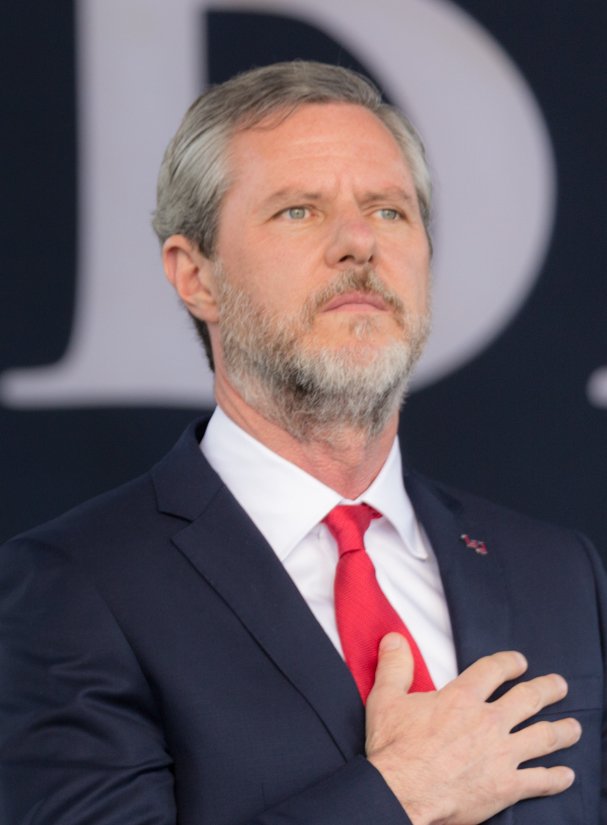 The disgraced former president of Liberty University, Jerry Falwell Jr., is in the midst of a legal war with his brother and the university which forced him out of office. The fight is over the legal legacy of Jerry Falwell Sr. Read the text of Jerry Falwell Jr. vs. Liberty University, Jerry Prevo, and Jonathan Falwell here.
Falwell Jr. argues that the "Dr. Jerry L. Falwell brand of religious goods and services" does "not belong to Liberty." Rather, it belongs to the "Falwell Family Trust, which is controlled by the three Falwell children: Jerry Jr., Jonathan (currently the chancellor of Liberty University), and Jeanne Falwell (a surgeon). Falwell Jr. argues: "While Dr. Falwell was deeply proud of Liberty, he did not wish for his brand to be confined to a single institution of higher learning alone, but to extend beyond academics. Thus, Dr. Falwell never transfered to Liberty any right to use the JERRY FALWELL trademark, or Dr. Falwell's name and image, in any way Liberty saw fit."
In 2003, Falwell Sr. registered the "JERRY FALWELL" trademark with the U.S. Patent & Trademark Office. It became a registered trademark in 2006 covering "Newsletters in the field of moral and religious issues and events; Retailing services via computer and direct response retail services by means of commercials featuring religious items; Educational lecturing and teaching services, namely, religious instruction and teaching in the field of religious studies; Preaching and counseling, namely, ministerial services." Ownership of this trademark passed to the Falwell Family Trust after Falwell Sr. died in 2007. Liberty University has acknowledged this and the trademark continues to be used by the Falwell Family Trust.
Essentially, Falwell Jr.'s lawsuit paints a picture of a corrupt Christian university that no longer operates in accordance with the high standards of Christian morality his father demanded when he ran the place. Of course some might laugh out loud at the fact that Jerry Falwell Jr., of all people, is now concerned about the moral legacy of Liberty University. But I digress.
Falwell Jr. claims that in summer 2020, members of the Board of Trustee's Executive Committee "attempted to induce" him to "take a leave of absence purportedly because of excess drinking and by exxagerating his use of alcohol." He also claims that "Liberty had not enforced any rules prohibiting drinking by faculty for decades" at the behest of Jerry Falwell Sr. And then he starts calling people out. Falwell Jr. claims that "at least two members" of the Executive Committee drank alcohol and one of them "has been to rehab three times." The Executive Committee, Falwell Jr. claims, requested that he, Falwell Jr., enroll in a "detox center" where he learned from the rehab staff "that he was suffering–not from alcoholism–but from a potentially lethal lung condition that required immediate emergency treatment." The implication is this: No Christian university worthy of Jerry Falwell Sr.'s name would treat its president in this way.
Falwell Jr. also claims that he did nothing sexually immoral in the whole "pool boy" affair. When it was reported that Becki Falwell was having an affair with this Miami pool boy, the Executive Committee forced Jerry Falwell Jr. to resign "notwithstanding that Mr. Falwell's wife, not Mr. Falwell, had the affair, and the two remained commited to their marriage." (Falwell fails to mention that he "watched.")
And now the dirt really start flying:
Falwell Jr. says that the Executive Committee held him to a different standard than they had held other "high-ranking officials of the University." He claims that "one former University President was sued by a former Liberty employee for sexual harrassment, and Liberty retained him in that position notwithstanding that a payment had to be made to that employee as a result." Who is this "former president?" It can only be Jerry Falwell Sr, Jerry Falwell Jr., or interim president Jerry Prevo. Correct? Am I missing something here?
Falwell Jr. says that Ed Hindson, the former Dean of Liberty's School of Divinity, had an extramarital affair "during his time at Liberty." (Hindson was the co-author–with Jerry Falwell Sr. and Ed Dobson–of the 1986 book The Fundamentalist Phenomenon: The Resurgence of Conservative Christianity. Ron Godwin, a former provost at Liberty, also had an extramarital affair. Falwell Jr. adds that "a current member of the Executive Committee has admitted to previously having more than one affair." All of these men stayed in their posts.
Falwell Jr. also claims that members of the Executive Committe have made a 'series of questionable self-dealing transactions that have the appearance of kickbacks" that "have diverted over a million dollars from Liberty to organizations that are controlled by certain Board members or their close associates." These "donations" include: Jerry Vines paying $100,000 to Jerry Vines Ministries. Tim Lee paying $100,000 to Tim Lee Ministries and $76,000 to Wylie Preparatory Academy, a Texas school that Lee's granddaughters attend.
Jerry Prevo, the interim president after Falwell Jr. was ousted, approved a $200,050 payment to Franklin Graham's Samaritan's Purse. Falwell Jr. calls Graham "Prevo's closest advisor" and claims that Prevo "would speak with Graham virtually every day by phone before making decisions." Falwell Jr. also claims that while he was serving as Liberty president, Prevo, then a member of the Executive Committee, "pressured" Falwell Jr. "to pay thousands of dollars for Prevo's grandson to recieve training in flying planes at Liberty's expense." Prevo, Falwell Jr. claims, also took regular trips to Alaska on Liberty's corporate jet with each trip priced at "at least" $35,000."
According to Falwell Jr., Liberty University gave the Christian Right/religious liberty organization "Liberty Counsel" (no connection to the university) over $588,191. Falwell Jr. says that "None of the foregoing payments that Liberty has made to outside organizations have served the school's mission, which is to educate students, and none of them benefit the students of Liberty…." We've known for a long time that Liberty University is not merely in the business of educating students. It is part university, part culture war institution. But Falwell Jr.'s complaint about money going to the Liberty Counsel is interesting coming from the guy–Falwell Jr.–who started the "Falkirk Center" which has now morphed into the culture war organization known as the Standing for Freedom Center. How does the Standing for Freedom Center "benefit the students of Liberty?"
Falwell claims that when he and his wife Becki visited Liberty for a sporting event in April 2021 (after his ousting as president), they were "warmly received." He says that this warm reception "upset certain members of the Board of Trustees and its Executive Committee" and, from that point forward, Falwell Jr. and Becki Falwell were "banned" from campus." (The complaint notes that Jerry Falwell Sr., his father, is buried on the campus of Liberty University.) It also appears that Falwell Jr.'s name and likeness have been all but erased from the campus, including the removal of photos and the deletion of pro-Falwell Jr. social media comments.
Falwell's son Trey was also fired and banned from campus. Trey and his wife, Falwell Jr. reports, were grieving over a miscarriage when Jerry Prevo, on Good Friday, April 2021, lowered the boom.
Did you know that there was almost a "Billy Graham University?" Falwell Jr. claims that Franklin Graham, upon his father Billy Graham's death in 2018, wanted to start such an institution. Falwell Jr. said that Graham was amazed how much money Liberty University generated and thought he could make money from using Billy's name to start a similar university. Billy Graham University never materialized. Instead, Franklin Graham "assumed a role in the takeover of Liberty." Falwell Jr. claims that Jerry Prevo's new "Jerry Falwell Center" on Liberty's campus is modeled after the Billy Graham Library in Charlotte, an institution Franklin Graham invested in after his plans for a university failed. Falwell argues that the Jerry Falwell Center is stealing the family trademark.
Falwell Jr. also claims that his father envisioned "a university that would be to fundamentalist Christians what The University of Notre Dame is to Catholics. That is, he envisioned an institution with the highest academic standards that evangelical Christians could be proud of." Yet, he claims, that some members of the Board and Executive Committee "are steering Liberty in the direction that is inconsistent with this high standard. These individuals aspire to a school in the tradition of church-affiliated faith-based college." I'm not really sure what this means. Maybe Jerry Falwell Jr. is worried that Liberty might become like one of the colleges in the Council for Christian Colleges and Universities. I am also not sure what "highest academic standards" means. Liberty is nowhere near Notre Dame in academic quality. I would also suggest that Liberty is nowhere near some of the top CCCU schools in terms of academic quality, especially in the liberal arts.
Falwell Jr. also goes after his brother, Jonathan Falwell. He claims that Jonathan has a "conflict of interest" because he is a trustee and employee of the university and a trustee of the Falwell Family Trust. He adds that Jonathan, as Chancellor of Liberty University, gets a six-figure salary, a house on top of "Liberty Mountain," a swimming pool paid for by the university, and employment roles at the university for five of his family members. Jeannie and Jonathan Falwell, Falwell Jr. claims, are trying to remove him (Falwell Jr.) as a co-trustee.
What a mess! We will keep an eye on this so you don't have to!
And speaking of keeping an eye on things, there is no better to time sign-up for CURRENT! Click the red button on the top right of this web page for more information about how to become a member and get unlimited access to all of our posts.