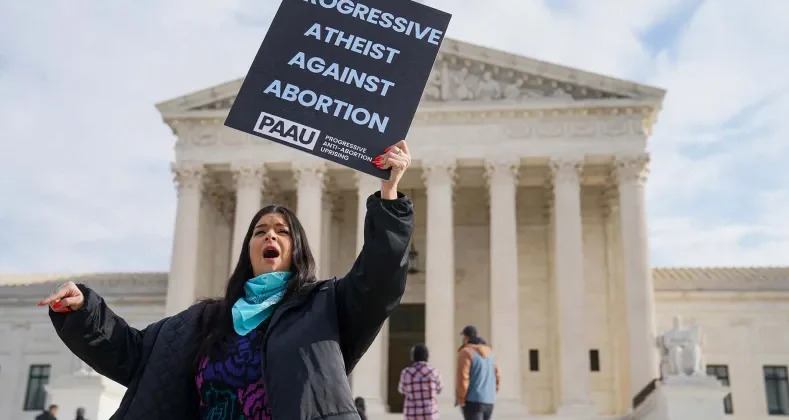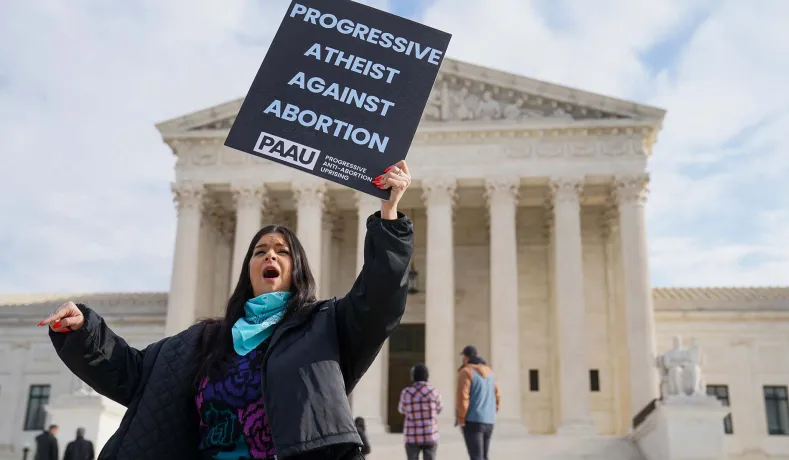 Introducing Terrisa Bukovinac.
If you have the stomach for it, watch her presidential announcement below. Bukovinac is not a typical progressive who also happens to be pro-life. Rather, her entire campaign appears to be based on ending abortion. Her announcement mentions no other issue.
Here is Sofia Resnick at the Michigan Advance:
The morning of March 25, 2022, had started out like any other workday for Terrisa Bukovinac, as she and fellow anti-abortion activist Lauren Handy headed over to protest the Washington Surgi-Clinic in Washington, D.C. — until they asked the driver of a medical waste truck for a box that would change their lives.
Inside that box, the activists say, were more than 100 small embryos and five large fetuses, which they handled with gloved hands in Handy's apartment, crying and gasping in a video they uploaded to their website.
In the year since, the group Bukovinac founded, Progressive Anti-Abortion Uprising, has — without success — called for autopsies of the fetuses and for Washington Surgi-Clinic to be investigated for infanticide. The group has also been using these images to foment outrage against abortion. They unsuccessfully tried to introduce them in a recent federal trial in which Handy and four of the other activists were found guilty of blocking access to the D.C. clinic in October 2020 using chains, ropes and bike locks. The five — another group will be tried separately — are now in jail awaiting sentencing. But Bukovinac has another idea for getting the footage out to the public.
She's running for president.
"I am running to be a voice for the voiceless," said Bukovinac, dressed all in blue as she launched her Democratic primary campaign against President Joe Biden at a news conference in front of the Washington Surgi-Clinic on Thursday. "And with your support, I can expose the human rights atrocities happening in nondescript buildings like this across America. Any FCC TV station is required to run the ads of all federal candidates, and we will together expose this injustice."
Managing Bukovinac's campaign is her good friend Catherine Glenn Foster, a player in the anti-abortion legal movement, who recently stepped down as president of Americans United for Life, and previously served as counsel for the Alliance Defending Freedom. Both organizations played crucial roles in the eventual reversal of Roe v. Wade, a legal decision that has fundamentally altered and diminished access to abortion and pregnancy-related health care throughout the country. Bukovinac said she's also working with Kristen Day of Democrats for Life of America.
Bukovinac is a self-described atheist, pro-life progressive, and she's following in the footsteps of radical abortion rights opponent Randall Terry, who founded Operation Rescue in the 1980s and helped usher in the movement to blockade abortion clinics until it became a federal crime. A conservative Christian, Terry ran a longshot presidential campaign in the 2012 Democratic primary against then-President Barack Obama, primarily to air political ads with bloody fetuses during Super Bowl Sunday. In February 2012, the Federal Communications Commission denied Terry's request to force a Chicago television station to run his ad during the Super Bowl, determining that the law requires stations to provide candidates with "reasonable access" to television time, but that candidates do not have the right to air ads whenever they want.
Read the rest here.
If you watch this video, you will notice that she has strategically placed a copy of Nietzsche's works on her window sill. She also has a copy of Princeton professor Peter Singer's Animal Liberation Now. Can anyone make out the other books?