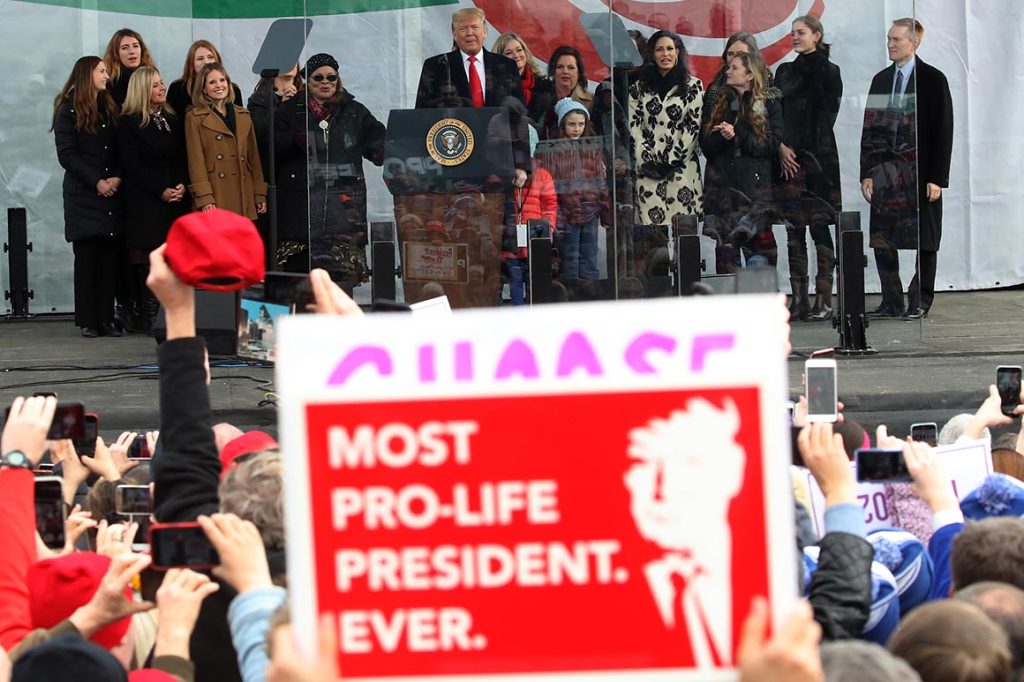 The evangelicals and politics angle to the 2024 election just got more interesting!
Essentially, Trump is throwing the pro-life movement under the bus. He and his team believe that they can win in 2024 with a more moderate pro-life view on abortion. To put this more crudely, pro-life conservative evangelicals are getting played by the former president. I wonder what the evangelicals who claimed that Trump was the greatest pro-life president in history are thinking today? So far, they have been mostly silent. (See below). But there have been a few evangelical leaders who have spoken-out:
Today at his daily "Briefing", Albert Mohler of Southern Baptist Theological Seminary, a Trump voter in 2020, said that Trump is "sending mixed signals" and "took a big step back from a pro-life position." Mohler defended DeSantis's 6-week ban. Here is a taste:
Similarly, recent news reports have said that Donald Trump has been saying to other Republicans that Republicans need to re-message on this issue and to back off the abortion issue, and in particular, to back off of two things, a national ban on abortion or a restriction on abortion and also restrictions on abortion that won't be politically palatable, and here's something very important and we'll come back to this, that would mean in at least the third trimester or well along in a pregnancy. Then he went on to say that Republicans should acknowledge exceptions to the law, and that would include rape, incest, the physical and emotional life of the mother, especially rape and incest.
You look at this and you recognize, "Part of that's a political calculation." But there's a little bit more going on there because one of the things the former president seemed to indicate, and this is where pro-lifers, Christians concerned with the sanctity and dignity of human life, we need to listen really carefully. The former president in the interview on Meet the Press yesterday, spoke of when an unborn baby looks like a baby. That is to say, he used language about the fact that there, at that point, you've got a baby. Of course, we understand, you have a baby at fertilization, you have a baby at conception, you have a baby at the beginning.
Here's what we understand, let me just say I don't think the former president is wrong in his assessment of the American people right now. I believe he's wrong in his prescription for where a presidential candidate and the Republican Party should go on this issue because I'm going to make this statement very clearly, if the Republican Party loses its pro-life convictions, if indeed they are convictions, if it hesitates or compromises on pro-life policy, I think you're going to see conservative Christians just back out of support for the Republican Party. This is a sine qua non. Just ask Ronald Reagan in 1980. (Bold text is mine).
We will see if this changes Mohler's vote in 2024. I'm not holding my breath.
As we noted in our last post, Iowa evangelicals Steve Deace and Bob Vander Plaats, both DeSantis supporters, are very upset with Trump. Deace says, "It seems like I have done this show before when the names were John McCain and Mitt Romney":
Even indicted former Trump election lawyer Jenna Ellis has turned on her former boss:
Trump court journalist David Brody knows what is happening:
And we are hearing crickets today from:
Standing for Freedom Center at Liberty University
Ralph Reed's Faith and Freedom Coalition
MAGA prophet Lance Wallnau
Charlie Kirk of Turning Point USA
Tony Perkins of the Family Research Council is redirecting. This is identical to what Trump did on "Meet the Press." It's the "but what about the Democrats?" strategy.
Trump just departed from a conservative evangelical pro-life position and Perkins is taking potshots at Asa Hutchinson who is polling at 1%:
Sean Feucht has said nothing, but he loves Tua:
We will keep an eye on this story in the coming days and weeks. There is no better to time sign-up for CURRENT! Click the red button on the top right of this web page for more information about how to become a member and get unlimited access to all of our posts.