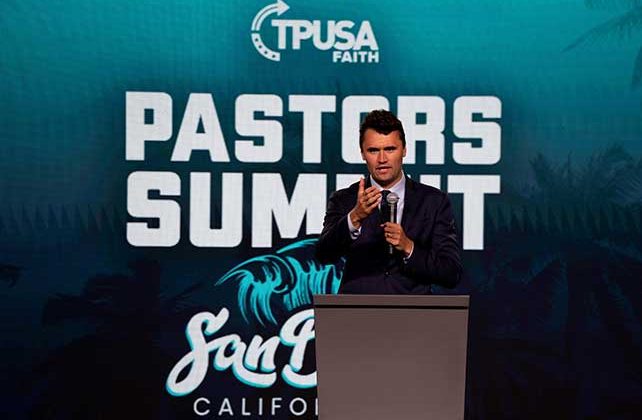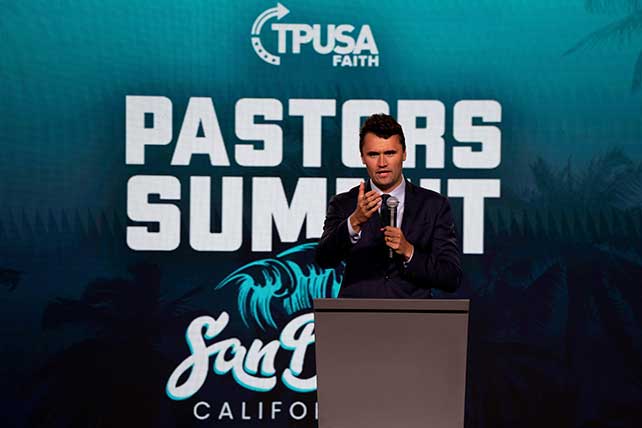 MAGA pastors are in San Diego this weekend as part of Charlie Kirk's Turning Point Faith event. Get up to speed here.
Here's what has happened so far:
Let's begin with Charlie Kirk. He is suggesting that evangelicals missed out on a revival during COVID-19 becuase not enough of them were involved in politics. Is Kirk's God so small that He needs politics to advance a revival in the church?:
Notice how Kirk's view of Imago Dei is tied solely to abortion. It doesn't go much further than that. Why? Because this limited view of human dignity appeals to his base and pays his salary.
We have already noted Eric Metaxas's call to holy war, but here it is again. Metaxas believes he knows the will of God as if he has some special hotline. This is arrogance, not Christian humility.
More holy war language from General Boykin of the Family Research Council:
Back to Kirk. He is still floating the David Barton claim that 55 of 56 signers of the Declaration of Independence were "Bible-believing, church-attending Christians":
When I hear people like James Lindsay talk like this, I wonder just how many elementary school teachers are really "grooming" kids. Most teachers I know are overworked and underpaid and just trying to teach kids how to read and do basic math. Where do they get the time to "groom"?:
I'm not really sure how to respond to these claims. Sounds like some fancy Christian right culture-war exegesis.
Manly men:
Apparently the press is missing the "we want drag queens" part of Bidenomics. And as long as we are talking about drag queens, why not go all the way and call for a theocracy:
Father Calvin Robinson, a speaker at this event, does not believe Christians can co-exist with Muslims (of course the original tweet is also a over the top as well):
Blessed are the peacemakers: