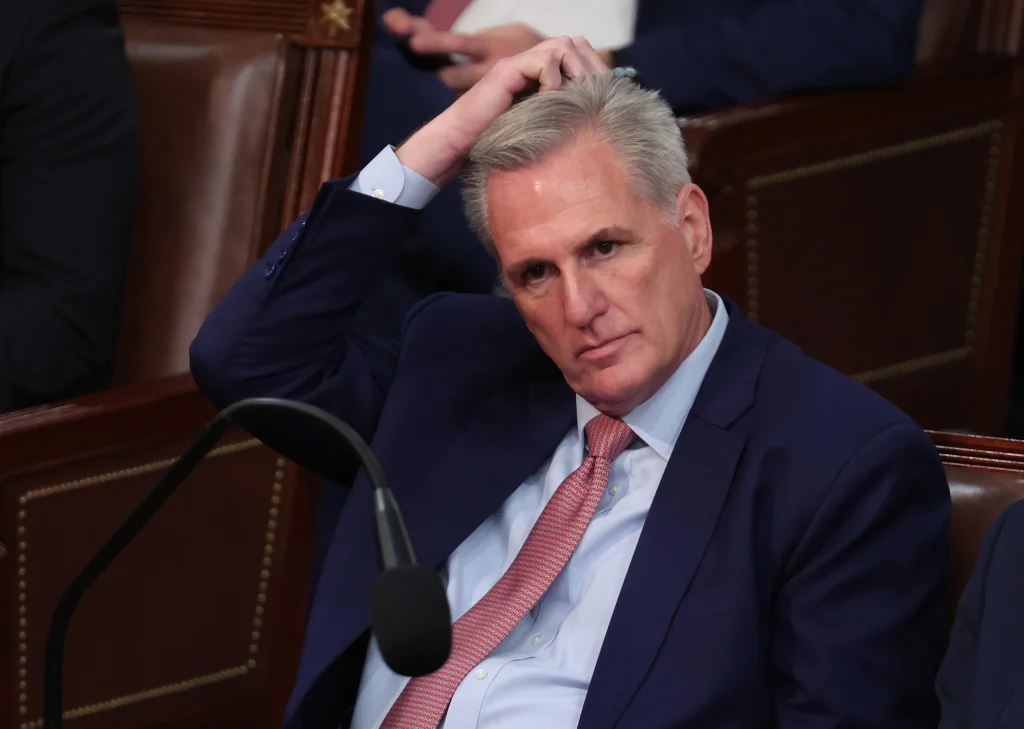 I'll let Russell Berman explain. Here is a taste of his piece at The Atlantic:
As Kevin McCarthy made his televised declaration earlier today that House Republicans were launching an impeachment inquiry into President Joe Biden, the House speaker stood outside his office in the Capitol, a trio of American flags arrayed behind to lend an air of dignity to such a grave announcement. But McCarthy looked and sounded like a hostage, and for good reason.
That the Republican majority would eventually try to impeach Biden was never really in doubt. The Atlantic's Barton Gellman predicted as much nearly a year ago, even before the GOP narrowly ousted Democrats from control in the House. McCarthy characterized the move as "a logistical next step" in the party's investigation into Biden's involvement with his son Hunter's business dealings, which has thus far yielded no evidence of presidential corruption. But intentionally or not, the speaker's words underscored the inevitability of this effort, which is as much about exacting revenge on behalf of the twice-impeached former President Donald Trump as it is about prosecuting Biden's alleged misdeeds.
From the moment that McCarthy won the speakership on the 15th vote, his grip on the gavel has seemed shaky at best. The full list of concessions he made to Republican holdouts to secure the job remains unclear and may be forcing his hand in hidden ways nine months later. The most important of those compromises, however, did become public: At any time, a single member of the House can force a vote that could remove McCarthy as speaker.
The high point of McCarthy's year came in June, when the House overwhelmingly approved—although with notably more votes from Democrats than Republicans—the debt-ceiling deal he struck with Biden. That legislation successfully prevented a first-ever U.S. default, but blowback from conservatives has forced McCarthy to renege on the spending provisions of the agreement. House Republicans are advancing bills that appropriate far less money than the June budget accord called for, setting up a clash with both the Democratic-controlled Senate and the White House that could result in a government shutdown either when the fiscal year ends on September 30 or later in the fall.
GOP hard-liners have also backed McCarthy into a corner on impeachment. The speaker has tried his best to walk a careful line on the question, knowing that to keep his job, he could neither rush into a bid to topple the president nor rule one out. Trump allies like Representatives Marjorie Taylor Greene of Georgia and Matt Gaetz of Florida have been angling to impeach Biden virtually from the moment he took office, while GOP lawmakers who represent districts that Biden won—and on whom the GOP's thin House advantage depends—have been much cooler to the idea. McCarthy has had to satisfy both wings of the party, but he has been unable to do so without undermining his own position.
Read the rest here.