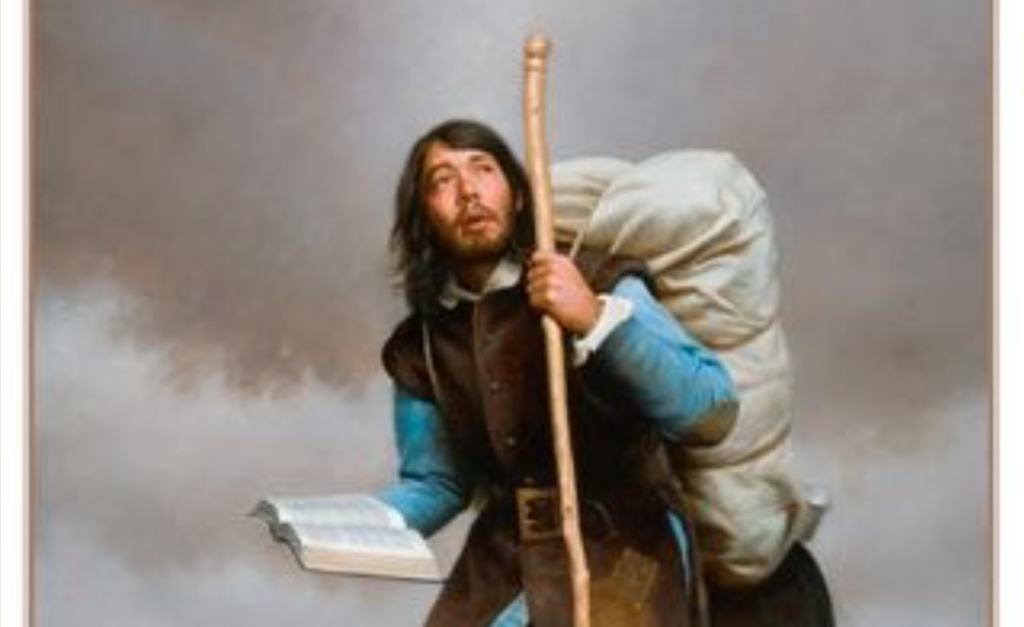 Students are indeed pilgrims. But what kind of pilgrims are they?
The promise that accompanies the start of the academic year comes, this fall, with a rising sense of foreboding. Controversy and crisis abound. What follows is the second in a series of features Current will publish over the next two weeks addressing the current state of the university. Our overarching question: What does higher education need now?
*
Learning to Love: Christian Higher Education as Pilgrimage by Alex Sosler. Beaver Falls, PA: Falls City Press, 2023. 230 pp., $18.99
What does higher education need most now? Alex Sosler, Assistant Professor of Bible and Ministry at Montreat College, claims to answer that question in Learning to Love: Christian Higher Education as Pilgrimage. We largely agree with the sophisticated and thoughtful answer Sosler provides. Yet we also think he does not emphasize one very important element enough—unfortunately, we think it is the element that is most needed right now.
Sosler starts by addressing the two key questions that every good philosophy of education should address: Who are you? Why are you here? Of course, conversations about these questions are not new; they have been topics of debate and scholarship for at least a century. However, what is unique and helpful about Sosler's book is that he aims to discuss these questions with the students themselves instead of their professors alone.
Sosler's answer for the initial question—who are you?—is two-fold. First, it lies in the identity label in the subtitle of the book. We are pilgrims on a pilgrimage. Certainly, this answer and image make sense from a Christian perspective, especially if one looks at older English translations. The King James Version of the Bible describes the faithful as pilgrims in Hebrews 11:13 and 1 Peter 2:11. Drawing on the imagery of pilgrimage and "cities" from John Bunyan's classic, Sosler presents analogies for how society has conceptualized and distorted the enterprise of higher education.
The second, more specific answer Sosler gives is that we are eternal souls. Again, this answer echoes great Christian educators such as John Amos Comenius, who argued, "Our children are born for heaven and are reborn through the Holy Ghost. They must therefore be educated as citizens of heaven." Indeed, one of the main differences between public universities and Christian universities is the citizenship of the kingdom for which they are educating their students.
As does any good guide for pilgrims, Sosler knows the destination at which he wants students to arrive and suggests some corresponding answers: "The college years can help [students] discover a vision of the good life and expand [their] understanding of what the good life is." Getting to this destination requires "ordering and expanding our loves, and therefore our lives." Additionally, Sosler wants students to experience the process of pilgrimage involved in answering questions such as these because he knows that the journey to these answers, and not just the answers themselves, is a key part of the educational process.
Consequently, the first part of the book addresses key "cities" along the journey, framed in the historic narrative of higher education, particularly in the United States. Starting with an overview of the historic Christian liberal arts, Sosler presents readers with an account of how institutions that initially sought to teach their students to love God secularized as a result of the paradigm shift that came about during the Enlightenment. The hyperfocus on reason and observation as the sole ways of knowing pushed colleges and universities to make their aim the development of scientific thinkers, making intellectual formation their sole end. Sosler calls this "the city of big brains."
Over time, especially as modernist thought came to the scene, another paradigmatic shift presented education with a new goal: honing intellect to specific professional skills for economic gain. With this second shift, colleges and universities turned into "the city of success," wherein ultimate value was determined by utility. In this "city," a consumerist mindset is the natural outcome.
Finally, Sosler describes the rise of individualism in "the city of authenticity." Under this newest conceptualization, one finds truth within, and this inner truth is beyond critique. Indeed, a challenge of another's personal truth is oppression. Of course, Sosler does not make these ideas out to be unequivocally detrimental: It is helpful to consider how we prepare students for vocations and to think about the role of their emotions. The issue, as with "the city of big brains," is the disordering of loves. In other words, the issue is a hyper-fixation on a subordinate goal as the ultimate purpose of higher education.
So then, what are colleges and universities—particularly Christian institutions—for? In Augustinian fashion, Sosler advocates that they are for helping students learn to order and expand their loves. This approach employs a holistic form of education. It allows for areas of specialization in order to form a specific type of person: one who loves God and loves their neighbor. From this point, Sosler uses the second half of his book to present incoming students with the ideal way to understand and pursue their education.
Through this reorientation, Sosler prompts incoming students to rethink their understanding of what a Christian liberal arts education is. Rather than a way to simply obtain a credential or "Christian worldview," faith-based higher education helps students gain a sacramental imagination—the ability to see the world as a gift of God's grace. With sacramental imagination, learning occurs through a charitable hermeneutic and love, which "leads you outside of yourself to understand the world of another subject or person." In a further reframing of the purposes of Christian higher education, Sosler argues that Christian colleges and universities seek to develop wise people who put their learning into action. These campuses are, as a result, places where students engage in practices that form them into people who can learn to love a community despite its flaws.
To conclude, Sosler argues that in its truest sense, "A liberal education is not meant to free a person to do whatever he or she wants. An education that liberates is one that allows a person to pursue the best commitments." In summation, a Christian liberal arts education, without being prescriptive, provides a foundation upon which students can build a life.
Sosler's Learning to Love presents a coherent, alternative narrative to popular conceptualizations of the purpose of higher education. It would be interesting to have students read Sosler's book alongside Andrew Delbanco's College: What It Was, Is, and Should Be. In our view, Sosler provides a much more compelling vision for higher education.
Throughout the book, Sosler intertwines history, theology, and relevant examples from popular culture to present the Christian liberal arts tradition in a manner that is accessible to his intended audience. Sosler also provides students with a helpful framework and language, making it possible to think theologically about any aspect of their studies (or life in general). This allows for nuance in understanding and a hope that all things will one day be redeemed and made new.
Another benefit to Sosler's book is that he provides a rest stop, as it were, between parts one and two, in which he summarizes his argument up to that point. For someone who might be reading one chapter every few days (or weeks), this summary is a helpful way to ensure that the reader is still tracking the central themes. Such a feature reiterates that Sosler is consistently aware of who his audience is.
Finally, we think that his use of the pilgrim metaphor is wise. Whenever I (Perry) teach students about Christianity and education, I have students debate the most appropriate metaphor for what the teaching process entails. Students often suggest they are sculptures, wise sages, farmers, or gardeners, but I continually find that students gravitate to one particular image: viewing the Christian educational process as a pilgrimage.
Yet we do have one major critique. What higher education is missing right now is a clear, foundational understanding of human identity: one that gives us a clear telos, allows us to find worth and value apart from contingent sources (e.g., achievements and other people), and helps us make sense of the identity wars currently tearing up higher education over race, gender, and sexual identity. We would have liked Sosler to emphasize more the importance of building one's Christian educational philosophy upon the recognition that we are all made in God's image.
If students recognize that they are made in God's image, three things happen. First, they find a noncontingent source of worth and value outside of their achievements or others' opinion of them. Second, they understand that we only flourish by acquiring God's virtues. Third, from that foundation, presenting higher education's purpose as the development and ordering of loves makes sense. If we are made in the image of God, we need to acquire God's love and other virtues to restore the image of God. As Hugh of St. Victor—a foundational thinker for medieval universities—said, we join with Christ in restoring the image of God in our lives by "the contemplation of truth and the practice of virtue."
Beyond this one major point, we have three other minor critiques. When comparing the major narratives from "the cities" of intellect, success, and authenticity, Sosler explains how the focus on the intellect or success distorts and dehumanizes. Though mentioned in brief, the fixation on authenticity does not receive the same degree of explanation. The result is a less-formed idea of how this way of thinking converses with the Christian paradigm Sosler employs.
Additionally, Sosler leaves out an important influence in telling the story of how Christian colleges and universities secularized. In fact, we think this influence should also have been one of his cities. The rise of the modern nation-states with the power to control higher education systems has played a key role in the secularization of higher education both here in America and around the world. See, for example, Glanzer's co-authored and edited works, Restoring the Soul of the University and Christian Higher Education: A Global Reconnaissance.
Finally, Sosler mentions that theology used to be the unifying, "crowning subject" of the curriculum, but it was replaced with a fragmented specialization under the Enlightenment's influence. What Sosler does not mention, however, was that by making theology the capstone rather than the foundation, popular thought deemed that colleges and universities could just replace the capstone course and have a secularized, unified curriculum. This did not work. This point, though small, has important implications as well for students entering Christian higher education: When Christianity plays a role in the curriculum outside the foundation, something else will often take its place.
These three points, however, are only quibbles. Learning to Love is an insightful and helpful resource. Though meant for a specific audience, the book would serve as a good primer for church youth leaders or Christian parents who are trying to determine how best to advise their students about higher education. Furthermore, the language of ordering loves in relation to discourse on higher education presents a promising venture for all engaged in such discussions.
As students enter postsecondary education, they have typically been exposed to years of cultural narratives about why one should (or should not) go to college: "You go to college to get a good job and make money" or "you go to college to become a learned person" or "you go to college to find yourself." But higher education needs a greater purpose than these. Of course, each of these goals has merit. Sosler reminds us, though, that the disordering of these goals by making any of them ultimate is a consequential error. What higher education needs is people who know who they are—image bearers of God. Once students discover who they are, they can then discern what loves are more important than others. For those who wish to bring students on board within a Christian liberal arts tradition, Sosler's Learning to Love would be a great aid in this crucial conversation.
Perry L. Glanzer is Professor of Educational Foundations at Baylor University, a Resident Scholar with the Baylor Institute for Studies of Religion, and Editor-in-Chief of Christian Scholar's Review. He is the author or editor of over a dozen books including Christian Higher Education: An Empirical Guide and Christ Enlivened Student Affairs.
Autin T. Smith is a doctoral candidate in the Higher Education Studies & Leadership program at Baylor University and a co-editor for Growth: The Journal of the Association for Christians in Student Development. Additionally, he is a co-editor of the book Stewarding Our Bodies: A Vision for Christian Student Affairs.