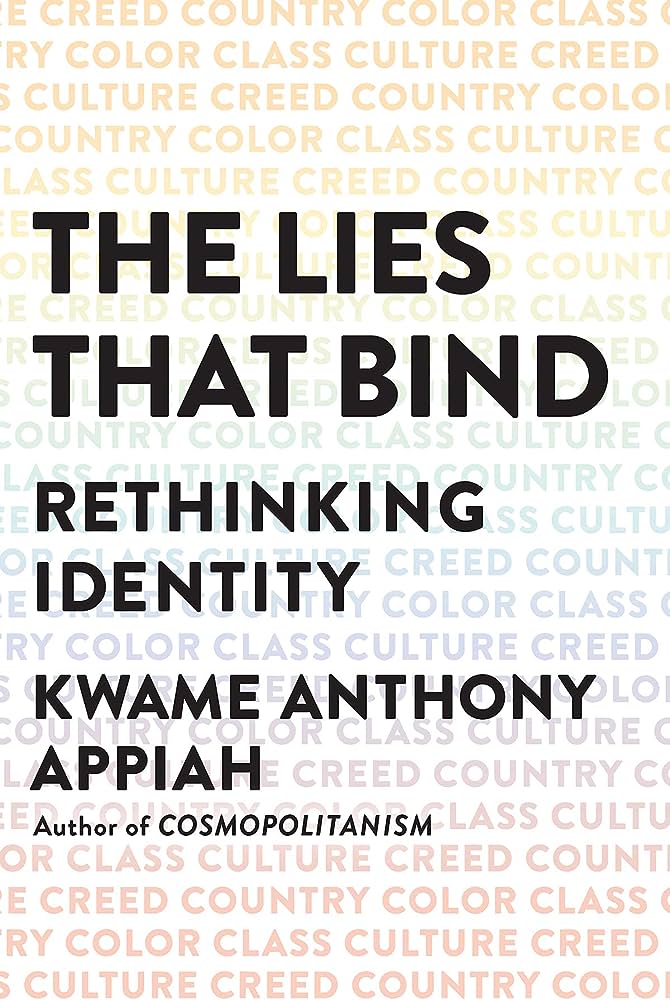 Patel argues that universities should switch from an "antiracism" model of diversity to a 'cosmpolitan" model. Here is a taste his Chronicle of Higher Education piece: "Today's DEI Is Obsessed With Power and Privilege":
Over the past five years or so, the DEI movement — with its emphasis on power, privilege, and oppression — has presented itself as synonymous with diversity work in general. It doesn't just want your support, it wants to convince you that its approach is the only game in town.
This assertive stance from the DEI movement is currently backfiring. The good news is that there are other paradigms for diversity work. In fact, they have been in front of our faces the whole time.
Kwame Anthony Appiah is perhaps the nation's most prominent social philosopher on pluralism. His weekly Ethicist column in The New York Times Magazine frequently tackles fascinating identity challenges, like whether non-Jews should be cast in a production of Fiddler on the Roof, or whether you should be friends with someone whose political views you find offensive. His 2006 book Cosmopolitanism was widely viewed as a monumental work that defined a paradigm, and his more recent book The Lies That Bind was an influential contribution to the scholarship of group identity.
I do diversity work in American higher education for a living, and I can count on one hand the number of times I've heard Appiah referenced by someone in a DEI role on a campus. This is strange. How can a movement supposedly rooted in scholarship ignore such fundamental academic work on its key subjects? But there's a silver lining: Appiah has avoided becoming either a combatant or a totem in the culture wars.
It's not because he has milquetoast views. To the contrary, Appiah frequently confronts the thorniest diversity questions of the day, and he is manifestly unafraid to touch the third rail. In a front page Sunday New York Times Opinion piece, he tells us why he dislikes people legitimizing their view on a subject by invoking their identity with the phrase "As a [such-and-such] person." In another Sunday Times Opinion piece, he emphasizes that social change on topics like gay rights is best done in coalitions within established democratic institutions rather than through revolutionary methods such as the Stonewall Protests.
Appiah's The Lies That Bind is a sharp critique of the current diversity paradigm. "Much of our contemporary thinking about identity," he writes, "is shaped by pictures that are in various ways unhelpful or just plain wrong." And then he proceeds, chapter by chapter, to dismantle contemporary ways of constructing race, gender, nationality, and the like, replacing the unhelpful pictures taught to us by standard DEI paradigms with more accurate ones. At the heart of the book is the idea that the same identity — Muslim or male, Black or gay — means many different things to many different people. The great error of contemporary diversity work, in Appiah's view, is the insistence on essentialism.
People have been canceled for far less, but Appiah goes unscathed. Maybe his identity as a gay Black immigrant in a same-sex marriage makes him harder to criticize by those who want their preferred identity groups to always hold their favored ideological views. Maybe it's because his arguments are so complex that they're simply ignored by people who prefer simplistic binaries.
Whatever the reason, Appiah's cosmopolitanism represents a departure from the reigning DEI model, and therefore has the potential to re-energize the exhausted majority around a fundamental dimension of the American project — building a healthy and diverse democracy. Simply put, Appiah is more interested in the encounter of particularities and in cooperation across difference than in requiring people to check their privilege or declare themselves antiracists.
And this:
What if people doing campus diversity work were steeped in Appiah's cosmopolitanism paradigm rather than Ibram X. Kendi's antiracism framework? What if training for diversity positions involved discussing complicated scenarios from relevant Ethicist columns rather than applying DEI dogmas that result in art-history professors getting fired?
I asked Appiah if he would accept a consulting offer from a university president looking to shift her campus diversity program away from antiracism to cosmopolitanism.
He said he'd consider it. But he also said that applying a cosmopolitanism approach on campus isn't really that hard. 
Read the entire piece here.